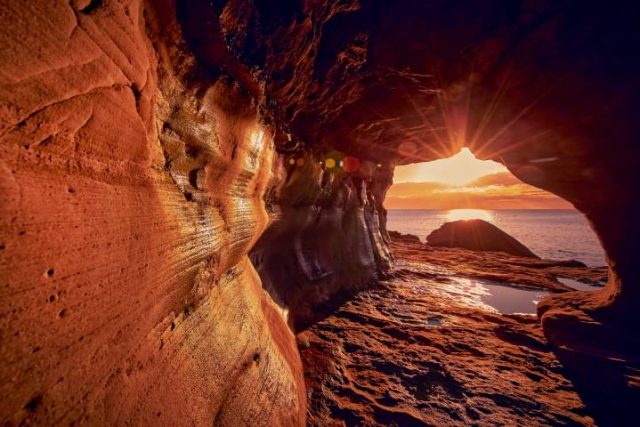 With countless stunning views to take in and striking architecture, there are few destinations quite as photogenic as Sydney, a dreamy union of sand, surf, city and nature. From Bondi Beach to vantage points on Sydney Harbour, here are the ultimate spots to snap an Instagram-worthy shot around the city.
Bondi Icebergs, Bondi Beach
Sydney has its fair share of incredible ocean pools, but none are as legendary as Bondi Icebergs. The 50m stretch of turquoise is set against a backdrop of ocean and sandy Bondi Beach. Small wonder it's a magnet for the city's beautiful people. Whether you're lining up a shot from the water or grabbing a bird's-eye view from Icebergs Dining Room and Bar, you'll fast understand why this is considered the most photogenic pool in the world.
Bronte Baths
When you've snapped your Bondi Icebergs shot, follow the scenic Bondi to Coogee coastal walk and end your exercise with a cool dip at Bronte Baths. Between well-loved Bondi and Coogee beaches in Sydney's east, Bronte Beach features a crystal-clear aquatic reserve for snorkelling and diving, as well as an ocean pool built into the rocky cliffside on Bronte's southern headland, for protected swimming. For a top photo, wander the walkway, climb the rocks and from the semi-shaded cove, soak up sweeping views of the bay. Come at sunrise for added sparkle.
Mrs Macquarie's Chair
If you're after unbroken vistas over Sydney Harbour, the Sydney Opera House and Sydney Harbour Bridge all in one frame, come to Mrs Macquarie's Chair for a million-dollar shot. On a peninsula east of the Sydney Opera House in the Royal Botanic Garden, this bench chiselled into rock is the perfect perch to capture the sun setting behind some of the city's most recognisable landmarks. Snap.
Manly Wormhole
Thought to have been dug by fishermen a century ago as a shortcut between Freshwater Beach and Manly on Sydney's North Shore, the 'Manly Wormhole' (officially named the Queenscliff Tunnel) is one of the city's best-kept secrets. Follow the 50m-long passage as it burrows straight through the cliff, and clamber over boulders to reach the scenic end: shimmering views over the ocean, perfectly framed by the tunnel's mouth.
Queen Victoria Building
Set on George Street in the heart of the city, the 1898 Queen Victoria Building is a fantasy of elaborate Romanesque architecture. Every detail here is photo-worthy, from the grand arches to the stained-glass windows and the soaring domed ceilings. The heritage-listed space spans an entire block, today filled with a rabbit warren of cool boutiques and cafes, some of which come with their own Instagram appeal. Whether you're outside or in, you'll come away with an album of snaps.  
Wendy's Secret Garden
You may think you've been transported to the pages of a fairytale in Wendy's Secret Garden, a dreamy tangle of plants, trees and flowers webbed with paths and dotted with artworks on a northern edge of Sydney Harbour. The garden was created over time by Wendy Whiteley, the widow of famed artist Brett Whiteley. The kaleidoscope of colours — part of the Lavender Bay Parklands — comes with plenty of hidden coves for picnics and quiet contemplation. Or a perfectly timed photo.
Forgotten Songs, Angel Place
Look up: an ethereal cluster of more than 100 birdcages is suspended above Angel Place. A pedestrian lane between George and Pitt streets in the centre of the city, the striking artwork comes courtesy of Michael Thomas Hill, with the goal of exploring how Sydney's fauna has evolved and adapted to co-exist with urbanisation. Once you've captured your shot, take a second to listen to the bird calls, which change as day shifts to night.
Paddington Reservoir
Travel just 5km southeast of the city to discover another hidden garden, this one tucked away in heritage-listed Paddington Reservoir in Paddington. Since it was decommissioned in 1914, the space has been transformed into a Romanesque green refuge, sunken from the street and replete with a lake of contemplation, wall of eye-popping art and hanging floral canopy. Much of the original architecture –towering archways, brick and iron structures — has been preserved, creating a dramatic backdrop for photo shoots.
Bare Island
Travel 17km southeast from the city toward the seaside suburb of La Perouse, where a 19th-century fort sits on Bare Island. The only thing between the mainland and the petite atoll is an old wooden footbridge; stroll across for coastal views of Botany Bay and to attend the bi-monthly Blak Markets, which showcases Aboriginal artists and craftspeople. You're not the only one who thinks this is a cool backdrop: the island's fort features in the movie Mission: Impossible 2.
Green Square Library
A rainbow book wall: tick. More than 40 circular skylights flooding the underground space with natural radiance: tick. Hidden reading nooks surrounded by a green atrium: tick. Dozens of dramatic architectural flourishes: tick. The Green Square Library was practically made for Instagram. This photogenic shrine to literature is just 4km south of the city centre, and is part of a larger mixed-use complex replete with lush gardens and water features.