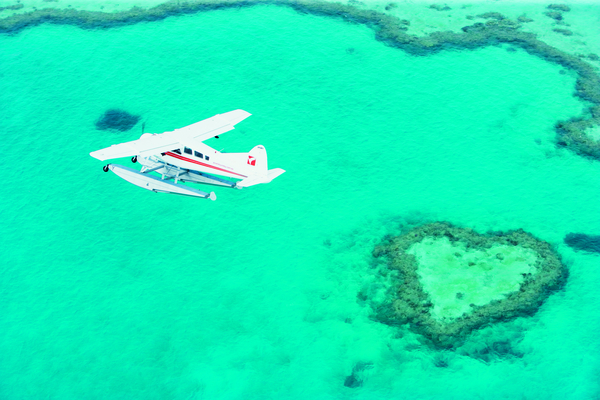 Australia has some truly inspiring sights that cannot be experienced elsewhere and should be at the top of every traveller's must-see list.
From the sacred to the naturally beautiful, the majestic and the architecturally spectacular; the Australia Destination Experts at Flight Centre have put together some of their most stunning 'Must Sees' in Australia, many of which can be ticked off during a two week stay…
Heart Reef, Whitsundays
This stunning naturally formed heart-shaped coral formation is an iconic image of Australia. Whether you're planning a romantic break or just want to see this stunning natural phenomenon, a helicopter tour over the reef is a must-do when in Queensland.
The Penguin Parade at Philip Island
One of Australia's most popular attractions, see the world's smallest penguin returning home after a day fishing and waddling back up the beach. Although they look cute in the pictures, photos don't do it justice.
The Great Barrier Reef
The world's largest coral reef system is home to diverse and colourful marine live of all types. At the Great Barrier Reef, you can snorkel, dive, swim or sail to its luxurious tropical islands.
The Twelve Apostles
A highlight of Victoria's Great Ocean Road, these limestone pillars once used to be part of the cliffs before the wind and waves broke them down – first to arches and then to the columns we see today. There are only eight Apostles remaining so it's worth visiting this dramatic coastline before another rock pillar is gone forever.
Sydney
The iconic Harbour Bridge and Opera House are reason enough to visit Sydney – not to mention the bars, restaurants, nightlife and more.
Baird Bay
While the town itself is small and isolated, Baird Bay is famous for its adorable sea lion colony. Local tour guides offer interactive swimming lessons with the sea lions – seems like a good reason to visit to us.
Blue Mountains
The Blue Mountains in New South Wales are home to the Three Sisters rock formation – another stunning landscape to make you want to hop on a plane to Aus right now. According to Aboriginal legend, these three weathered sandstone peaks were once three beautiful sisters who were turned into stone by a tribal elder after they had fallen in love with brothers from another tribe.
Icebergs Pool, Bondi Beach
Icebergs Pool in Bondi Beach is a tidal pool, open to the public year-round. The water might be a bit chilly but if you're not brave enough for a dip, it still looks spectacular
Uluru
World Heritage-listed Uluru – also known as Ayers Rock – is one of Australia's most iconic symbols. You've seen it on the postcards but nothing compares to visiting this sacred ancient landscape with an Aboriginal guide to teach you about the ancient myths and traditions of the ancient rock formation
Daintree Rainforest
Another World Heritage listed site, Daintree is the world's oldest rainforest and is home to the earth's largest range of animals and plants
Lake Hillier
This bright, bubble-gum pink lake in the Recherche Archipelago, Western Australia, is an incredible sight. No-one really knows why it's that colour. Even so, we'd love to hop on a flight to see it for ourselves.