As we embark on a new year, Perfect Stays has identified the top UK travel trends that could shape 2023. Highlights include embracing a slower pace of holiday, foodie nostalgia, destination houses and collective wellbeing.
Destination houses
When it comes to staycations, 2023 is all about the house. In fact, there's a growing trend to view it as a destination in itself.
Many of our guests are eager to hang up their car keys and immerse themselves in their immediate surroundings, and they're looking for a holiday home that ticks all the boxes.
Looking at 2023's property 'wish list', certain features and facilities are growing in popularity. Over the last year, there's been a whopping 285% increase in visits to our holiday homes with sea views webpage and a 127% increase in visits to our swimming pools page.
People are also eager to enhance their stay further with in-house experiences, which are now more popular than ever. Website visits to our concierge page were up 10% in 2022 compared to the previous year.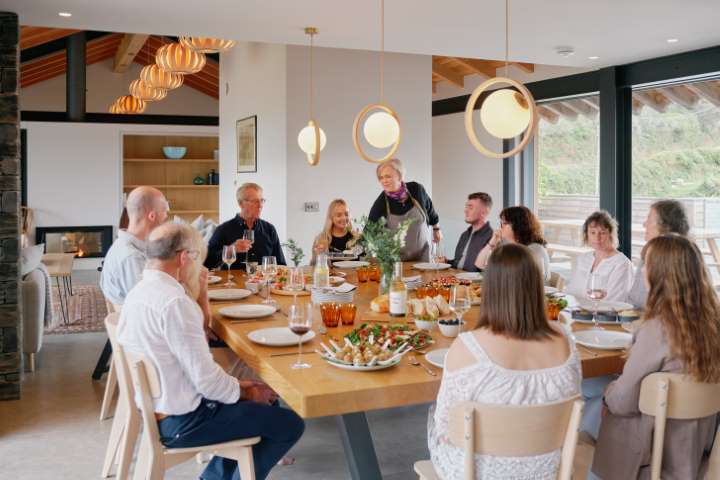 Foodie nostalgia
In the post-pandemic months, food was one of the central motives for travel. Holidaymakers threw themselves into cooking classes, explored local vineyards and craved flavours from around the world.
Looking towards 2023, private in-house dining is still our most requested concierge experience. And we've noticed a significant increase in the number of people booking private chefs during their stay for the second year running.
However, food trends are becoming much more relaxed, with a focus on comforting food sourced from local, small-scale producers. Fiona Were from Chef Fiona NZ, who we work with through our concierge service, has seen a growing demand for traditional flavors:
"Looking ahead, I think there'll be a significant shift to the old fashioned classics that are comfortingly familiar. Foods that remind us of our childhood, dishes with a retro vibe or more traditional roots. Well-executed prawn cocktails, beef wellingtons, sticky toffee puddings, profiteroles… Perhaps because they are reassuringly familiar when other factors in life can make us feel out of control."
Collective wellbeing
It's no secret that the wellness industry continues to boom, and the future is looking bright for wellness tourism. According to the Global Wellness Institute, it's expected to grow an average of 21% annually through to 2025.
Requests for private in-house spa treatments through our concierge service have increased considerably. Emslie Mills from Home Spa Cornwall has noticed that alternative therapies like reflexology, meditation and hot stone massages are being requested much more frequently.
Whilst wellbeing is often perceived as an individual endeavor, we're seeing a shift towards a more collective approach. In-house beauty treatments and massages used to be the reserve of couples and weary parents needing a break. However, group bookings are on the rise, with therapists creating entire spa days and treatment parties in the comfort of our holiday homes.
Likewise, fitness classes, yoga lessons and cookery experiences are quickly becoming family affairs, with children, grandparents and even the dog keen to join in.
Embracing anticipation
Carefully planning and anticipating a holiday is one of life's great joys. Before the pandemic, only 7% of bookings were made over a year in advance. In 2022, we noticed a large increase in people planning further ahead, with 17% of our staycations booked over a year in advance. As early as May 2022, some of our guests were booking for Christmas 2023 and inquiring about 2024.
In the midst of global uncertainty, there's an ongoing desire for escapism, and looking forward to a holiday is reassuringly optimistic. From a practical perspective, booking further ahead also makes budgeting much more manageable.
Anticipation shared is even more enticing, and the planning phase provides the perfect opportunity to bring family and friends together ahead of the holiday.
The post-pandemic movement towards big multi-generational getaways isn't letting up. We saw a 107% increase in website visits to our large group stays page in 2022, and large properties are ever-popular, with 80% of our holiday homes sleeping upwards of eight guests.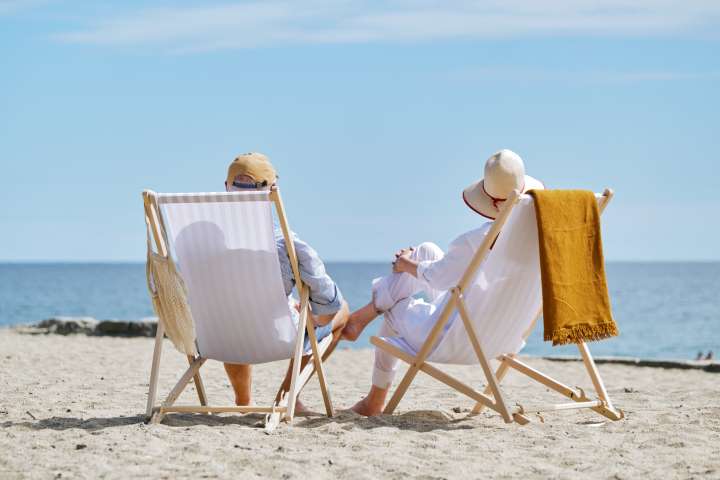 Outdoor serenity
Spending time outside in nature has long been linked to improved emotional wellbeing. And as we head into 2023, we're seeing some travelers slowing down and immersing themselves in more peaceful outdoor pursuits.
From foraging to forest bathing and cold water swimming, there's a movement towards reconnecting with nature when holidaying in the UK. Holly Purchase from Wavehunters, who we work with through our concierge service, encourages people to discover wellness through activities and experiences:
"As a company, we work to make the natural environment more accessible. Whether we're out on the boats spotting wildlife, doing sun salutations on the sand, or surfing at sunset, we notice that nature sets a spark in people. It directly contributes to a healthier state of mind and a re-engagement in the desire to make more conscious choices."