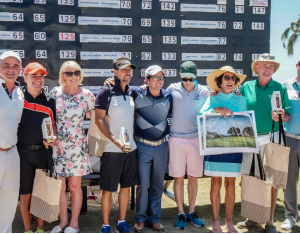 Punta Mita is set to host the second edition of Golf Kitchen Punta Mita event on April 25-28, 2019. Golf Kitchen Magazine and Punta Mita developer DINE co-host this special four-day, three-night event that blends the best of the region's destination golf and gastronomic experiences with the help of a crew of visiting chefs from esteemed golf clubs in the US and Latin America.
"We are thrilled to collaborate once again with Golf Kitchen Magazine's Diana DeLucia in creating the 2nd Annual Golf Kitchen Punta Mita Gastronomic Extravaganza," said Carl Emberson, Director of Marketing and Operations at Punta Mita. "This special event showcases the very best cuisine the Golf Club industry offers in the Americas."
Punta Mita's own Executive Chef Pato Pérsico will serve as host chef for Golf Kitchen Punta Mita, leading a welcome dinner at the new Pacifico Beach Club that honors "The Cuisine of Latin America" with dishes created by guest chefs from the Americas. Creative mixologists, live music, and house DJ Omar will keep the energy high all night long.
Talented chefs representing many prestigious golf clubs will team up to create unforgettable brunches, lunches, dinners, and tasting menus throughout the course of the event:
Pato Pérsico, Executive Chef of Punta Mita and 2019 Event Host, Mexico
Anthony Giacoponello & Joseph Klages, Sebonack Golf Club, Southampton, New York
Michael Ruggiero, Glenarbor Golf Club, Bedford, New York
Tony Villanueva, Edgewood Country Club, River Vale, New Jersey
Ricky Motta, Garzon Club, Uruguay
Doug Blair, Cassique at Kiawah Island Club, South Carolina
Damian Gilchrist, Sankaty Head Golf Club, Nantucket, Massachusetts
Lalo Palazuelos, Club de Golf Bosque Real, Mexico
Gastón Yelicich, Cantegrill Country Club, Punte Del Este, Uruguay
Yasuo Asai, Asai Kaiseki Cuisine, Mexico
Dining takes place in some of Punta Mita's most beautiful settings including the Four Seasons Resort Punta Mita and St. Regis Punta Mita Resort. Click here for the event's full culinary agenda. Golf fanatics will enjoy the event's two-day Golf Kitchen Cup that plays out over Punta Mita's two Jack Nicklaus Signature Golf Courses – Bahia and Pacifico. The cup event kicks off with a Four-Hole Chef Cup Shootout where seven guest chefs escape the kitchen to show off their skills on the links. Click here for the event's full golf agenda. The event wraps at Kupuri Beach Club with a delicious gala featuring a dine-around tasting pool party with a silent and live auction to raise funds for local charities Peace and The Fundación Punta de Mita.