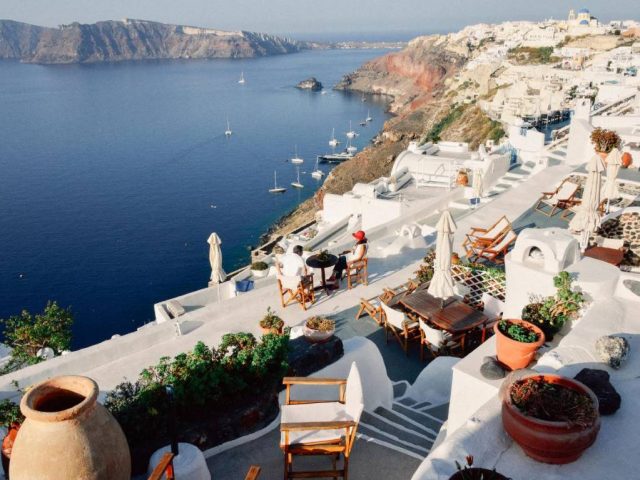 Known for its extensive history and exhilarating mythology, Greece is one of the most culturally rich travel destinations in the world. Millennia of civilisation has flourished here, evolving over years to make any trip, no matter how brief, bursting with unique, once in a lifetime experiences.
Aside from its captivating culture, Greece definitely doesn't fall behind when it comes to magnificent natural beauty—ranging from the serene Natural Pool of Giola, to the hidden gem of the tucked-away Melissani Cave. Visitors and natives alike regularly flock to the sublime beauty of the Santorini bluffs, and revel in its surprisingly dynamic nightlife. No doubt, Greece is a popular choice for tourists, but with the plethora of diverse experiences available, we'd like to give you a few tips on what you absolutely cannot miss.
Greece By Car
When you think of road trips, you're probably thinking cross country, windows down, trunk loaded up from the nearest corner store. But did you know that some of the most breathtaking views of Greece are accessible by a trip on the open road— no public transport route planning required! The celebrated city of Athens is entirely accessible by road, where you can visit the world famous Acropolis and marvel at the architectural majesty of the Parthenon, or take a look at the extensive collection within the Acropolis Museum. Once you've had your fill of historic sites, you can pop on over to Ermou Street and shop to your heart's content, or visit the fabled "neighbourhood of the gods," the Plaka District. To end your day, you can easily head to one of Athens' many idyllic beaches— all in one city!
If you're looking for a bit of a quieter getaway, look no further than the Peloponnese, famed for its enchanting natural beauty. Spend a day hiking at the Lousios Gorge, or visit Mani, the infamous peninsula where Paris and Helen of Troy fell in love amidst the harsh, yet alluring landscape.
Both destinations are easy to access by car. There are several reliable car rental services available in Greece—most of which can be booked easily at the airport.
Beautiful Coastline Best Seen From The Sea
What Greece is perhaps best known for, however, is its long and diverse coastline. Crystalline blue waters make Greece a boating destination that absolutely cannot be missed. Visit Santorini's volcanic islands, where you can spend the day in one of the hot springs of Palaia Kammeini, or gaze out amongst the beautifully shattered landscape and revel in the result of millennia of volcanic eruptions that have shaped the topography of the region.
If you have the time to spare, the Ionian cruise is a must for anyone looking to experience the best of Greece. Whether you've a mind for cultural wonders, or just like to relax amidst nature, the Ionian cruise is for you. You'll spend a week at sea, exploring the stunning natural landscapes of a smattering of islands off the west mainland coast. You can swim in the shockingly blue waters of Antipaxos, or take in the rugged rock formations of Corfu.
The Local Cuisine
The smell of the sea in Greece is best paired with its mouth-watering cuisine; its influence can be found in the salty brine of feta cheese, or contrasted against the rich moussaka, which bursts with nutty and creamy flavours. The Mediterranean coast is blessed with some of the most fertile soil in the world, and yields delectable fresh produce, which finds its way into delicious, yet simple cuisine that heroes the land from which it originates.
If your meals are amiss without meat, take comfort in the Greek's traditional spit-roasted lamb and pork, perfected over millennia, or delight in an ocean-to-plate simple preparation of whole fish grilled or fried with a generous helping of ladholemono, a simple sauce made from lemon and oil.
Vegetarians can rest easy — there's much more than Greek salad and spanakopita to enjoy here. Savour simple homemade dolmades, packed to bursting with flavoursome herbs and nuts, or relish some delightfully rich courgette fritters, served with a side of fresh tzatziki to cut through the richness and keep you coming back for more.
Herbivores and carnivores alike will agree, however, that baklava takes the proverbial cake. One of the most famous desserts, and rightly so, you can spring for a traditional pistachio preparation, or treat yourself to a more modern twist with chocolate and custard.
Regardless of the figurative, and literal, route you choose, your trip to Greece is bound to be filled with unforgettable experiences, leaving you with a profound appreciation for everything from the centuries old stone streets, the undisturbed natural wonders, to the man-made (and perfected) Hellenic cuisine.