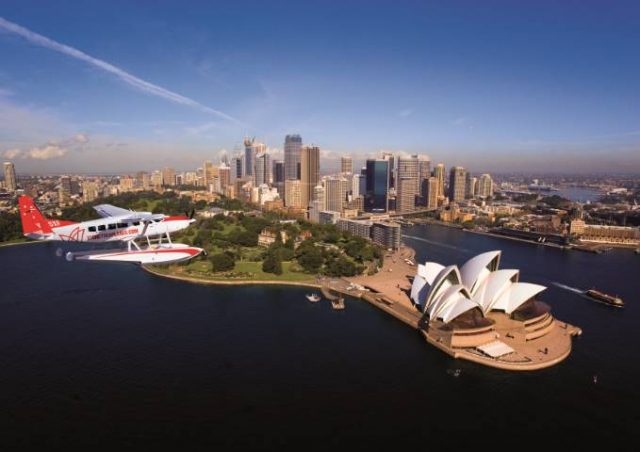 If you ask a Sydneysider for their most romantic date ideas, chances are a seaplane over Sydney Harbour will be high on the list. Just imagine – stepping onto your own private plane, soaring over the glistening Harbour and sweeping along the most beautiful coastline in the world, before landing at a secluded restaurant where lunch awaits. Talk about brownie points! Here's 4 seaplane trips to get you excited.
Discover hidden wonders
Five separate waterways meet at Broken Bay on the Central Coast, and beneath the swirling waters live an unexpected treasure — pearl oysters. On Sydney Seaplanes's Broken Bay Pearl Farm tour you'll fly to Mooney Mooney to visit Broken Bay Pearl Farm, where the world's purest pearls, the Akoya variety, is grown.
The 20-minute flight from Rose Bay is followed by a boat cruise to see pearls being harvested. Then at the 'Shellar Door', you'll learn how the precious gems are graded and valued. And, yes, there's a shop on site. Before flying home, there's another treat — a delicious hamper with Sydney rock oysters, pearl meat (a delicious delicacy) and sparkling wine.
Go above and beyond
The exclusive Marramarra Lodge is as mesmerising as the Hawkesbury River surrounding it. Sydney Seaplanes can fly you north from Rose Bay over the enchanting waterway before landing and floating to the waterfront 'doorstep' of this luxury retreat.
Under a canopy of towering eucalypts, the lodge provides an authentic Australian bush experience, with accommodation in Peninsula Tents featuring large riverstone bathrooms, air-conditioning and decks with river views.
Former chef to royalty Paul Macnish creates gourmet meals at Budyari Restaurant, and the luxe experience continues with a tour to a nearby pearl farm, pampering at the lodge's Iyora Day Spa and the opportunity to forage for bush tucker and explore rock carvings with a local Aboriginal Elder.
Fly, wine and dine
One way to beat the traffic is to fly over it. For an unforgettable experience in the Hunter Valley, Sydney by Seaplane flies north from Sydney to Cessnock in an hour for an exquisite day in this world-famous wine area.
Take off from Rose Bay and enjoy a bird's-eye view of Sydney Harbour, the Northern Beaches and the Central Coast before landing in Cessnock to visit Piggs Peake Winery.
Savour 'unique boutique' wines at the cellar door and then it's time for lunch in Pokolbin at Yellow Billy Restaurant, renowned for meals cooked over a firepit stoked with ironbark, maple and mahogany woods. The day ends with a spectacular figure-eight flight in front of the Sydney Harbour Bridge and Sydney Opera House.
Land in style for lunch
Cottage Point Inn, which is hidden away in the rugged Ku-ring-gai Chase National Park, is one of the most charming restaurants in Sydney, and a front-of-house 'splash down' arrival with Sydney by Seaplane guarantees a head-turning entrance. From humble beginnings in the 1950s as a boathouse, general store and post office for the Hawkesbury River community, the inn is now a fine-dining destination, with wagyu beef, Moreton Bay bugs, kangaroo tartare and licorice cake all on the menu.
Taking in the view of the passing river traffic is like watching a magical slow-motion film, and be sure to look skyward to see magnificent sea eagles soar high on their daily patrols. As the final flourish, the Sydney by Seaplane flight home ends with a fly-by of the Sydney Harbour Bridge and Sydney Opera House.