If you're lucky enough to find yourself in San Francisco, and unlucky enough to have a mere 48 hours to explore the countless sights – read on. The City by the Bay is famous for its fog (known affectionately as Karl), its cable cars, steep hills, Ghirardelli chocolate and of course – the famous Golden Gate Bridge views.
A blend of touristy must-do's and local gems will easily fill your 48 hours in San Francisco, and leave you dreaming of your next trip before you've even left the city.
Arrival
San Francisco offers the BART (Bay Area Rapid Transit) which connects the airport to downtown via train. Roughly 30-60 minutes depending on transfers and traffic, you'll most likely require the train and a bus. If you're short on cash and have the time to spare, it's a no brainer. If you're in a rush or want to skip navigating fresh off a flight, I would suggest booking an Uber, Lyft or taxi. Speaking of rideshares, if you haven't downloaded an Uber or Lyft app yet – now is the time to do it, you'll need it.
Stay
Regardless of how much time you have in San Francisco, central accommodation is a must. Avoid the tourist-heavy hotels lining Fisherman's Wharf or Union Square, and head to Nob Hill. Accessible on foot to Chinatown, Union Square, Fisherman's Wharf and Grace Cathedral, Nob Hill offers stunning vistas and quintessential San Francisco architecture. Some of the city's swankiest hotels are found in this neighborhood, and nothing is as historic as the grand dame herself: the Fairmont San Francisco. Hosting the first group of statesmen (that culminated in the creation of the United Nations), the Fairmont San Francisco boasts a storied and extensive history. This stunning hotel was home to the first bar in San Francisco post-prohibition, the first place where Tony Bennet sang his illustrious "I left my heart in San Francisco", and employed America's first concierge, Tom Wolfe. If you're a history buff, lover of luxury or simply want a quintessential San Francisco experience – the Fairmont San Francisco is for you.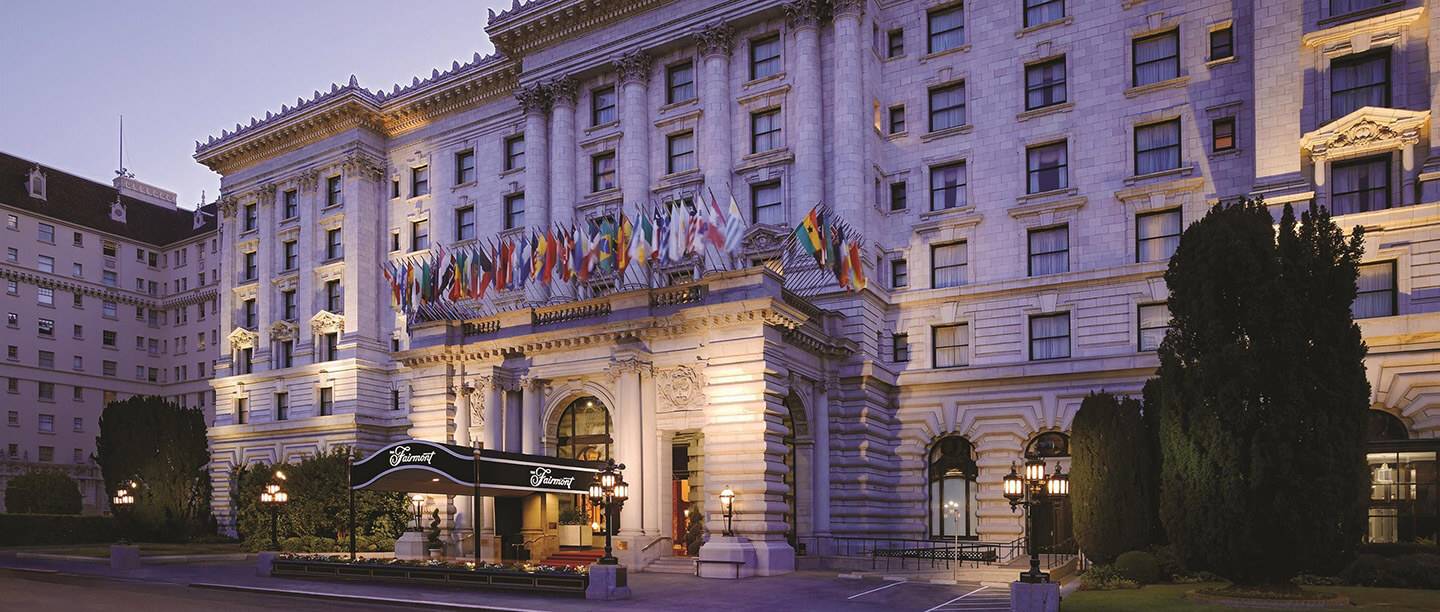 Explore
While 48 hours may not seem like a lot of time (because it isn't), there's enough time to get a taste for what San Francisco has to offer. Things you'll need: Comfortable shoes, a Lyft or Uber app, and an empty stomach.
Chinatown & North Beach
From the Fairmont San Francisco, head north to Chinatown. Whether you stop and explore or simply walk through is up to you, but if you're inclined to make a stop – don't miss the Golden Gate Fortune Cookie Factory. This tiny "factory" draws big crowds, and the best times to go are between 9am and 2pm. Continuing north towards Washington Square and the North Beach neighborhood, your next stop is Molinari Delicatessen. Established in 1896, Molinari's is one of the oldest delis in the United States and a must for lunch. Grab the grilled focaccia sandwich special (stuffed with prosciutto, fresh mozzarella, sun dried tomatoes and sweet peppers) and head to Washington Square for a people-watching picnic. Did I mention they sell cold beer?
Fisherman's Wharf & Marina District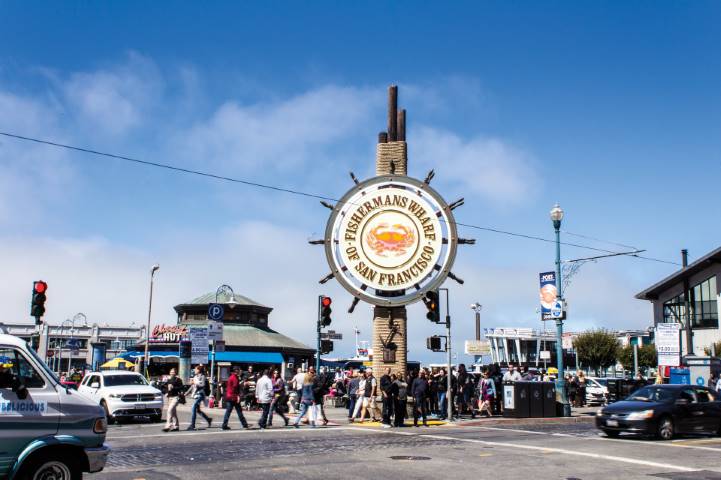 From Washington Square, head northeast to Coit Tower to burn off the cheese and carbs (or simply snap a pic of the famous lookout from a distance). Continuing north, head down to Pier 33 and slowly make your way along the Embarcadero towards Fisherman's Wharf. If time allows, stop at Pier 41's Boudin Bakery – famous for their sourdough loaves. Your lunch will be a distant memory once you catch a whiff of the rising bread baking on site.
A visit to Fisherman's Wharf will assault your senses, and you may want to make it quick. Fisherman's Wharf is packed with chain restaurants, throngs of tourists and endless gift shops. Don't miss the sunbathing sealions, a delight to watch (and listen to) as they jostle, spar and bark for their territory on the docks. Don't let the tourist-heavy element put you off – the sunset catamaran cruises that depart from Fisherman's Wharf provide jaw-dropping views of the Golden Gate bridge, Alcatraz and San Francisco Skyline, and are well worth it.
Feeling adventurous? Grab an electric scooter parked at Fisherman's Wharf and scoot to dinner. For an even more powerful ride, opt for the electric scooter with two motors.  Heading west from Fisherman's Wharf along Bay Street, you'll quickly trade the tourists for lululemon wearing locals in the Marina district. Try the patio at the Tipsy Pig, or tuck into the infamous burger at Causwell's. Feel like more Italian? A16 is known for having some of the best pizza and small plates in San Francisco. Grab a Bottle and a Box (aka a pie and a bottle of wine to go) and head down to Crissy Field's East Beach for stunning Golden Gate bridge views and lengthy walking trails.
After soaking in some quintessential San Francisco views, grab an Uber back to your hotel and cap off your first day in San Francisco with a nightcap. Another historic (and kitschy) watering hole that you can't miss is the Tonga Room, located inside the Fairmont San Francisco. This 76-year-old tiki bar was once the hotel pool and comes complete with rain-showers and piped in thunder. While the schmaltz is over the top and the cocktails on the pricey side, the menu of Polynesian fare is perfect for a happy hour nibble.
For your second (and final) day in San Francisco, visit a few more of the neighborhoods that help give San Francisco its charm – but before you do, there's brunch. Mymy offers everything from Challah French Toast and Crab Cake Benedict to your basic omelettes and toast. Located at the corner of California and Larkin street in Nob Hill, this small family-run restaurant is well worth the wait.
Haight-Ashbury & The Castro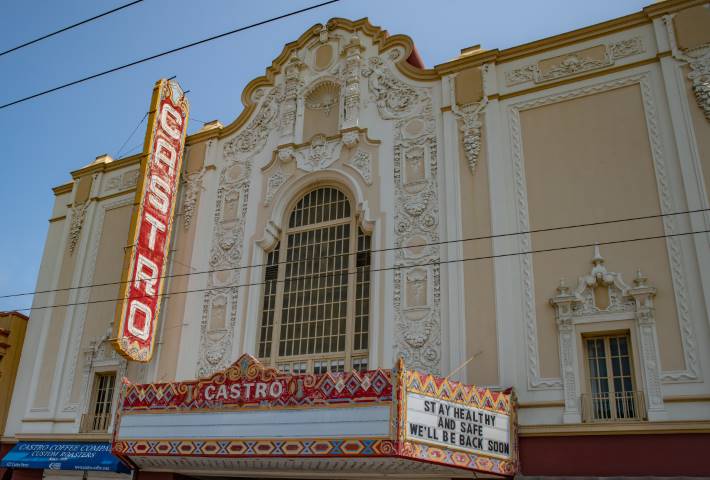 Home to the Hippy movement of the 1960's and the original Flower People, the Haight is full of vintage shops, bookstores, independent coffee shops and more. Retrace the steps of the famous artists who flocked here to get their creative juices flowing (among them John Lennon and Yoko Ono).
Grab some provisions at the Haight Street Market and head north to Alamo Square and the Painted Ladies. These famous and colourful Victorian-style homes are one of the most photographed destinations in San Francisco, and are also referred to as 'Postcard Row'.
A quick Uber (or scenic 25-minute walk south) will bring you to the Castro, synonymous with LGBTQ history and culture. Stroll the Rainbow Walk, inlaid with sidewalk plaques honoring LGBTQ activists. You can't visit The Castro without acknowledging its most famous and influential resident, Harvey Milk. The first openly gay elected official, Milk was a champion of gay rights until his assassination in 1978. His legacy lives on, and his former business (Castro Camera) at 575 Castro was painstakingly restored for the 2008 Academy-Award-winning movie based on his life.
Take in the history at the GLBT Museum, the first stand-alone museum dedicated to gay, lesbian, bisexual and transgender history in the United States (and second in the world). Imbibe at Twin Peaks, the first gay bar in the city (and some would argue the United States). Everywhere you look you'll find welcoming rainbow flags, quirky shops (don't miss the aptly named Does Your Mother Know) and plenty of dining options.
Your final evening in San Francisco will depend on your interests, the season and day of the week you happen to be visiting. A tour of Alcatraz at night is sufficiently spooky, fascinating and without the same number of crowds that daylight brings. A sunset bike ride across the Golden Gate bridge will get your adrenaline pumping amidst stunning views. Want to pair dining, romance, and an outdoor movie? Foreign Cinema in the Mission District offers all three, with a heated and covered outdoor patio, glowing string lights and old movies projected onto a blank brick wall. While the ambiance is a 10 (everyone looks great in flickering candlelight) the food equally delivers, with a California-inspired menu, flights of wine and inventive cocktails.
Departure
While 48 hours may not be enough time to make a pilgrimage to Napa Valley, don't fret. The San Francisco International Airport has you covered. Yes, really. The Napa Farms Market offers two outposts (one in the domestic Terminal 2 and another in the International terminal) and has been named 'Best Airport Restaurant' by Food & Wine Magazine. It's truly Farm to Flight fare, offering everything from fresh pizza and grilled paninis to pasta and salads. Representing the best in local Napa artisans and suppliers, travelers can grab bottles of local wine, hand made cheese, small-batch chocolate, breads, preserves and more. Do not get on your flight without stopping here first. You've been warned.