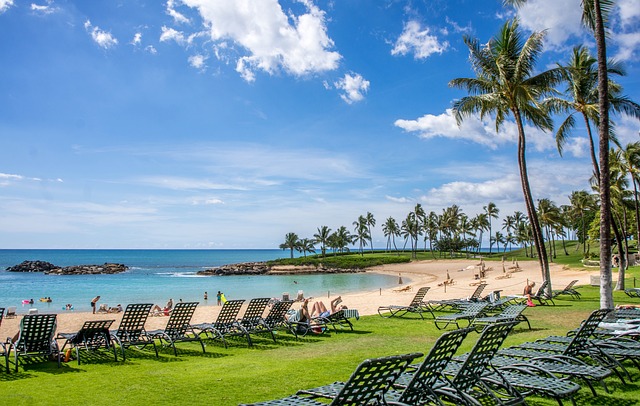 Are you planning to travel in 2023 to various exotic destinations? If so, you have come to the best place. Suffice to say, traveling is the best way of relaxing yourself after a heavy work schedule. However, determining the best places to travel to can be a challenging task for many. Also, when you're in these destinations, you can still connect to friends and loved ones through the best RV WiFi hotspot. Here are the best places for your holiday destinations in 2023:
Oahu, Hawaii
Have you ever had the desire to do something extraordinary for your holiday? Something cool like swimming with the sharks! Yes, you got that right. At Oahu, Hawaii, you will have the unique privilege of dipping into the ocean with the sharks!
Shark Dives
Be treated to a shark dive tour at Oahu, Hawaii. You get to interact with the sharks one-on-one and see them up close! Whoa! That is something you will live to remember.
If you are something like me, maybe you are beginning to shake at the thought of interacting with a sharp-fanged shark. Don't fret, though. There are tour guides to take your hand and walk you through everything you need to do before embarking on your tour. It will be a fantastic tour.
Ocean Views from a Glass-bottom Boat
I am confident you would love to view the beauty of the ocean floor. If so, the Haleiwa Queen Cruise will take you on a glass-bottom boat. Then, you can see the tropical reeds at the sea bed, the coral reefs, and the animal kingdom. Furthermore, the guides are available to answer all your questions regarding this empire and the animals in it.
Note that you have to book the glass-bottom boat activity beforehand to be able to participate. However, you can cancel within a given period if you change your mind.
British Virgin Islands
The British Virgin Islands is a top destination for your 2023 favorites. This destination is famous for its cruise tours around the islands, especially the southern islands like RMS Rhone Island. Among its highlights are the Bath and fresh seafood.
The Baths Cathedral room
The Baths in the British Virgin Islands are a natural wonder. You will enjoy having plenty of photo sessions here. Leave some space for shots of the Baths pool inside a small cave. This pool is the natural wonder known as the Bath's Cathedral Room.
Fresh Seafood at Anegada Islands
Another place you should set your sights on while in the British Virgin Islands is the Anegada Islands. You can sail directly there from Tortola. This holiday destination will treat you to a selection of privately run guesthouses, thrilling hotels, and beautiful villas. Remember to check out the Lobster Trap for freshly made seafood. The meal cost is pocket-friendly. You won't need to break into your savings bank to eat here.
Santa Lucia
Santa Lucia is popular with beach lovers and hikers. There are beautiful historical landmarks like the Pigeon Island National Landmark. A historic causeway connecting the island to the mainland is also an excellent sight. In addition, there is a lot you can learn from the concepts involved in the construction of this manmade causeway.
Sandy Beaches and Glorious sunsets at Santa Lucia
While at Santa Lucia, visit Reduit Beach. The sands and glorious sunsets will awe you and leave your mouth agape. The waters are shallow here if you love swimming or playing on the sandy beaches. In addition, a row of eateries and shops is within reach, and you can keep transiting from the sandy beach to the shops and eateries and back again. You will have fun, enjoy yourself and eat your fill.
Loreto, Mexico
Loreto, Mexico, is a hidden Jewel. Although many don't know about it, it's one of the most exciting and best holiday destinations. The destination has a heart-touching serene environment, among other things.
Interacting with Nature and Watching Marine at Loreto, Mexico
This destination gives you a chance to interact with nature uniquely. Reminisce on visiting Isla Colorado, the city on the shores. You will have a chance to partake in many activities and watch incredible marine life, like the legendary dolphins, sea lions, and other tropical fish. You will love this destination.
Share Fun and a unique sight
Furthermore, you can take a boating tour to explore the island and walk along the winding rocky footpaths. You can also swim on the shores and relax to your heart's fill on the beach.
Should you have a chance to visit Loreto, Mexico, between January and March, you will be even luckier. The great humpback and blue whales migrate here during this time. So, you will see this rare sight. The water is warm and conducive to their birthing season and allows the baby whales to thrive.
Historical Loreto
Loreto, Mexico, is a must-visit for 2023 if you are a history lover. The city is the home to some of the earliest Jesuit and Franciscan missionaries. You will also see this beautiful city's history and intermingle with the locals. The Loreto Mission, which gave birth to many sister missions worldwide, has been a masterpiece since the 1600s.
Ibiza, Spain
Ibiza, Spain, is another must-visit for your 2023 destination. Your center of attraction is on the southern coast of the Balearic Islands. Are you a party person? Good, because party action here is non-stop, especially during the summer. Moreover, your favorite DJs will be on-site, and your favorite drink will be available.
Clear Water Beaches and Activities in Ibiza Spain
The Ibiza Beaches are famous for their clear, inviting waters for swimming. Secondly, the soft sandy beaches are ranked top for sunbathing.
Further, there are plenty of other activities too. You will enjoy snorkeling beautifully due to the clear waters. In addition, you can relish walking through the historical sights of the old town of Dalt Vila. The Dalt villa is a prehistoric ancient sandstone fortress. Historians say it warded off invaders and pirates in its hay day.
Shopping and Fashion
Punta Arabi Hippy Market will cater to your shopping needs if you are a shopping fan. It is one of the unique markets in Ibiza, with fashion items, jewelry, and stalls with all sorts of tasty foods. Live bands and local musicians entertain the crowds of tourists and locals.
`
Winding Up
These are some of your most outstanding choices for the Best holiday destinations for 2023 and beyond. These are your must-visit choices for holiday destinations this coming year. Each destination has something extraordinary to make your holiday experience unforgettable. The hospitality in these destinations is first-class. Secure your spot early.