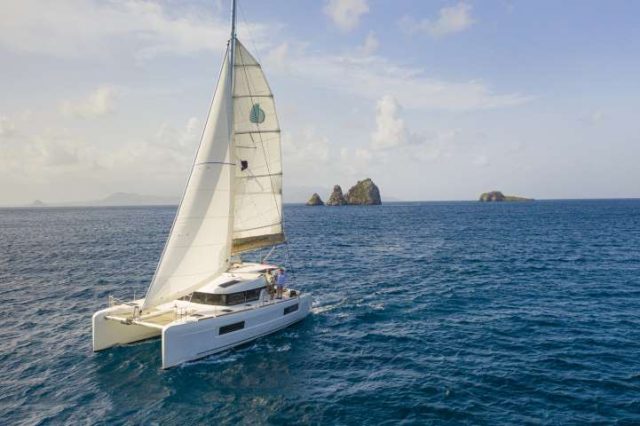 There's something to be said for lazy-days vacations, and hours spent doing nothing more energetic than scrolling to the next page on your e-reader. But if it's a live-every-moment kind of getaway that you're after, where you're doing something even when you're doing nothing, then check out these five experiences that inspire, excite, and educate.
Who: Nautilus Sailing
What: Live the yachting life for a week while earning your sailing certification!
Where:             Sea of Cortez, Mexico; Grenadines, Caribbean; Exumas, Bahamas; Tahiti, South Pacific; Mallorca, Spain; Split, Croatia.
Nautilus Sailing's website asks if you've always wanted to "live the life of adventure" and their weeklong, live aboard sailing immersion courses really do let you live the dream. With five spectacular locations to choose from, Nautilus Sailing offers guests an array of land and sea activities to enjoy while learning the skills needed to earn formal American Sailing Association (ASA) certification. The cutting-edge curricula combine the luxury of yachting with the intensive hands-on experience needed to be confident, careful, and capable sailors. Every day aboard their fleet of modern and well-appointed catamarans and monohulls, you'll learn terminology, safety, navigation, and other crucial sailing skills. And, when not hitting the books, you'll be exploring the nightlife and food culture of Mallorca, snorkeling through underwater sculpture gardens in Grenada, or wandering white sand beaches in Tahiti. Book your course now and get ready to live your life of adventure!
Who: Follow the Camino
What: Walk or cycle through France, Spain & Portugal on the famous Camino de Santiago
Where:             Tours start in Sevilla, Spain; Lisbon, Portugal; Lyon, France and other cities on the Iberian Peninsula
Journey the iconic Way of St. James and follow in the footsteps of queens and pilgrims alike. This historic network of footpaths wind through France, Spain, and Portugal, culminating at the ancient Galician city of Santiago de Compostela. Follow the Camino, Europe's preeminent experts on walking holidays, offers dozens of tours tailored to every taste, schedule, and budget. Travelers can join the crowd on the sandy beaches of San Sebastian or cycle the road less traveled through medieval Pontevedra. Whether learning more about Basque culture by getting to know its culinary heart, sampling midnight tapas and nightlife in Bilbao, or learning more about yourself as you make your way along the pilgrimage route, achieving your Camino de Santiago Certification can be life changing. And with their commitment to corporate social responsibility, every tour booked with Follow the Camino is an investment in their reforestation projects, CO2 mitigation initiatives, and sustainability measures. Learn more about walking the Camino today!
Who: Ecco La Cucina – Piedmont Food and Wine Culinary Vacation
What: Learn about Italian wine and food by eating, drinking and making it!
Where:             The Piedmont region of northwestern Italy
Ecco La Cucina has curated culinary experiences across Italy, but their holiday in the UNESCO World Heritage town of Alba, famed for its white truffles and hazelnuts, offers gastrotourists the chance to sip noble wines while tucked into ancient villages sheltered by the Alps. Guests on the Piedmont tour will spend 7 days living in a villa on an historic winery estate and indulge in unique experiences such as architecture tours of ancient villages, visits to artisanal cheesemakers, and excursions to local produce markets. Guests will learn the best wine pairings for Barolo and Barbaresco wines by taste testing the regional favorites while learning to prepare traditional Italian farm-to-table meals. Click here to learn more about Piedmont, or one of Ecco La Cucina's other tasty tours!
Who: Responsible Travel – Cuba Salsa Dance Vacation
What: Learn to Salsa and Rumba with local experts in Cuba's Second City
Where:             Santiago de Cuba, Cuba
If you've ever wanted to learn the Merengue but never had a willing partner, or you've been looking for a way to tour Hemingway's favorite Cuban haunts without crossing American authorities, Responsible Vacations has taken care of every detail. This 15-day trip includes 30 hours of intensive study of Cuba's most famous dances, from Salsa, Son and Chachacha, to Merengue and Rueda. You'll be paired with experts from the renowned Ballet Folklorico Cutumba who have experience tutoring every level – after intensive morning training sessions, you'll join your tutor to practice your steps in Santiago de Cuba's world-famous dance venues. Your homestay with a local family will immerse you in Latin hospitality and, with percussion workshops, Spanish lessons and city tours included, your Cuban cultural retreat will have you singing "Me Dicen Cuba" all the way home. Shine your dancing shoes and contact Responsible Vacations to reserve your space today!
Who: Volunteer World – Volunteer Scuba Diving Projects
What: Support research and marine biology efforts while volunteering underwater
Where:             Multiple projects around the world
If you're concerned about the growing impact of marine pollution, habitat destruction and rising sea levels on the marine ecosystem and you have a passion for volunteer work and a passport, contact Volunteer World to learn more about their 56 projects worldwide that let you be part of the solution. Most projects include all training, so even if you don't have dive experience you can still take part in multiple scientific diving expeditions while earning your scuba certificate, Open Water certification or PADI, before you begin working on Great White Shark conservation in South Africa, marine research in Mozambique or invasive species management in Belize. Get to know the local culture, meet like-minded souls and have the experience of a lifetime when you book a volunteer experience with Volunteer World.