Seriously immerse yourself in Greek island life in an idyllic villa on Santorini, where you can swim in the cobalt blue sea, drive around tranquil whitewashed villages to buy your morning Spanakopita (spinach and feta pastry), and sunbathe in the blazing sunshine, as it becomes safe to do so. Your only challenge on this trip will be finding the best vantage point to take in Santorini's dreamy vistas.
Global travel leader Booking.com has shared Santorini's highest-rated flexible vacation homes, according to travelers.
Ikia Kriton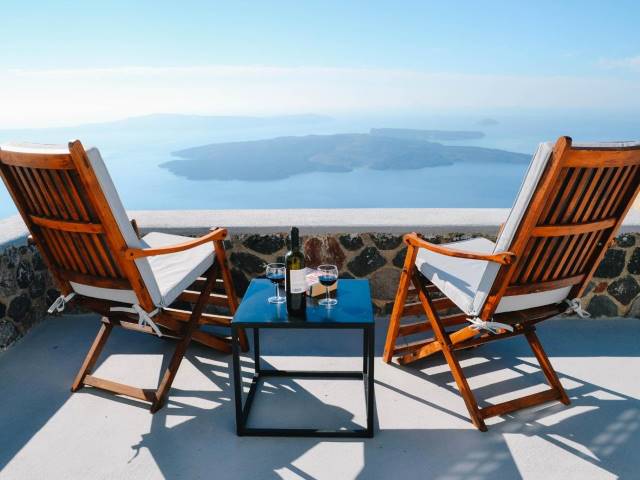 Old stone house Ikia Kriton is built into the cliffs on the edge of Santorini's caldera, a crater that was partially submerged by the Aegean Sea after a volcanic eruption about 3,600 years ago. Views out onto this half-moon-shaped bay are highly sought after, with thousands of visitors coming each year to witness the soulful sunsets over the quaint white villages, bright blue sea, and maroon cliffs. The perfect panorama of the island from this house's broad terrace is a valuable asset and a heavenly spot for an early morning coffee or a night cap brought to you by welcoming hosts Kriton and Eirini, a mother and son duo.
Anemi House & Villas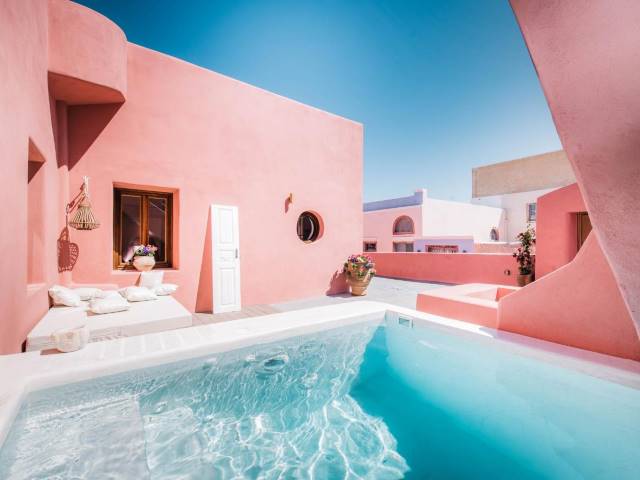 A traditional Santorini cave house painted pink, lilac, and blue, Anemi House & Villas is as photogenic as the caldera itself. It's laid out like a rabbit warren, with gray stone stairs and private pockets of terrace punctuated by a plunge pool. Shaded by olive and palm trees beside overflowing flower pots, you'll have a wide choice of places to enjoy a glass of wine in the evening sun. The house has everything you could ever want on vacation: An attentive but unobtrusive owner, Dimitris, beautiful monochrome suites varying from bright white to royal blue and hot pink, 360-degree views of the island from the rooftop, outdoor hot tubs, and plenty of local markets to peruse for the freshest Greek foods you'll daydream about for years to come.
Azalea Houses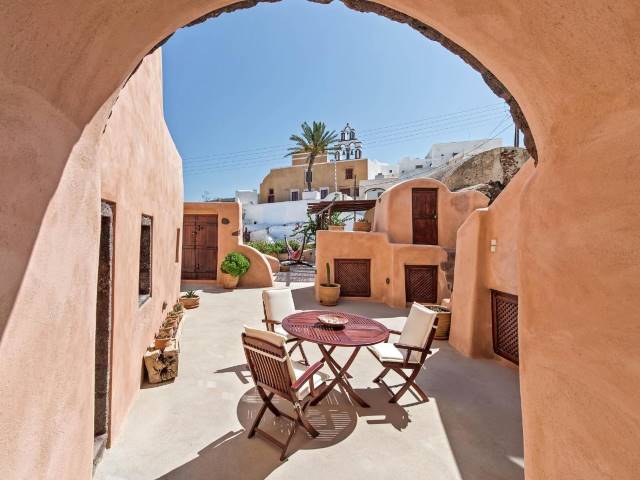 A restored, 18th-century winemaker's house with mud brick walls, Azalea Houses is authentically and traditionally Greek. At the same time, it's the height of luxury with a minimalist aesthetic. The curved, peach-colored exterior creates a glorious color palette against the blue of the sea and sky. Walk to the nearby and famously pretty town of Oia, or find a private corner of the terrace while reading a book in a hammock shaded by fuchsia flowers.
Solstice Luxury Suites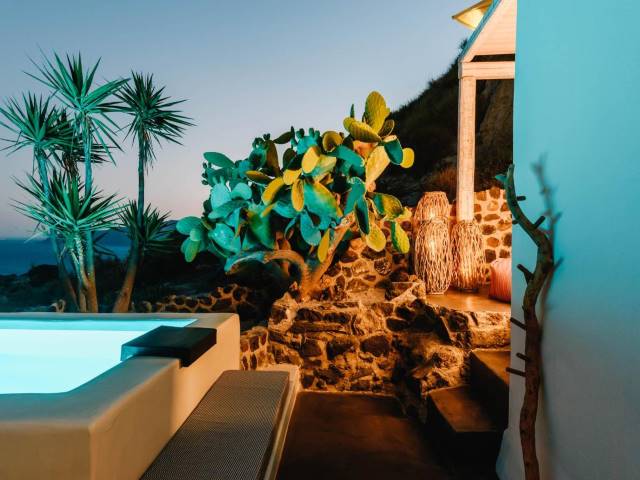 This cliffside Santorini villa is a masterpiece of minimalist design and Greek island splendor. The suites are all smooth lines and white linen, and the terrace has endless views of purely deep blue sea from the rooftop swimming pool. Enjoy a cocktail here after dark, when it's lit up with cacti planted all around like abstract sculptures. Additional perks include private hot tubs and a wonderfully hospitable staff led by Hercules and Nikos.
Cleo's Dream Villa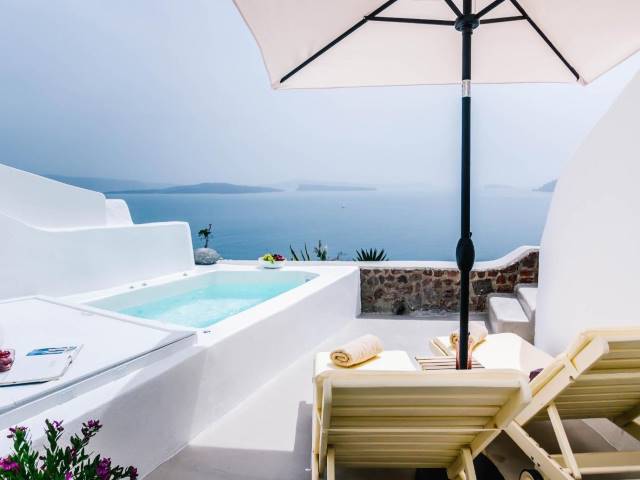 Beneath the cliffside haven of Cleo's Dream Villa, greenery flourishes in the fertile, volcanic soil and leads down to the sea, while above it you can see Santorini's famous blue-domed church, the Three Bells of Fira. The villa is right in the middle of the beautiful town of Oía, though it's so quiet you'd never know it. It's close to the beach, so you'll have the unfortunate choice of whether to relax in a private hot tub, rooftop pool, or a white sandy cove. The rooms themselves are decorated in soothing beige, gray, and pink, and open up to the terrace with deck chairs and a sweeping view of the caldera.
**********
Booking.com has introduced a new Proud Hospitality program to help accommodation providers in delivering a more inclusive and welcoming experience for LGBTQ+ travelers.
Cities with multiple Proud Certified properties will be showcased on Booking.com's designated Travel Proud page, where travelers can learn more about the initiative and find and book properties that are Proud Certified. The Proud Hospitality online training session that the company has developed in partnership with HospitableMe helps accommodation providers become Proud Certified properties on Booking.com.
The program is now available in English and rolling out to partners in the United States, Canada, the UK, Germany, France, the Netherlands, Australia and New Zealand, with new territories and languages being added through 2021 and into 2022.