Ghost towns are poetic reminders of the passage of time, with industries and communities that have all moved on and, often, remnants of once thriving populations. Many ghost towns have eerie associations, others tragic histories and some simply no longer serve a purpose. These abandoned settlements are the perfect spot for the next generation of bold travellers. Recent research from Booking.com, discovered that 45% of Gen Z travellers are a daring bunch, wanting to experience adventure as they explore the world.
Map out a trip to one of these ghost towns and revel in the quiet melancholy that's sure to send shivers up your spine.
Villa Epecuén, Argentina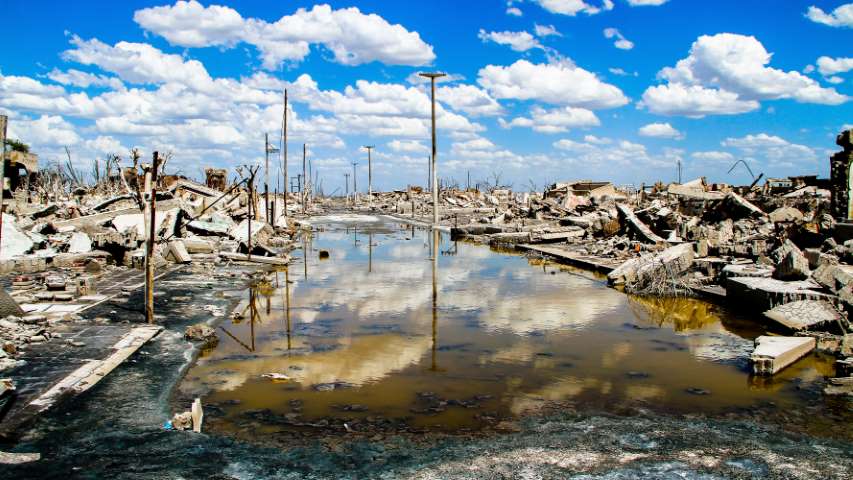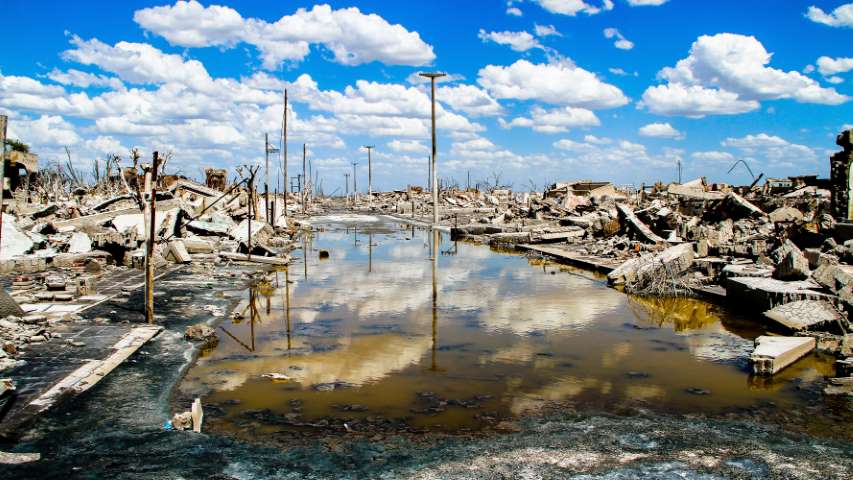 Welcome to Villa Epecuén – otherwise known as the town that drowned. What used to be a popular tourist getaway, the town was wiped off the map in 1985 when a nearby dam broke and flooded the area, submerging Villa Epecuén completely. For 25 years, it stayed submerged until the waters eventually began to recede leaving a ravaged town in its wake. Once opulent hotels now stand empty, cars sit rusted, petrified trees border the pot-holed tracks and crumbling buildings can be found on every corner. There's only one resident left in this town, Pablo Novak, who even inspired a documentary exploring his life. He's been dubbed the world's loneliest man and a visit to this post-apocalyptic landscape will quickly explain why. Take a guided tour of this barren world and stay at the Epecuen Hotel & Spa Termal.
Humberstone, Chile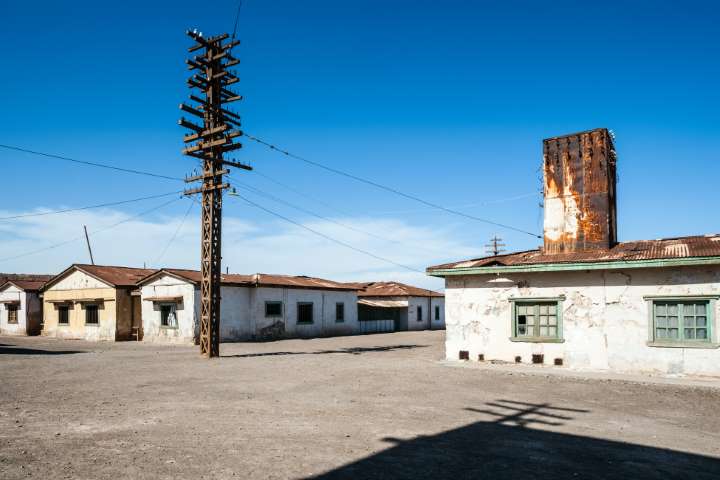 A former mining town in the inhospitable Atacama Desert, Humberstone took its name from a British chemical engineer who made a success out of digging in the desert for saltpetre, which was then used for fertilisers (Chile's major export during the 19th century). A blockade on this trade during World War One led to the town's complete abandonment in 1960. Now, it's one of the country's best-preserved ghost towns and a UNESCO World Heritage Site. It's home to rusty, skeletal structures shrouded in plumes of dust, from theatres with some original features and a swimming pool made from the hull of a ship. It's an ideal day trip by bus or car from the coastal Chilean city of Iquique, and is a wonderful way to explore one of Chile's lesser-known histories. Stay on Iquique's Cavancha Beach at Hotel Baquedano Boulevard.
Real de Catorce, Mexico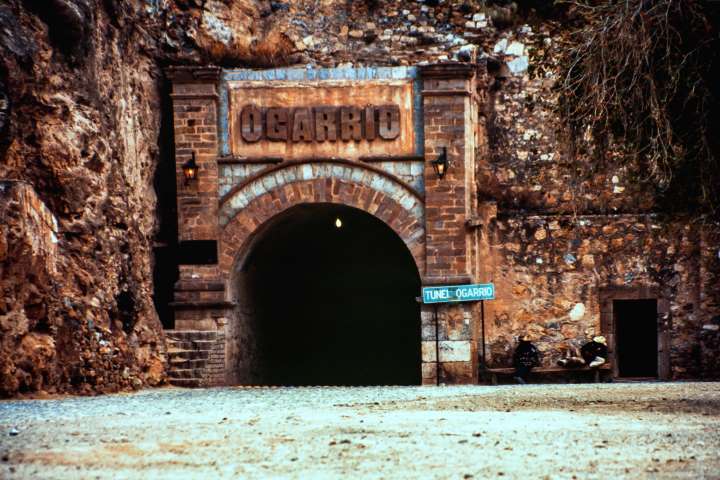 Though a few inhabitants remain, Real de Catorce has an undeniable eeriness to it. Located in the Sierra de Catorce mountain range, it got its ghostly reputation when silver prices plummeted after 1900 and most of the population fled elsewhere. What adds to its rather haunted atmosphere is the road into town (there's only one); the 2.4km-long Ogarrio Tunnel is dark, echoing and can only fit vehicles travelling one way, so you'll need to wait your turn by bus, car or hop on the back of a truck if you're feeling daring. Once you've arrived in the town, clamber up through the cobblestone streets and take a horseback ride up to the hillside where you'll find the desolate former homes of the miners and can even explore the mine shafts. Sleep above ground at Casa Curtos.
Kolmanskop, Namibia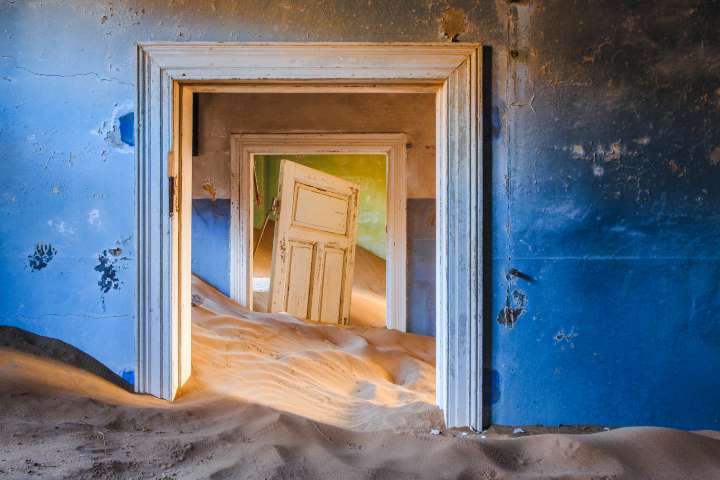 Kolmanskop is one of Namibia's most renowned ghost towns. In the early 1900s, German miners arrived in search of diamonds, who deserted the town in the 1950s when the diamond fields began to deplete. They left behind buildings inspired by German architecture that have now been filled with mounds of sand as the desert steadily consumes the entire town. It's a captivating sight and some buildings are still in good enough condition for you to wander into. Make the trip from the nearby town of Lüderitz and The Cormorant House, just a 15-minute drive away.
Bodie, USA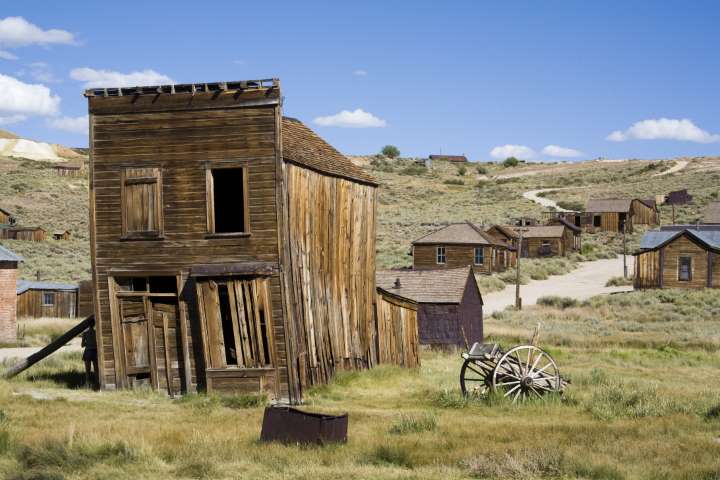 In 1879, Bodie was a booming gold-mining town. It had a raucous atmosphere, a street with over 60 saloons and a few thousand residents, most of whom were known for brawling and gunfighting (allegedly, every morning townspeople would ask whether anyone had been killed the previous night). However, a decade later the mines were dwindling in resources and the town was soon completely abandoned. Since that time, Bodie has been well-preserved and has even been awarded National Historic Landmark status in California. There's a Wild West charm that lingers on here; among the ochre-tinged grasslands you'll find a collection of rickety wooden buildings and former residents' forsaken possessions that live in a perpetual state of 'arrested decay' (the term the state of California uses to describe ruins kept as memorials). Virginia Creek Settlement is a nearby place to make your base at, just 30 minutes' drive from Bodie.