With its Grand Opening this week, JA Lake View Hotel Dubai becomes the first hotel in the Middle East to feature Amazon Alexa voice assistants powered by Volara in every guestroom. The solution, powered by Volara's conversation management software and integrated with Amadeus Service Optimization and VDA Group, ensures guests of JA Lake View Hotel Dubai can receive personalized service and adjust the comforts of their guestroom by speaking simple commands.
"JA Lake View Hotel is designed to create, curate and deliver services and experience that exceed the expectations of all generations," said Andy Headon–Smith, Group Head of IT for Dutco Group, which owns and manages the JA Lake View Hotel. "With travelers' requirements and demands changing rapidly, we believe that voice-based guest engagement is the future. By enabling guests to ask for, and immediately receive, the information, items, services, and concierge recommendations they seek, Volara's technology is helping us achieve our vision."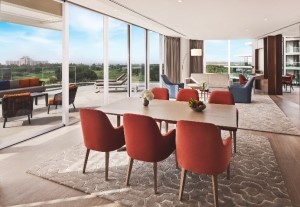 Kristofer Quadros, Hotel Manager of JA Lake View Hotel, said: "Guests can ask Alexa for information core to their stay like how to get on the WiFi or the hours of operations for our Calm Spa & Salon. They can learn about boating and sea plane excursions at the Marina, watersport equipment, and our mini golf course. Or if guests would prefer a quiet night in their room, they can ask Alexa to turn down the lights, turn on their TVs, send up champagne, and even schedule an alarm for the morning so they don't miss their tee time. This is truly the next level in service excellence and guest engagement, and we are thrilled to be the first hotel in the region to leverage this technology to drive satisfaction, loyalty and revenues."
Volara's software is enabling the hotel to manage conversations with its guests in real-time. It's secure integrations hub, which now includes over 40 hotel technologies, is enabling guests' requests to prompt specific actions – whether routing a task to hotel staff, turning off the lights, or putting on the air conditioning. The architecture of Volara's software enables additional layers of security to ensure that guests' personal information and conversations are protected, and JA Lake View Hotel's proprietary data is secure. Volara's patent pending Accuracy Engine ensures guest requests are properly handled, taking into consideration the many colloquialisms and accents used by global travelers.
"We are thrilled to play a part in the elevated guest experience at the JA Lake View Hotel with our hotel-grade voice assistant solution atop Amazon's Alexa," said David Berger, CEO of Volara. "Volara is proud to bring contextually relevant, totally awesome, conversational experiences at scale to the JA Lake View Hotel Dubai."
JA Lake View Hotel is the third unique property in the 1 million square meter experience-packed JA The Resort in Jebel Ali, Dubai. A unique structure with panoramic views over the golf course and Arabian sea, JA Lake View Hotel is described as a "design-driven property dedicated to sustainability." As the closest resort to EXPO 2020, JA The Resort is also 10 minutes from Dubai Parks & Resorts, 20 minutes from Dubai's buzzing JBR and 30 minutes from the iconic Dubai Mall. It joins the award-winning JA Beach Hotel and the Mediterranean style villa-suites of JA Palm Tree Court to become the only true all-inclusive resort in Dubai. Set along 800meters of private beach, it claims more than 1 million square meters of leisure facilities including seven landscaped pools with four swim up bars, a choice of 25 restaurants and bars, a nine hole, par 35 championship standard golf course with driving range, putting and pitching greens and Leadbetter Golf Academy Dubai, four tennis courts and tennis academy, squash and badminton courts, beach volleyball, horse riding stables, mini-golf course, a Watercooled Watersports Centre with water-skiing, windsurfing, banana-boats, catamarans, laser sailboats and a private 104-berth full service marina offering fishing trips, boat trips and seaplane flights. It also boasts 6 shooting ranges, Calm Spa, a bio-garden, a crèche, Pirates and Mermaids Kids' Club and Babysitting service.