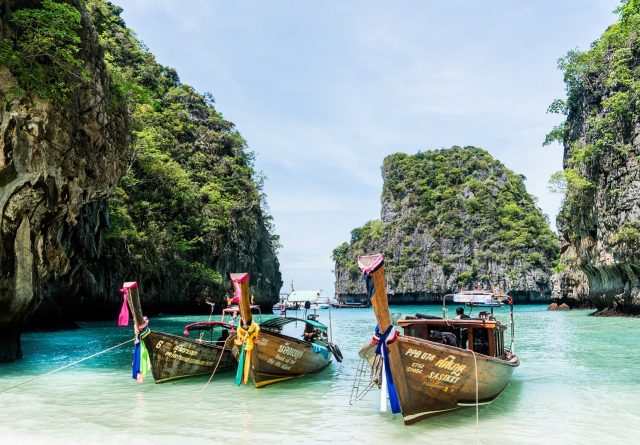 Thailand is near the top of a lot of people's travel bucket lists, and it's easy to understand why. It's a beautiful country packed with unique culture and fascinating attractions and activities, and it also happens to be known as a very affordable place to travel. Really, what more could you want?

As alluring as Thailand is though, it's always good to have a thorough idea about what you're getting into when you choose a new destination to travel to. Thailand – like most popular destinations – tends to be a little bit different than what you might expect, which is why we've written up some of the things about it that might surprise you.

1 – It's A Patriotic Place

It's not that anyone necessarily assumes Thailand isn't patriotic. But given what a big part of the culture national pride is, it's surprising it doesn't get more mentions in travel guides. For one thing, you'll find that the royals are somewhat renowned in Thailand. This is the case in other places with somewhat symbolic monarchies (most notably the United Kingdom), but in Thailand the constitutional monarchy that has been in place since the 1930s still emphasizes the royals in a meaningful way, to the delight of many citizens. You may well notice locals' respect and love for royal figures during your trip – but beyond this, you're also almost certain to notice the fact that the national anthem is played twice daily around the country (at 8am and 6pm). If you hear it – from a radio, TV, or public speaker – you're expected to stand still and pay respect.

2 – You Can Interact With Monkeys (Not Just Elephants)

The elephant is the national animal of Thailand, and naturally a favorite among visitors. Though there are some elephant exhibits tourists are encouraged to avoid (because they treat the animals like circus exhibits), there are others where people responsibly and joyously interact with these magnificent creatures. However, the fact that you can also interact with monkeys while in Thailand gets less attention! You may have read among Drift's previous recommendations for things to do in Thailand that there is actually a whole beach full of friendly monkeys (Ko Phi Phi Don). What could be better than that?

3 – Shoes (often) Aren't Welcome

You may be familiar with the idea that in some countries – particularly in South and Southeast Asia – it's customary to remove your shoes when entering certain establishments. But you may still be surprised with how often this is the case in Thailand. Whether you're entering a temple for a bit of cultural sightseeing, you're checking in at one of the country's famous spas, or you find yourself a guest in someone's home, you're likely to be asked – or just expected – to go barefoot before you enter.

4 – There Aren't Land-Based Casinos

Some people visiting this part of the world may expect to find land-based casinos or even full resorts. This is understandable given that neighboring Cambodia has casinos, and places like Singapore and the Philippines are also known for these venues. However, land-based casinos have been kept at bay since 1935 in Thailand, with in-person gambling only taking place at horse races and via the national lottery. With that said though, online casino gaming databases indicate that there are some providers, like WeBet and 188Bet, that provide online versions of casino games for those who are so inclined. Animated slots, in particular, are common offerings.

The Street Food Is Amazing – But Sweet

It's well known that Thailand is one of the best countries in the world for street food. Pop-up restaurants and regular outdoor vendors provide a range of local dishes that are affordable, unique, and delicious, and which wind up providing a lot of tourists' favorite experiences. What you may not be expecting, however, is the fact that a lot of the street food you'll be trying will actually have a fairly high sugar content. While most foreigners don't think of Thai food as being particularly sweet, its' common for scoops of sugar to go into the dishes. That's not to say the sweetness overcomes the other flavors, because typically that isn't the case. But it's still a touch a lot of people are surprised to discover.