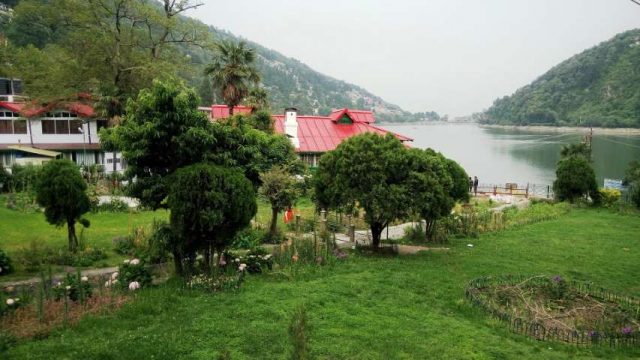 Nainital, also commonly referred to as the Lake District, is a pristine valley located in Uttarakhand, India. This famous tourists' magnet offers picturesque views of the surrounding mountains and plenty of natural beauty. It's probably the best hill stations in India, offering a comfortable and cool place for flocking tourists and locals throughout the year.
Nainital happens to be one of the most popular romantic spots for couples and honeymooners seeking to create some fond memories, as well as stargazers looking for intimate time with nature. Apart from absorbing in the beautiful lake scenery and the surrounding beauty, there is plenty of fun things to do and places to go in this little paradise as well as a great selection of popular hotels & properties in Nainital to complete your stay. Let's take a quick look at the top 5 that we think should not miss on your to-do list;
1. Boating at Naini Lake
Being a lake district, the best place to start your visit and fan is naturally on a boat ride. Naini Lake is the most famous and easiest to access in the entire Nainital. Boating at this lake offers an opportunity to indulge in the beauty that surrounds the lake on both sides. Some of the beauties you will notice while boating includes the Tiffin Top, Cheena Peak and a number of snow-capped peaks.
2. Naina Peak
Naina peak is the highest point accessible in the Nainital district, and so far the most visited tourist spot in this destination. If you're the adventurous type, a visit here offers a great trek that teats you with the mesmerizing beauty of pine forests, cypress, and deodar. While the view from the peak will obviously be your best moment, the overall journey is extremely satisfying and rewarding as well. This is one of the few treks here that are friendly to even beginners.
3. Nainital Zoo
The Nainital Zoo is a great visit for nature lovers as it has lots of native animals, birds, and flora to occupy both adults and kids the whole day. You get to see some rare varieties of animals such as royal Bengal tiger, Red Panda, Golden pheasant and much more. Besides, the zoo is located at a high attitude which offers an opportunity for amazing views from the hilltop.
4. A visit to Corbett National Park
This is another great option for nature lovers looking to explore the beautiful flora and fauna of this amazing destination. Corbett National Park is one of the most popular tourist destinations in Nainital and the Oldest Park in India. Corbett occupies a vast area and is littered with numerous species of birds and animals for your viewing pleasure. You can take a tour on a jeep, but to make things really interesting, why not take a safari on an elephant!
5. Go for Camping
Satisfied with the lakes and mountains? Cool, let's go star gazing! As you will find out, Nainital has a fair share of ridges and meadows too that provide the best camping sites for both wilderness experts and novice campers. Kumaon camping site, for instance, offers pleasant weather almost year-round. Birdwatching, trekking, warm bonfires and star gazing are just but a few activities that will keep you occupied here.
Bottom Line
As you can see, Nainital tour destination offers a diverse mix of lakes and mountains, peaks and valleys as well as plants and animals to make your visit a rich in amazing views and memories. With so much variety and flexibility, you're guaranteed to have one of the best times in your life, regardless of your time and budget constraints.