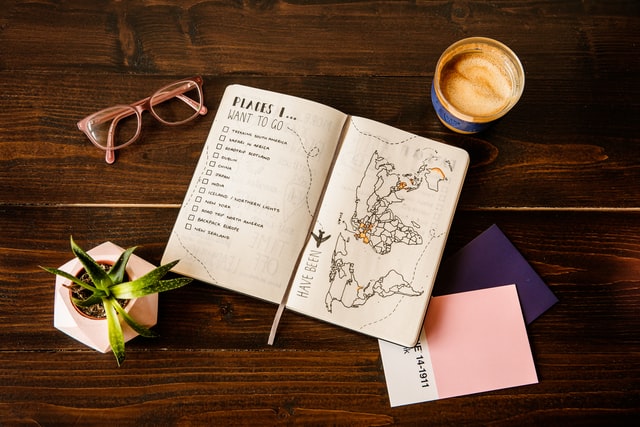 Can't decide on your next travel destination? Don't sweat it! All you need is a warm cup of coffee and some adventurous book reviews to help you find the next stop on your bucket list. From the Great Pyramids to the icy land of Antarctica, here are six travel destinations that famous authors have taken inspiration from in their books:
Egypt & Spain
Inspired by: The Alchemist
Author: Paulo Coelho
A dream signaling a hidden treasure in Egyptian pyramids forces a young shepherd, Santiago, to leave Andalusia. His journey, hit by grueling challenges, led him to meet several characters and learn life-changing lessons. Santiago's arduous trip from Africa to the Sahara to the pyramids is a true inspiration for those who find themselves lost and want to connect to nature.
New York City, USA
Inspired by: City of Girls
Author: Elizabeth Gilbert
95-year-old Vivian recalls her journey from being kicked out of college to finding pleasure in the glamorous New York City theatre. Packed with beautiful showgirls, writers, charismatic actors, and actresses, Vivian is living a small fairy tale sometimes disrupted by challenges. City of Girls, a historical yet romantic fiction novel, is a true epitome of human desire and motivation for those coveting to live a luxurious life.
Antarctica
Inspired by: Where'd You Go Bernadette
Author: Maria Semple
A comedy novel written in 2012 revolves around searching for Bernadette, who got lost before a family trip to Antarctica. After that, Bee, the daughter, decides to look for the traces and starts an exciting search mission. The book, which was also filmed in 2019, has a mysterious plot to excite you about a trip to Antarctica.
Rome, Italy
Inspired by: Angels & Demons
Author: Dan Brown
If you are fond of architecture and ancient history, reading this book will undoubtedly compel you to book a flight to Rome and the Vatican. Written in 2000, Dan Brown has depicted the clash between the Illuminati (free belief in science) and Catholic Church (dedication to faith), a dispute which is a hot debate in today's world as well. The book begins with a murder, the investigation of which leads Langdon to pursue the Illuminati.
England
Inspired by: The Adventures of Sherlock Holmes
Author: Arthur Conan Doyle
Residing in 221B Baker Street London, Sherlock has extraordinary detective skills that were unleashed after a series of murders in London. His and his partner Dr. Watson's search for the murderer keeps the readers hooked from suspense and curiosity.
The St. Bartholomew's Hospital (recall Sherlock meeting Watson), Café Royal (remember the life-threatening attack on Sherlock), and many more sites are inspired by this one book.
South Africa
Inspired by: Long Walk to Freedom
Author: Nelson Mandela
There will always be something left to explore in South Africa if you aren't carrying this autobiography of Nelson Mandela in your mind and your soul. Starting from Mandela's childhood as a herd boy to his 27-years prison sentence and his eventual success in becoming the president of South Africa, the book speaks of every aspect of his life. And the best part — nothing can be more inspirational than following the footsteps of someone victorious against racial oppression.
We hope this list has inspired you to choose the next travel destination you will love. But there is always more to explore — read our #WHERETONEXT articles and find more outstanding spots for your next trips.