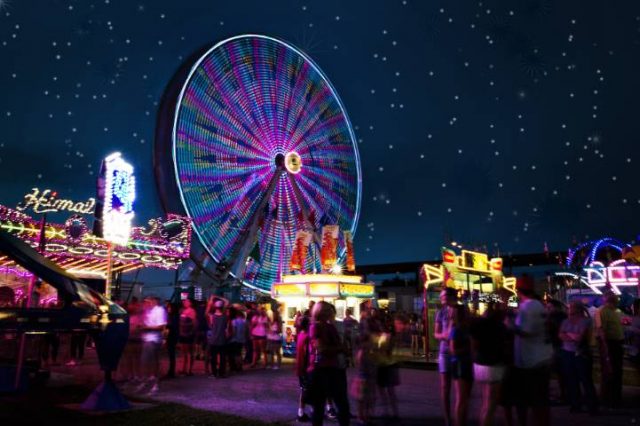 From carousels to candy floss stalls, the Great British beach fairground has so much to offer – and not just for summertime!
But where is best to go for the ultimate beach fairground experience? Below, experts at holiday lettings company, holidaycottages.co.uk, has revealed the six very best British beach fairgrounds and amusement parks for the whole family to enjoy. 
1. Pleasure Beach, Blackpool
It's no wonder Blackpool's iconic pleasure beach is the very best in the UK! With more than 125 rides and attractions, Pleasure Beach is perhaps the most well-known beach amusement park, and with Nickelodeon land and live shows for the youngsters, and the iconic Big One and Grand National roller coasters, it's exhilarating fun for all the family. It's located right on the seafront too, so you can easily take a break from all the excitement to enjoy a bag of chips and a donkey ride on the beach. A perfect family day out!
2. Dreamland, Margate, Kent
Named the 'vintage theme park extravaganza', Dreamland is truly a nostalgic experience. It originally opened in the seaside town of Margate in the 1860s and was fully restored to its prime in 2015 – but with the charming feel still at its heart! Rides include family favourites such as dodgems, carousels and waltzers, with plenty of events, live music and onsite classic seaside restaurants to enjoy too. Plus, it's just a couple of minutes' walk to Margate beach! If you want to step back in time, Dreamland is for you. 
3. Luna Park, Scarborough
Located in the heart of Scarborough's South Bay, Luna Park is a great way to spend a fun-filled afternoon with the family. The park has plenty of the rides you know and love, such as dodgems, a Ferris wheel and even hook-a-duck, and there's tonnes of delicious seaside treats on offer too, from fresh doughnuts to rock and candy floss. After you've had enough excitement for the day, you can take a stroll along the seafront and pick up some delicious fish and chips from the many restaurants on the harbour. 
4. Codona's Amusement Park, Aberdeen
A family-run amusement park based on Aberdeen's beachfront, Codona's was first established in 1970 and is still run by the same family today. There's tonnes of fun stuff for the family to enjoy here, including classic rides such as a Ferris wheel, waltzers and bumper cars, as well as a huge indoor arcade, bowling alley and pirate-inspired Smugglers cove play area for when the weather in Aberdeen may not be the most inviting! There are lots of restaurants nearby on the beachfront too. 
5. Pleasure Beach, Great Yarmouth
Another pleasure beach makes the top list, this time in Great Yarmouth! First established in 1909, this beachfront amusement park is packed with exciting rides and attractions, such as the iconic wooden rollercoaster and carousel gallopers that greet customers as they walk in, and favourites such as cups and saucers, dodgems, and log flume. The park is situated on Great Yarmouth beach, so there's plenty to explore after a fun-filled day at the park. 
6. Ocean Beach Pleasure Park, South Shields
Located on the seafront in South Shields, the popular Ocean Beach pleasure park has over 40 rides and attractions for all to enjoy. There's plenty of exhilarating and family-friendly rides, as well as mini-golf and indoor arcade games. Plus, the amusement park is located right on Sandhaven beach, so there's plenty to do for the day when you visit Ocean Beach!
Commenting, Shannon Keary, Digital PR Manager at holidaycottages.co.uk says: "There's nothing better than a fun-filled day at the seaside, and the many beachfront amusement parks the UK has to offer certainly make for an exciting day out.We hope this list helps families enjoy each attraction, throughout summer and beyond. And if you can travel and want to stay nearby one of these stunning walks, there are plenty of accommodation options available at holidaycottages.co.uk."