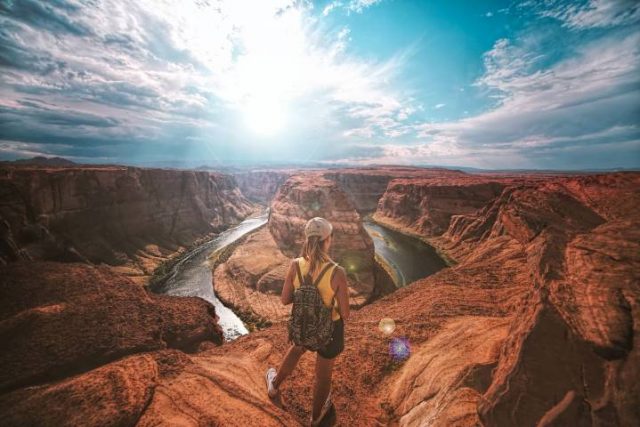 As the travel world opens back up again, more people are looking to take a trip by themselves for a new and exciting adventure. Women are particularly keen to travel solo and explore new countries, cultures and cuisines. However, travelling solo as a woman can be dangerous if you do not take the proper precautions.
Here are some safety tips for solo female travellers looking to go on a new adventure this year.
Choose your destination wisely
Before you can start travelling, you need to decide where you are going. Sometimes travel inspiration comes from social media, a book or TV show or maybe just a recommendation from a friend. Think about why you want to travel to this place and the sorts of activities you want to do.
Research the local problem areas
 Once you have chosen your destination, you need to make yourself aware of the local scams and problem areas. Every city and region have a few rougher areas that you would be better off avoiding. Take an hour to scan through TripAdvisor or travel blogs to find out the popular scams in the area and how you can avoid them. 
Pack light
It's important to save money and pack light so you can be more mobile. If you are travelling alone in a taxi, try to keep your belongings with you in the back seat. A lighter bag is much easier to grab and go than a heavy suitcase. In some areas, you might feel unsafe in the taxi and need to stop, get out and move on at a moment's notice. 
Protect your documents and cash
Always leave backup copies of your important documents with a friend or family member at home. Keep your passport, and other documents secure and always know where they are in your room, safe or handbag. Some women roll up spare cash and put it in an unused tampon applicator. Pickpockets are unlikely to steal a tampon from a woman.
If you are travelling by car, always invest in warranty insurance to make sure you're covered.
Stay local and buy local
Travelling can be lonely, and sometimes it helps to chat with the local people or other travellers. Be supportive of the local economy and shop for your groceries in local stores. Buy local crafts, food and stay in independent accommodation, so the profits stay within the country. The locals might also give you some advice on where to visit and what to avoid to stay safe.
Be less of a target
You need to stay aware and examine what's going on around you. Leave the earbuds at home when walking around in a city – you need to listen out for anything unusual.
Try not to flash your valuables, like phones, rings and jewellery, when you're out and about.
Travelling solo is a beautiful experience – stay safe and remember to enjoy it!