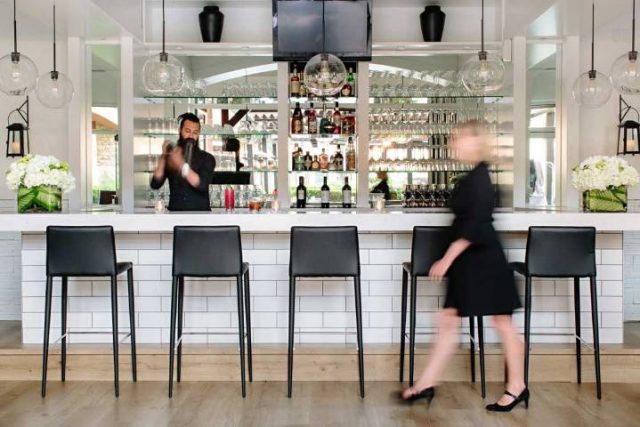 15 Park Bistro, the most anticipated new eatery in Osoyoos, BC, opened its doors at Watermark Beach Resort in early May. Designed as a celebration of the Okanagan's rich bounty, 15 Park Bistro envisions connecting people – from farmers to the executive kitchen team to guests – through fresh, expertly crafted fare.
Helmed by executive chef Nick Atkins and his team, and supported by regional producers, vintners and purveyors who provide the ingredients that give heart to the restaurant's exceptionally flavourful fare, 15 Park Bistro welcomes diners into a bright, sunlit environment and breezy patio enhanced by a sophisticated monochromatic design. Anchored by a striking black-and-white feature wall, the dining area boasts an updated bar and banquettes, two-and four-top seating, and pops of greenery from the courtyard visible through a window backdropping the bar.
"I'm incredibly excited to introduce visitors to 15 Park Bistro," said Chef Atkins. "It's been amazing to collaborate with producers like Codfathers Seafood in Kelowna and Festers Peppers in Oliver to bring our menu to life – I've been working on it for a year, and it's one of the largest menus Watermark Beach Resort has ever offered. Our patio is definitely going to be the place to be this summer, and our takeaway options are light, delicious and perfect for outdoor picnics, casual dinners in your suite or at home."
The ideal spot to linger during spring and summer days, 15 Park Bistro's lakeside patio boasts coveted views of Osoyoos Lake – an ideal accompaniment to the thoughtfully curated wine list, inventive cocktails and locally inspired dishes. Whether dining on the patio or ordering to-go, guests can look forward to light summer creations like sustainable pan-seared BC halibut with sprouted grains and braised fennel, a hearty Moroccan chicken bowl topped by herb couscous, fried chickpeas, apricots, and Kalamata olives. Also featured on the menu is lobster, offered as crowd favourites such as lobster nachos and lobster mac and cheese. Guests with dietary restrictions will find plenty of delicious vegan, gluten-free and dairy-free options, while OceanWise seafood assures a sustainable meal.
Locally inspired cocktails make for perfect pairings, including the BC Negroni with spirits from the Okanagan and Vancouver, the signature 15 Park Martini, whose subtly sweet taste comes from Frangelico and simple syrup and the Bistro Berry Sangria, which marries seasonal berries with wine from the Okanagan's Anthony Buchanan Wines.
The Resort ownership and management engaged Julie Szabo to re-brand the former Restaurant at Watermark with a fresh new concept and vision. "While the global pandemic has been difficult for all tourism businesses, we found a silver lining in having the opportunity to focus on 15 Park Bistro and create our new culinary destination," said Paul Scanlon, Watermark Beach Resort's hotel manager. "Renovations began in January 2021, so we'd already switched to a takeout menu when in-person dining restrictions were first introduced. Thankfully, our restaurant wasn't as deeply affected as others, which gave us the opportunity to prepare 15 Park Bistro for the upcoming season."