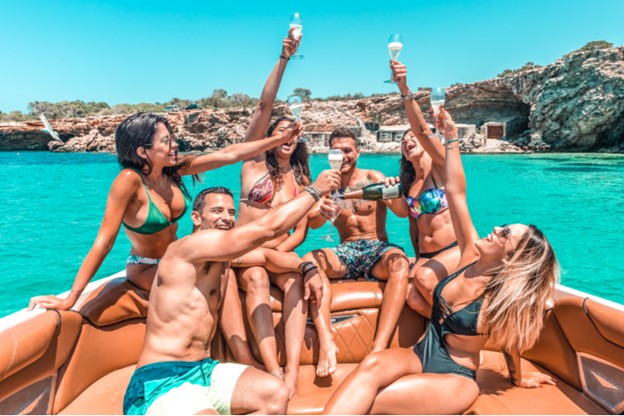 Every student should take at least one amazing, exotic vacation. Why is that? Think about it. Chances are your post-graduation life is going to be hectic. You'll be diving feet first into a new career, possibly going to graduate school, or maybe experiencing living on your own for the first time.
After graduation, it could be awhile before your time and budget allow for a great vacation. If you can carve out time now, you won't regret it. Now for some inspiration. Check out these seven beach destinations for students.
1. The Amalfi Coast
So many students dream of taking a European vacation. Why not book one that includes a few days on the legendary Amalfi Coast. This region is so stunning that it has been named a UNESCO heritage site simply for its unique geographical features. Thousands of people are drawn here every year.
Once you experience the clear waters and sandy beaches, you'll understand why. Visit during the summer if you love people watching, lots of entertainment, and a bouncing social scene. Come during fall and spring for a decidedly more relaxed experience. Whatever you do, be sure to schedule a private cruise to visit the Isle of Capri, and enjoy some locally caught and prepared seafood.
2. Ibiza
Ibiza is an amazing destination that draws in celebrities and jet-setters. In fact, it's been 'name-dropped' in at least ten hit pop songs. Once you land in this Spanish, coastal city, it's easy to see why. Not only is Ibiza full of places to shop, eat, swim, and explore, every attraction is executed with perfection.
Of course, that's not to say that your trip has to be entirely curated. Rent a car, and do some exploring. There are amazing natural features here, including hidden caves and beaches.
3. Turks And Caicos
Turks and Caicos are a series of islands in the West Indies. They are also a top vacation spot for a good reason. If you search for a beach destination, this one should definitely be on your list of considerations. In fact, there are too many beaches here to list them all. You can hang out with friends and family, enjoy the cool clear water at Sapodilla Bay, go kite surfing at Long Bay Beach, or watch the cruise ships come into Sun Ray Beach.
It's cliché to say, but Turks and Caicos truly do have something to offer everyone. Whether your idea of a great vacation is exploring and learning or simply relaxing with a delicious drink, you will feel at home here.
4. Sanibel Island
Where do you go if you want to take a beach vacation to Florida, but you've outgrown the stereotypical college party scene? You can take a break from studying, saying "I need to write my research paper", and head to Sanibel Island. There's great nightlife, plenty of beaches, and other attractions. At the same time, Sanibel is decidedly more sophisticated.
Start your day collecting shells on Bowman's beach, enjoy Florida stone crabs for lunch, go paddleboarding until supper, and enjoy your evening with dinner and drinks at any one of Sanibel's nightspots. You can also head over to Captiva Island, just a short jump away.
5. Barcelona
In Barcelona, you can combine the vibe of a beach experience with the excitement of a big city. That's a perfect combination for a vacation that's both relaxing and engaging. On the city side, you have Barcelona's bars and tapas restaurants, partying in the Gothic district, and shopping in any of the amazing stores and boutiques.
On the beachside, you can enjoy any of the following:
Boat tours
Flyboarding
Jet skiing
Sailing
Of course, simply relaxing on the beach is always an option. End your day with a traditionally late dinner. Be sure to enjoy paella, one of Spain's signature dishes.
6. Trogir
Not long ago, Croatia was really an under-the-radar destination. Now, it's among the most popular with tourists who want to explore a place rich in history, beaches, and stunning natural features. If Croatia is calling to you, consider spending your time there in Trogir. This tiny island has so much to offer.
Head to the island to enjoy cruises, caving, water sports, relaxing on the beach, and dining on traditional Croatian food. Take some time to explore the other nearby islands, and make the most of your time on the Dalmatian Coast.
7. Santorini
Right now, Santorini is enjoying its time as the most exciting place in Greece. When you arrive, you'll be breath-taken by the stunning beaches, clear waters, cliffs, and historical architecture. This is a great destination for anyone who prefers strolling through quaint villages, enjoying a glass of wine with the locals, and scuba diving to partying all night long. Bring your camera — there is a lot of beauty to capture here. You'll want to remember everything about your trip.
Final Thoughts
Are you hesitating? The idea of traveling to an exotic location can be a bit intimidating, but the experience is so worthwhile. Now is the perfect opportunity to travel, immerse yourself in another culture, and enjoy new experiences. Remember that well-traveled people are often valued by employers.