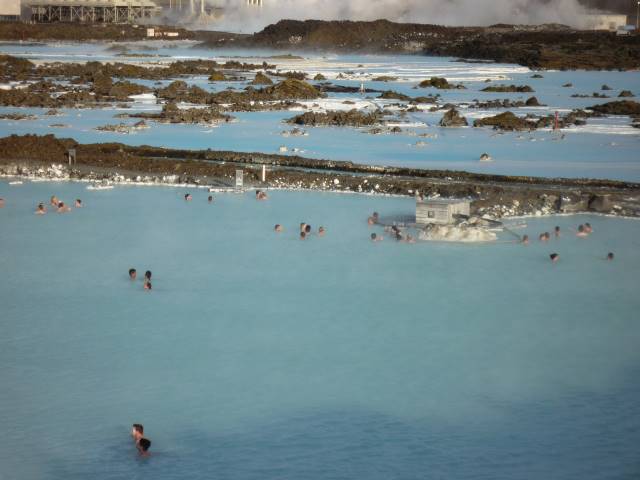 With this fast-paced world, it's important to have a breather from time to time and just push the pause button. You shouldn't let that stress eat you up and impair your mental health just because of your strong desire to achieve your dreams. That's why experts highly encourage traveling to let off some steam as a way to take care of your mental health.
Now, to reduce your stress of thinking which places are best for that vacation you deserve and to make sure you're getting the best of it, we have prepared a list for your next travel destination to blow off steam.
1. Blue Lagoon, Iceland
When it comes to relaxation, Iceland's Blue Lagoon is probably one of the most recommended destinations. This lagoon is perfect for you to literally blow off some steam as it's known to be a geothermal spa. It's a man-made lagoon and the water is from the nearby geothermal power plant Svartsengi.
The Blue Lagoon's bathing and swimming area has a water temperature of 37-39 °C (99–102 °F) on average. It's about 20 km (12 mi) from the Keflavik International Airport near Reykjavik – and is one of the best tourist attractions in Iceland.
2. The Auroras (Polar lights, Northern lights, and Southern lights)
Some of the most sought-after destinations in the world are places where Auroras are visible. These places are usually closer to the Arctic Circle which includes Alaska, Canada, Iceland, Greenland, Norway, Sweden, and Finland.
The auroras are also known as the polar lights (aurora Polaris), northern lights (aurora borealis), southern lights (aurora australis). It's an amazing display of natural light in the Earth's sky, mostly seen in high-latitude regions (in the Arctic and Antarctic).
3. Ancient "Lost City" of Petra
If you love history and you enjoy exploring ancient cities, you should include the ancient lost city of Petra on your bucket list.
This prehistoric Jordanian city of Petra, now carved into vibrant pink, red, and white sandstone cliff faces, was once lost from the western world some hundreds of years ago. Between 400 B.C. and A.D. 106, Petra used to be a thriving trading center and the Nabataean empire's capital city.
The Petra Archeological Park was hailed as a UNESCO World Heritage site in 1985 and was included in 2007 as one of the new seven wonders of the world.
4. Singapore
If you want to experience some metropolis vibes and see many beautiful architectures, you should visit Singapore.
This island city-state located in maritime Southeast Asia is a home for popular landmarks, such as Marina Bay Sands, Gardens by the Bay, Universal Studios Singapore… the list goes on. Also, don't forget about the famed Merlion park and world-class and award-winning Changi Airport.
If you also love gambling, though, and that's another way for you to let off some steam, Singapore is also one of the best places to be. In fact, Singapore is also included among the top gambling destinations in the world.
5. The Maldives
The Maldives is another popular destination located in South Asia. With 1,190 islands, only about 200 are inhabited, Maldives boasts the beauty of their natural resources, especially their beautiful beaches and the best resort hotels. That's why most of the things you'll enjoy in this beautiful country are picturesque views, beach activities, as well as interaction with locals.
No wonder why many tourists visit the Maldives to relax and experience beach bums.
6. Tuscany, Italy
Tuscany is a region located in central Italy popular for its landscapes, rich history, influence on high culture, and artistic legacy. It also became more popular, being the birthplace of the Italian Renaissance. It's also the home for many influential figures in the history of art and sciences and houses well-known museums like the Uffizi and the Palazzo Pitti.
Many tourists also visit the popular hill towns. One of the popular top towns is Pitigliano, located in southern Tuscany called Maremma. It's dramatically perched on a tufa ridge, known as the Little Jerusalem for its ancient Jewish quarter that was established in the 16th century.
7. Nordfjord, Norway
Nordfjord is considered one of the best travel destinations, not just in Norway, but throughout the world. It's a region in the northern part of the Vestland county in Western Norway, taking pride in its majestic mountains, blue glaciers, deep lakes, and fertile valleys. It's there where the Wild North Sea at Stad slams inexorably against the coast. Aside from the natural wonders, the region is also rich in historical sites and cultural gems.
You can enjoy activities like hiking, horseback riding, kayaking, visiting galleries and museums, and others.
There are so many places to explore around the world. From natural to man-made attractions, you'll never run out of choices. That's why don't you ever think twice about exploring the world as doing so could help you reap so many benefits of traveling, and that includes forgetting your daily troubles.