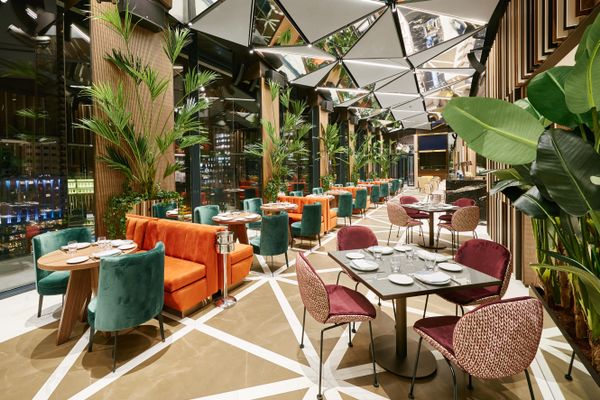 Located in the centre of Madrid, this luxury hotel is characterised by its unique design concept and its garden-theme offering an oasis of calm in the Spanish capital.
In keeping with VP Hotels defining characteristic whereby all properties feature an interior garden, dramatic greenery is displayed throughout the Madrid property from the basement, right up to the 17th floor.
On the twelfth floor, the Ginkgo Restaurant and Sky Bar is inspired by the extraordinary strength and character of the ancient Ginkgo biloba tree, undoubtedly one of the most distinct and beautiful of all deciduous trees and one of the world's oldest species, rich in antioxidant properties.
Characterised by rich green fan shaped leaves, Ginkgo Restaurant and Sky Bar is punctuated with palms and tropical foliage, whilst the cocktail bar includes a dramatic green backdrop made of lush vegetation. Outside, the spectacular terrace offers 360º views of the Royal Palace and a refreshing glass-bottom pool, bordered with a panel featuring a distinct lily pad design and leading to a dramatic 25m metallic waterfall sculpture tumbling from the bottom of the swimming pool to the ground floor of the property.
Adjacent to the entrance, the hotel features BOTANIA from the prestigious Larrumba Group which has a garden patio and an interior dining space featuring hanging plants and dramatic potted palms, adding a tropical element to the dining experience.
For true relaxation, Biloba Spa at VP Plaza España Design offers a range of treatments featuring Parisian skin care brand Carita which combines the finest and purest ingredients to create exceptional beauty products. Services range from calming facials to deep-tissue massage, wraps and peels, as well as dedicated treatment for males such as the energising and reparative 'purifying skin care for men'.
For more information please visit https://www.plazaespana-hotel.com/en/