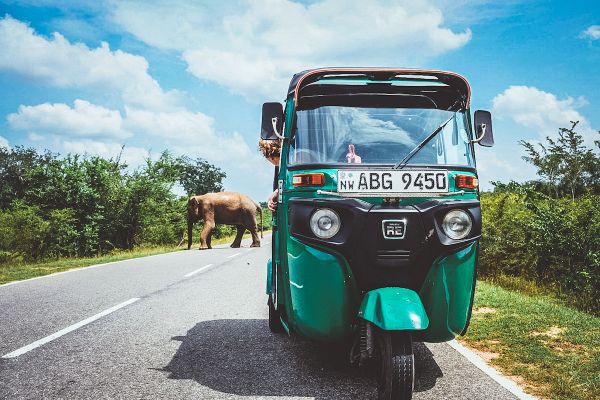 Sri Lanka, one of the world's fastest emerging tourist destinations, a country where a 30 year civil war has finally come to an end. A beautiful island surrounded by stunning sandy beaches, perfect for relaxing, partying, surfing, or diving. An abundance of national parks where you'll find countless wildlife, including the largest population of wild Asian elephants roaming freely. Tropical rainforests that cover large swaths of the country, containing breathtaking views, adventurous hikes, and hidden corners of extravagant culture and life. And of course, the great Ceylon tea-plantations which made the island world-famous! These descriptions are the essence of the Pearl of the Indian Ocean, the island nation of Sri Lanka.
But what makes this country even more special, is a small vehicle which has only three-wheels: the tuktuk.
With over 1.2 million roaming in Sri Lanka, the tuktuk is THE motor vehicle of choice for many Sri Lankans. Some of them carry amazing and catchy slogans, lions mouth modifications and even horn enhancements, all personalized to the taste of the owner. You will see them riding everywhere, an iconic symbol of the island loved by many!
However, due to high government import taxes, they are quite expensive and out of reach financially for many average Sri Lankans. Resulting in that many individuals owning the tuktuks struggle to pay them off for years to come due to their financial loans. The salaries of tuktuk drivers belong to the lowest on the island, and while change is happening slowly, it seems far away for most.
Since 2016, Tuktuk Rental has been creating unforgettable, culturally immersive and sustainable experiences for all walks of travelers, all while supporting local Sri Lankans and the local economy. It is the only three wheel rental agency in Sri Lanka that also operates as a social business. Not owning any tuktuks! Instead, Tuktuk Rental turned to their community, renting from local tuktuk owners to boost their income while covering all of the transportation logistics for tourists to enjoy their trip hassle-free. All inclusive, without the need to worry about anything. Full insurance coverage, an arrangement of the special local tuktuk driving permit, comprehensive driving lessons and access to the 'adventure platform' for itinerary planning and linkage with other tuktuk rental customers on the road.
Using this truly unique mode of transportation, the entirety of Sri Lanka is now at the tip of the traveler's fingers. From the unforgettable highlights of tourist destinations to the most uncharted corners of the island, the tuktuk is a capable and reliable mode of transport. Chase the sun and surf around the island with surfboards, strap a child into the tuktuk baby seats for a family adventure, or simply hook up the aux cable into the pumping speakers while listening to your favorite tunes.
These tuktuks also put travelers into direct interaction with local culture and lifestyle.  And it is a culture to be embraced! Countless stories of Tuktuk Rental customers simply driving to a restaurant, petrol station or market, only to be met with warm smiles, open hearts and friendly conversations with all Sri Lankans. With the tuktuk as the means, the island now opens like a treasure map. To be explored at your own pace, with all the relentless freedom you can handle!
Sri Lanka as a destination is changing. The island is expanding and opening up to the world outside. Now is the time to experience its culture, beauty, laidback life, the different places and multicultural people. To know Sri Lanka is to love Sri Lanka and to be absorbed into its flow. The stereotypical life of tourism is fading away and for those looking for adventure, experience and memorable authenticity: renting a Sri Lankan tuktuk is your gateway!
The question that now awaits, where are you and what are you waiting for? Book your flight to this island and saddle up to three-wheels of glory, with your tuktuk adventure awaiting!
Visit: www.tuktukrental.com