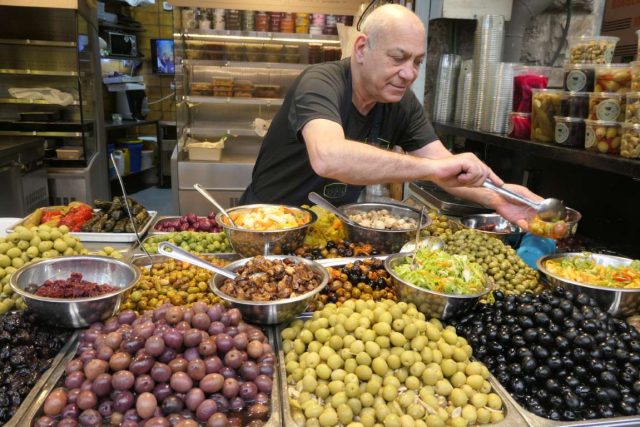 Ahh, Tel Aviv! An hour and a half and 3,000 years apart from Jerusalem, this vibrant metropolis seduces with its arts and culture, but if you need a reason to visit – go for the food! Israel is a country of immigrants and the melding of cultures can be tasted in a smorgasbord of delicious options that ranges from street food, to casual fare, to fine dining overlooking the Mediterranean Sea and its sandy beaches.
But first you should start at the shuk or market and the Levinsky market, located in the Tel Aviv's trendy Florentin neighbourhood, is a must for any foodie. A favorite for local gourmands, it dates back to the 1920's and its five bustling blocks explode with the sights, sounds and smells of food that range from A (amba sauce) to Z (zaatar). While it's easy to wander and sample on your own, the best way to learn about the history and hear about recipes that have been passed down generations is with a guided tour.
Delicious Israel was founded by Inbal Baum, a lawyer and amateur chef whose career took a turn when she discovered storytelling through food. Intrigued by the diversity of the products and the people behind them, her food fascination turned into a full-time profession. The approximately three-hour walking tour just grazes the surface of edible options but the seven stops will leave you feeling like a memulaim, Hebrew for stuffed one that usually refers to the homey Israelian dish of vegetables filled with ground meat and spices.
Lupo's, a Romanian fish market owned and operated by a family of Ashkenazi Jews, chose their site over three generations ago for its location across from the ice store. The ice vendor is long gone, but the recipes for gefilte fish, smoked tuna and herring are the same and part of the generous samples, along with an eggplant and garlic dip and taramasalato – a fish roe whipped with oil.
Café Levinsky, a newcomer that opened in 2013, is an established favorite with its one-of-a-kind sparkling beverage. That's it – one beverage that changes every day, and with homemade syrups, a variety of leafy vegetables, herbs and fresh fruit, it is chef's choice. No two drinks are alike and your glass entitles you to free refills.
For phenomenal falafels, a visit to Schwarma Falafel Eli is a must. Made purely from chickpeas and herbs, they are accompanied by a trio of silky sauces – tahini, amba (pickled mango with cumin, coriander and turmeric), and schug (Yemite sauce with hot peppers and coriander).
Along the way, there are more stops for creamy hummus and slices of halva while colorful bins of plump sun-dried dates and exotic fruit, nuts, legumes, oodles of olives, fragrant teas and spices – soooo many spices, beckon. Unlike in North America, sampling is de rigueur and vendors happily provide suggestions on how to use new-to-you items.
Pretty pickled hibiscus flowers stuffed with goat cheese, lemony grape leaves filled with fragrant rice, and grandma's homemade marzipan are some of the samples at the Yomtov Family eatery which opened in the 70's when they relocated from Turkey.
Dessert or drink? A stop for falooda became a debate as the refreshing concoction made of rosewater syrup and rice noodles shaved into ice was tasted. However, at Emanuel's, a Persian tailor turned juice maker, there was no doubt. The malabi, a traditional coconut milk dessert topped with pomegranate arils, rosewater syrup, shaved coconut and nuts was definitely the way to end the delicious tour.
If you go: Designed for the food adventurer, the "samples" are generous so bring an appetite. Group tours are offered several times a week while private tours can easily be arranged. Fridays are the busiest as people shop for shabbat dinner and their day off on Saturday, so start early.