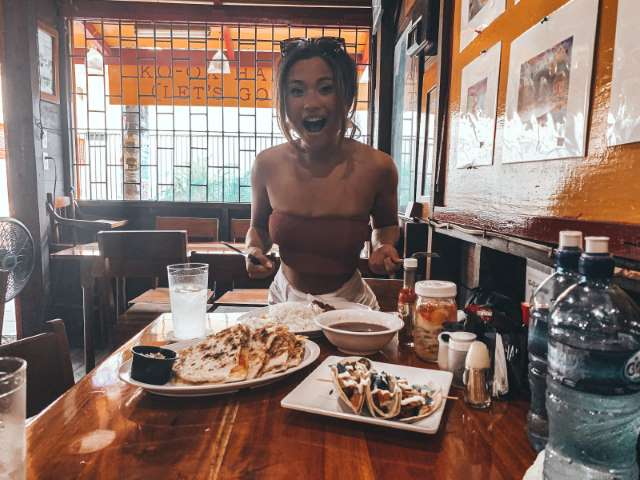 With the COVID-19 pandemic putting a halt on 2020 travel plans, our wanderlust spirits are aching for new experiences. This series, A Taste of Travel, aims to give you just that. By exploring and experiencing places through cuisine, A Taste of Travel transports you to different destinations through cooking and culture. With recipes from around the globe, we invite you to cook up these flavourful dishes and mix up some delicious drinks to pair, getting a taste of travel right from the comfort of your own home.
First on our plate: Belize
Belize is one of the most captivating and diverse countries. With shorelines that boast the largest Barrier Reef in the Northern Hemisphere to jungles that hide the ancient Mayan ruins, Belize is a treasure trove for adventurers.
More than just geographically diverse, Belize's culture holds influences from around the globe. The resulting Belizean culture is one of vibrance and excitement, translating to their delicious national cuisine.
While there is a variety of cultural inspirations that make up the culinary scene, Creole culture is quintessentially Belizean. Creole or "Kriol" is originally a mixture of British and African settlers, but has expanded to include other cultures, such as Maya and Mestizo.
One of the top Creole must-haves for a true taste of Belizean flavour is Fry Jacks. Other classic dishes include fish tacos, empanadas, Mayan breakfast and–of course–tropical cocktails!
FRY JACKS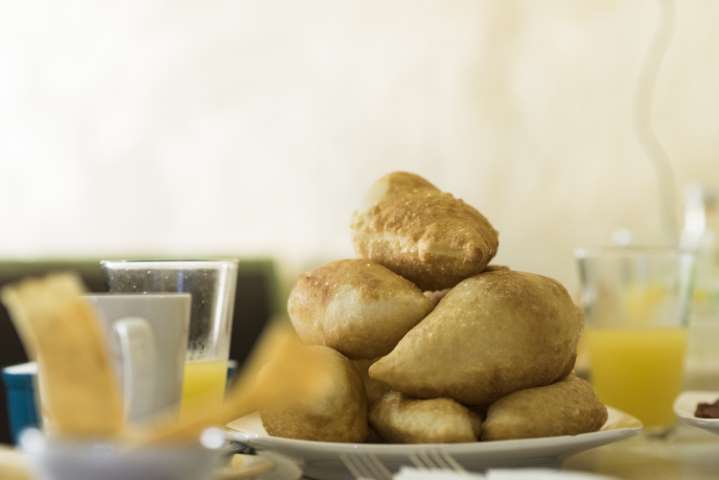 Coconut and yeast dough cut into triangles or squares and fried until golden.
Enjoy this Belizean staple at home with the San Ignacio Resort Hotel's very own recipe:
Ingredients
3 Cups of flour
3 Teaspoons of baking powder
1 Teaspoons of salt
1 Teaspoon of vegetable oil or shortening (for the dough)
1 Full Cup of Water (sometimes water might need to be adjusted)
2 Cups of vegetable oil (for the cooking)
Instructions
Place flour, baking powder, and salt in a bowl. Cut shortening into flour or, if you're using oil, add it to the ingredients. Knead the dough, adding little bits of water at time in order to remove all clumps and create a smooth textured dough. Separate the dough in half and let stand for about 15 minutes.
In the meantime, put oil in the frying pan and heat to medium temperature. Next, divide the dough into ten medium-sized balls and flatten them into a circle. Cut each circle in half. Place dough in the frying pan and leave until it turns into a golden brown. Repeat on opposite side. And you've got yourself a delicious Fry Jack!
You can have these with eggs, refried beans, sugar, jam, golden honey, anything your taste buds desire! Buen provecho and have an amazing Belizean breakfast!
Spice up your at-home menu by cooking up GAÏA Riverlodge's traditional Mayan Breakfast recipe or by adding their empanadas to your dinner menu!
MAYAN BREAKFAST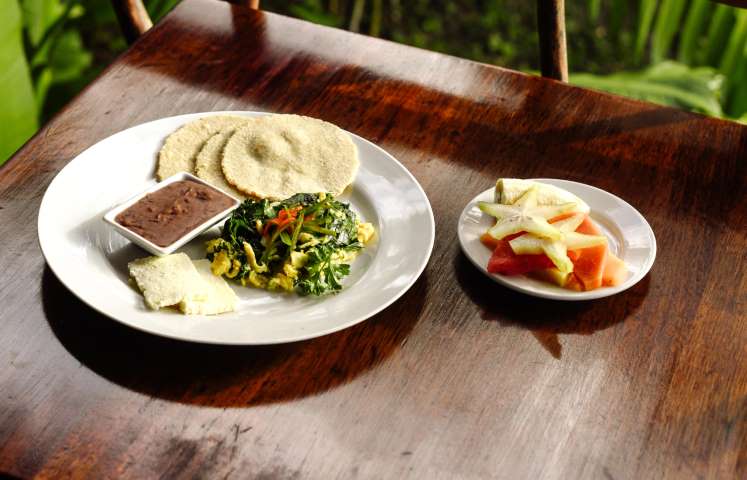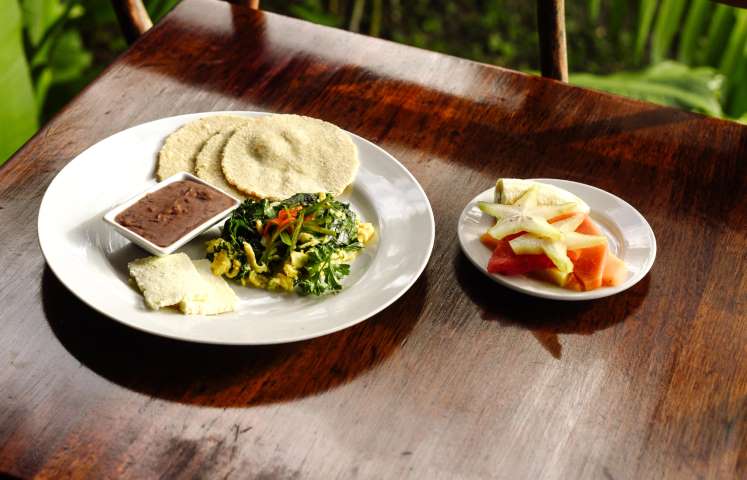 Ingredients:
2 Whole egg beaten
1/4 Cup chopped onions
1/2 Cup chopped chaya
1 Teaspoon butter or olive oil
Salt and black pepper to taste
Instructions:
In a frying pan sauté the butter, chaya and onion on medium heat until the onions are translucent.
Add the beaten eggs and continue stirring until eggs are light and fluffy.
Serve with refried beans and corn tortillas.
EMPANADAS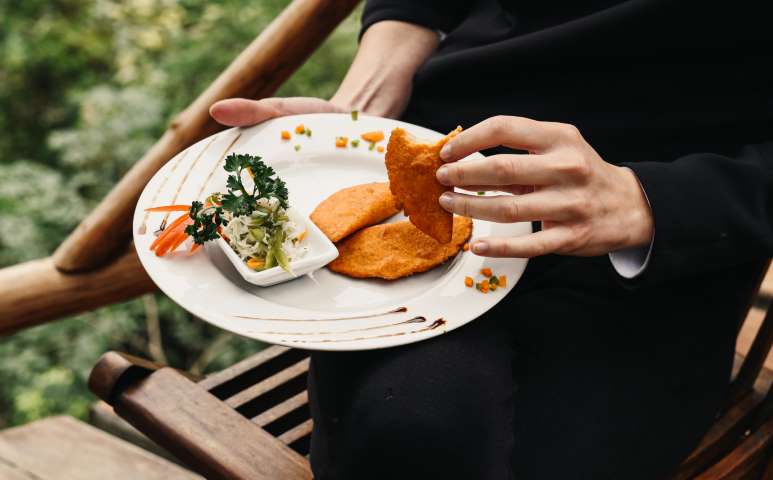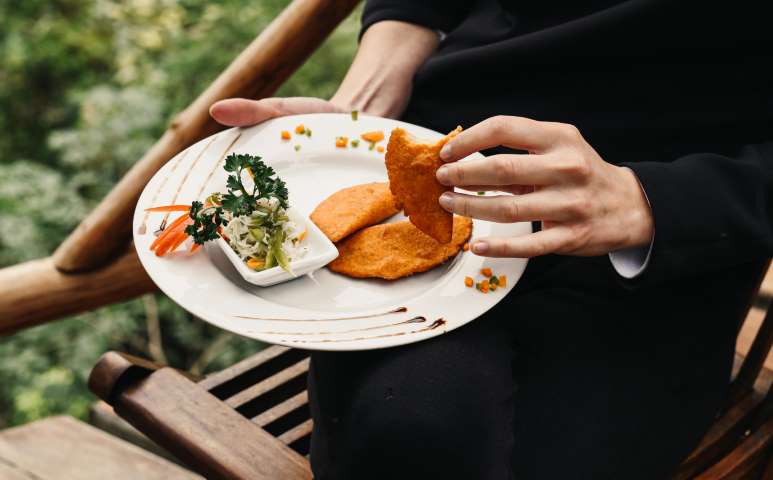 Ingredients:
1/4 Cup chopped bell peppers
1/4 Cup chopped onion
1/4 Cup chopped zucchini
1 Garlic clove chopped
1 Tablespoon olive oil
1 Teaspoon butter
Salt and black pepper to taste
1 Cup of corn flour
1 Teaspoon of achiote paste
1/2 Cup water
1 Cup grated mozzarella cheese
2 Cup veg oil for deep frying
Instructions:
In a saucepan stir fry the veggies in the olive oil and butter and set aside to cool.
In a mixing bowl combine corn flour, achiote paste, water mix well and roll into two inches balls.
Flatten the balls and fill with the veggies and cheese.
Fold in half sealing the edges, deep fry and serve with salsa.
Add a boozy punch by trying this local-favourite fish taco recipe, pairing it with these tropical cocktails. Enjoy while imagining you're on the beach at the Matachica Resort & Spa:
TEQUILA LIME FISH TACOS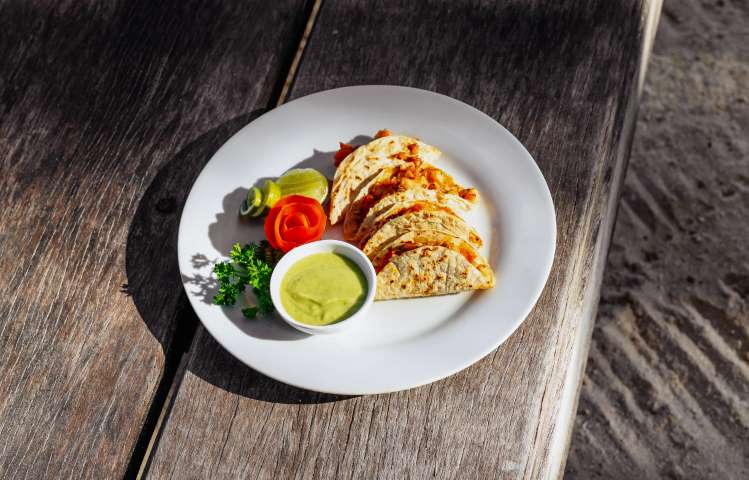 Ingredients:
1 Can of Chile Chipotle
1 Shot Tequila
3 Tablespoons lime juice
Salt to taste
2 oz Tomatoes
2 oz Onion
1 oz Cilantro
1/2 oz Garlic
5 oz Fish
1/2 oz Olive oil
3 Corn tortillas
Instructions:
Blend the chipotle, tequila, lime juice and salt together.
Dice tomatoes, onions and mince the garlic.
Heat your frying pan and add olive oil. Sauté tomatoes, onions and garlic. Add fish. Add chipotle blend just before removing from the pan. Add a splash of lime juice, salt, and pepper to taste.
Serve on three corn tortillas. Garnish with cilantro.
COCONUT MOJITA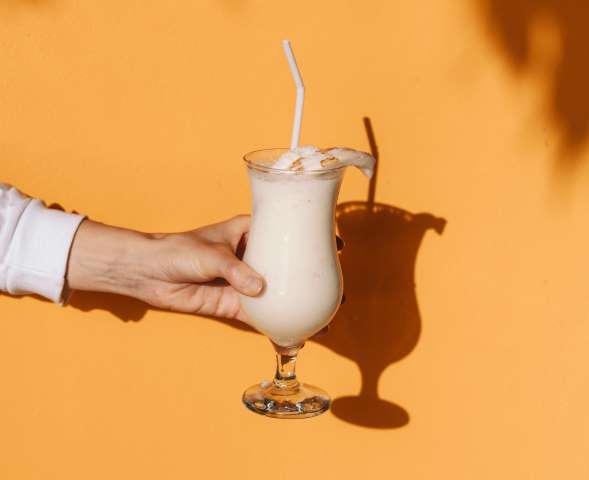 Ingredients:
Fresh mint
1/4 oz lime juice
2 oz Fresh coconut rhum
Splash of soda water
1 oz of Coconut cream
Instructions:
Mix ingredients and pour into a tall glass, add some fresh ice, chopped up coconut slices, lime and mint to decorate and top it off with soda water.
* Video tutorial here
GRILLED PINA COLADA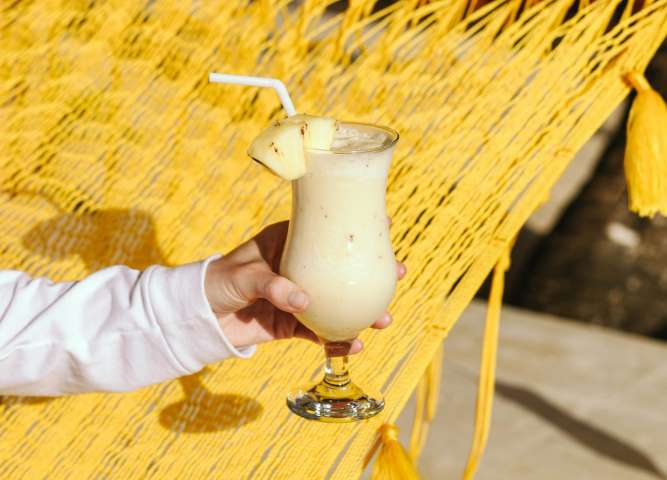 Ingredients:
1 ¾ oz Grilled pina infused Caribbean rum
½ oz Fresh lime juice
1 ½ oz Coconut cream
1 oz Pineapple puree
Instructions:
Blend all together with ice then pour into a tall glass.
Decorate with pineapple and nutmeg.
For more information about Belize, visit travelbelize.org.