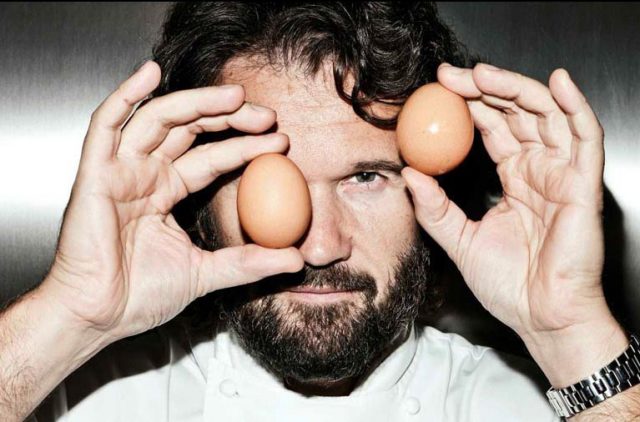 Monday, 1st of June 2020. When it comes to Italy's best-kept secrets on the international gastronomy scene, you cannot ignore Italian restaurateur and Michelin Starred Chef Carlo Cracco. Cracco is a chef who has devoted his entire life to carving out a place in culinary history. His Michelin-star restaurant, Cracco, located in the prestigious Galleria Vittorio Emanuele in Milan.
Chef Carlo Cracco is seen as a pioneer in progressive Italian cuisine. He is universally acclaimed for his innovative take on classic Italian foods, combining the Milanese tradition with modern tastes and aesthetics.
During the lockdown in Italy, while his restaurant was closed to the public, Cracco decided to put his skills to use by serving up free meals for bricklayers and carpenters working on the construction of the new intensive care unit in Milan.
Cracco is no stranger to championing important causes, in 2019 he travelled to Bhutan with the International Fund for Agricultural Development (IFAD), to learn how a changing climate is forcing farmers to adapt how they grow key ingredients of their traditional cuisine. He also previously travelled to Morocco in 2015 and Cambodia in 2016 through his relationship with the United Nations food and agriculture agency. Located in Rome, the IFAD invests in addressing poverty and hunger in rural areas of developing countries and has empowered approximately 483 million people through agricultural projects.
Cracco's food made him famous, but his appearances on Italian TV made him a star. He was a judge on MasterChef Italia for six seasons (2011-2016) and the host of Hell's Kitchen Italia for four seasons (2014-2016) as well as appearing as a guest judge on the Netflix's culinary competition show The Final Table. He has written a series of cookbooks, and since 2012, Cracco has also served as president of Maestro Martino, a non-profit organisation dedicated to promoting the Lombardi agri-food supply chains.
Cracco's restaurant is one of the few to have already reopened its doors in Milan on the 25th of May, after being forced to close on the 10th March. Cracco was quick to shift his focus on his online store Cracco Express during the Italian lockdown, delivering tomato/pasta kits, fresh pastry & cake, chocolate and wine to Italians stuck at home.
In June 2021, Cracco will be sharing his love of travel, reminding us why Italy is one of the most beautiful countries in the world and at the forefront of the international gastronomy scene. He is inviting a small group of guests to join him on the Sicilian island of Pantelleria, known as the black pearl of the Mediterranean located between Sicily and Tunisia. The trip includes accommodation at award-winning boutique hotel Sikelia with a 4-day gastronomy experience exploring local food and wine. This is an incredible and unique opportunity to meet Cracco himself, and learn about the master of modern Italian cuisine. You can apply to join the experience here.
On the 5th of June 2020, Chef Carlo Cracco will be speaking live from Milan about the reopening of his restaurant and his take on how the hospitality industry can recover in Italy with its localised approach. The event will be hosted by Giulia Pazienza Gelmetti, the owner of Sikelia and long time friend of Cracco. They will be talking about how travel enables us to make a difference in the world and reminding us why we must all keep travelling and continue to dream.
The virtual event is sponsored by Zoom and organised by Satopia Travel. It will take place on Friday 5th June 2020 at 5pm CEST.
You can register for the free online event here.