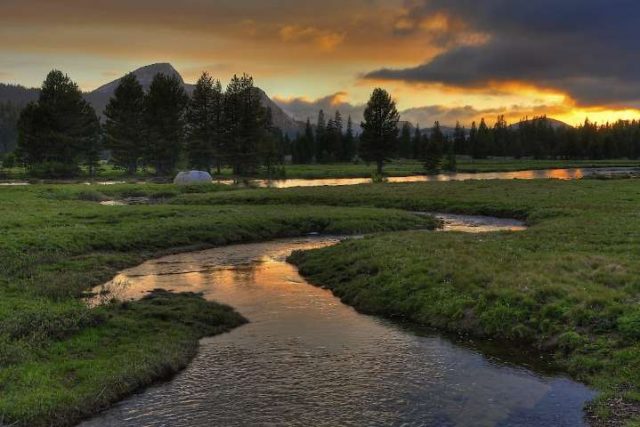 Characterised by its contrasts, Tuolumne County consists of three regions–Gold Country, High Sierra, and Yosemite–each with their own personality. With pasturelands in the west, mountainous terrain in the east, and beautiful natural vistas all around, the county is filled with picture-perfect views around every bend.
Here you'll be able to enjoy countless outdoor activities like hiking, water skiing, horseback riding, rafting, snowmobiling, and more, while also taking in the preserved historic attractions from the region's rich Native American history and Gold Rush heritage.
"Celebrate, share and renew nature's bounty"–that's the motto at Indigeny Reserve in Sonora, a lively gold-rush town offering delicious cuisine tied with delightful history and outdoor excitement. The Watson family, the founders of Indigeny Reserve, purchased an 80-acre apple orchard in 2005 to allow the land to serve its natural purpose, rather than having home sites developed–a true testament to the region's commitment to preserving green space and allotting great value to the sprawling outdoors. Indigeny Reserve was officially opened to the public in 2012 and the now 160-acre apple orchard and cider house boasts 51 apple varieties and allows visitors to enjoy tree-lined hiking trails, picnic grounds and lake views.
As the saying goes, when life gives you apples–make cider! In this neck of the Californian woods, anything apple-flavoured rings true to Tuolumne County cuisine, in addition to the dishes served at local restaurants and bed and breakfasts!
APPLE CIDER WAFFLES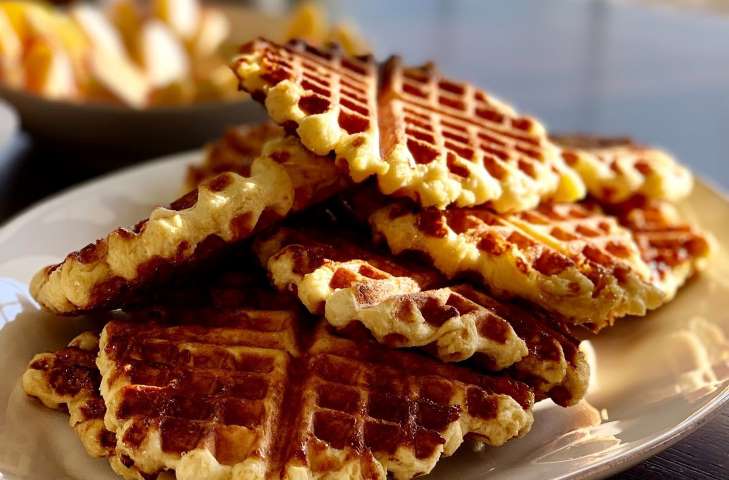 Pair fresh apple cider waffles with warm maple syrup and really bring a bit of the fresh NorCal into your Canadian home!
Ingredients:
2 Cups flour
2 Tablespoons sugar
1 Teaspoon ground cinnamon
1 Teaspoon baking powder
1/2 Teaspoon baking soda
1 Teaspoon kosher or sea salt
2 Eggs
1 Cup buttermilk
1/4 Cup butter, melted
3/4 Cup Indigeny Apple Cider
Instructions:
In a bowl, whisk together the flour, sugar, cinnamon, baking powder, baking soda, and salt for at least 20 seconds. Set aside.
In another bowl, beat together the eggs, buttermilk, melted butter, and apple cider until well combined. Stir in the flour mixture.
Heat the waffle iron, spray or brush with oil or butter, and cook until golden.
FRIED BRUSSEL SPROUTS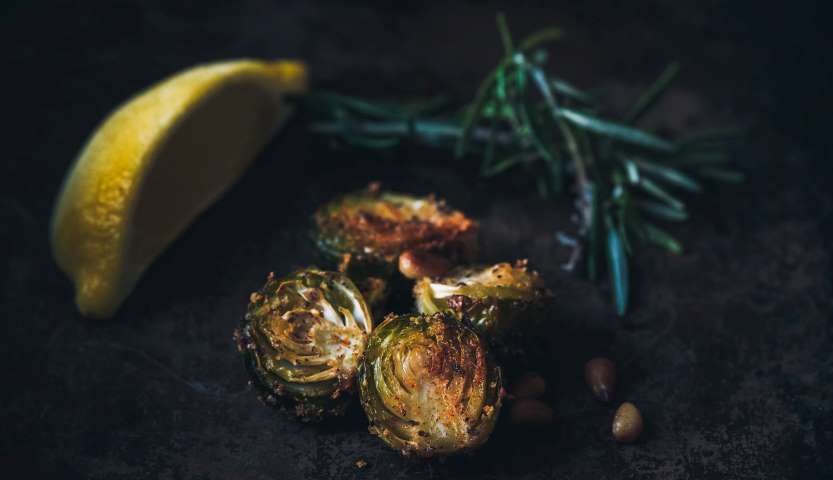 Sonora's local favourite restaurant, The Standard Pour, shares their famous Fried Brussel Sprouts recipe to enjoy at home:
Ingredients:
Brussel Sprouts, Trimmed and Blanched
Caper Vinaigrette (See Recipe)
Parmesan Cheese
Bacon Crumbles
Caper Vinaigrette
¼ Cup Sherry Vinegar
¼ Cup Red Wine Vinegar
1 ½ Cups Olive Oil
1 ½ tsp Minced Garlic
¼ Cup Raisins
½ Cup Capers, drained
1 tsp Sugar
1 tsp Red Chili Flakes
¾ tsp Salt
½ tsp Ground Black Pepper
Instructions:
Process all ingredients for Caper Vinaigrette until smooth and emulsified.
Fry blanched Brussel sprouts and toss with remaining ingredients.
PORK BELLY CONFIT
Local chef legend, Eric Davis is the owner of Industrial Food Works and teaches food and wine pairing classes with Independent Wine Company. Chef Eric shares the recipe for his famed Pork Belly Confit here:
Ingredients:
One 3-pound slab skinless pork belly
¼ cup kosher salt
¼ cup sugar
Instructions:
Nestle the belly into a roasting pan that holds it snugly. Mix together the salt and sugar in a small bowl and rub the mix all over the meat; discard any excess salt-and-sugar mixture. Cover the container with plastic wrap and put it into the fridge for at least 6 hours, but no longer than 24 hours.
Heat the oven to 450 degrees.
Discard any liquid that accumulated in the container. Put the belly in the oven, fat side up, and cook for 1 hour, basting it with the rendered fat at the halfway point, until it is an appetizing golden brown.
Turn the oven temperature down to 250 degrees and cook for another 1 hour to 1 hour and 15 minutes, until the belly is tender-it should not be falling apart, but it should have a down pillow-like yield to a firm finger poke. Remove the pan from the oven and transfer the belly to a plate. Decant the fat and meat juices from the pan and reserve. * Allow the belly to cool slightly.
When it is cool enough to handle, wrap the belly in plastic wrap or aluminum foil and put in the fridge until it is thoroughly chilled and firm. This is the only way to get neat, nice-looking slices is to chill thoroughly before slicing it.
Cut the belly into ½ inch thick slices that are about 2 inches long. Warm them for serving in a pan over medium heat, just for a minute or two, until they are jiggly soft and heated through. Serve at once.
*These should be decanted into a clear measuring cup or other container. Let them cool until the fat separates from the meat juices, which will settle to the bottom. Pour or scoop off the fat and reserve it for cooking. Save the juices, which will turn to a ready to use meat jelly after a couple of hours in the fridge. The meat jelly will keep for 1 week in the fridge, or indefinitely in the freezer.
The McCaffrey House is a charming bed and breakfast in the High Sierra region of Tuolumne County renowned culinary delights. Try the Simple Egg Casserole recipe for breakfast and the Bread Pudding recipe for dessert.
EGG CASSEROLE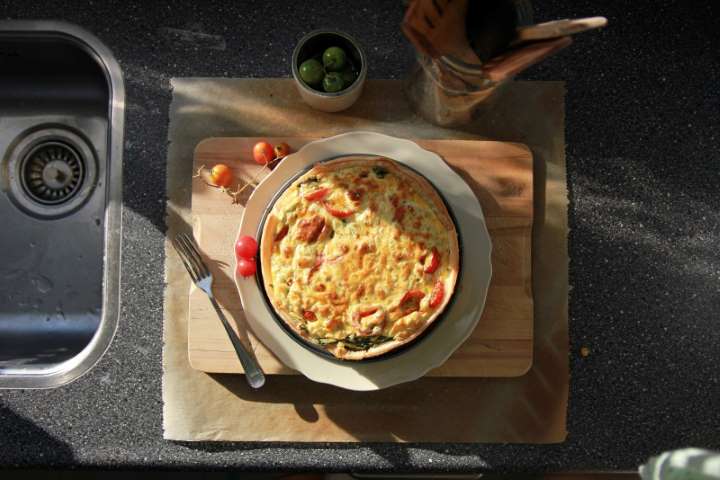 Ingredients:
12 Eggs
1 1/2 Cups of cottage cheese (about two very large scoops)
1 Cube of butter 1/4 pound – melt in microwave
4 Cups of Monterey Jack Cheese shredded
Sprinkle with Cheddar Cheese
Instructions:
Crack the eggs and place in the blender along with the melted butter and cottage cheese.
Blend until fluffy.
Spray a Pyrex 9×12 baking dish and cover with Monterey Jack Cheese – about 4 cups of cheese; then sprinkle with Cheddar Cheese – this gives it a bit of a bite!
Bake at 350 degrees 45 minutes or until baked.
BREAD PUDDING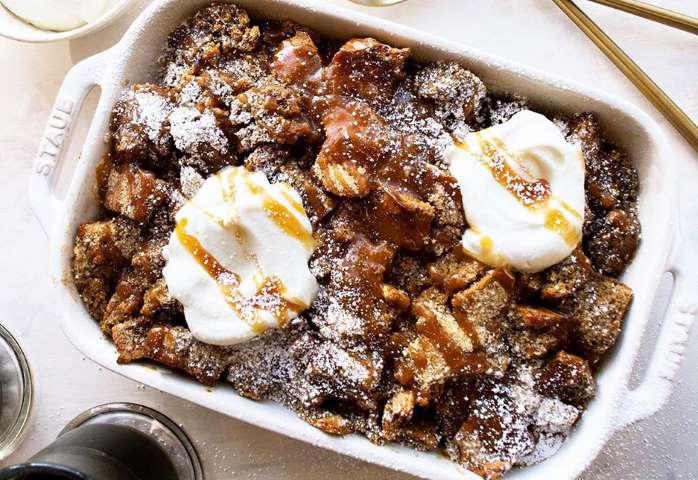 Ingredients:
4 Tbsp maple flavored syrup
1 ½ Cups firmly packed brown sugar (2 handfuls)
1 ½ Cubes of butter
Bread cut in cubes to come to the top of the 9×12 Pyrex dish (you may use any kind of bread, hotdog buns, left over rolls, French bread)
8 Eggs
3 Cups milk
1 ½ Teaspoon vanilla extract
Instructions:
Combine syrup, brown sugar and butter in a small heavy saucepan and heat, stirring until bubbly. Pour syrup mixture in a 9×12" pan.
Cut up bread in small squares and place on top of the syrup. Mix eggs, milk, and vanilla in the blender. Pour over the bread and push down the mixture with your hands.
Cover the pan and refrigerate overnight.
The next morning, remove the pan from the refrigerator and discard the cover. Place the pan in a preheated oven and bake for 45 minutes to an hour (place the dish on a cookie sheet to avoid having it bubble over in the oven).
*After removing from the oven, you may cover the cooked bread with butter before going to the next step if you like.
To serve, loosen edges of bread from pan sides with the blade of a knife or a thin bladed spatula. Invert the pan onto a cutting board or cookie sheet so that the caramelized portion of the Bread Pudding is on top.
For more recipes and information about Tuolumne County, check out visittuolumne.com.