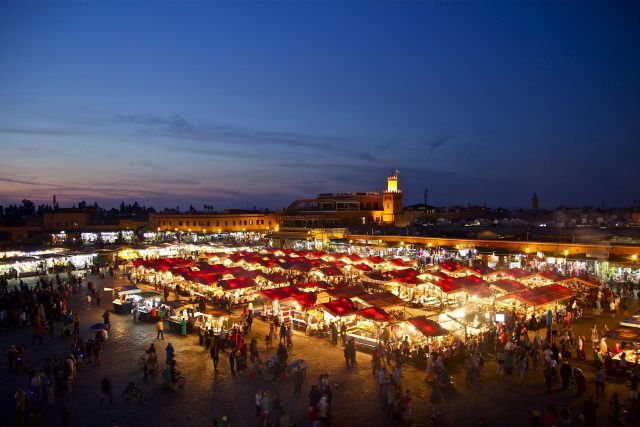 Specialist operator Planet Rail has introduced a two-week adventure to Morocco's Imperial Cities, taking advantage of the country's new super-fast LGV rail service (Lignes à grande vitesse) which begins this month (June 2018). The new high speed rail link will whizz passengers on board French-made double-decker TGVs between Casablanca and Tangier at speeds of over 320kmph – the fastest train in Africa. It will cut the journey time between the two captivating cities to a little over two hours, compared with its current five hours. With the rolling stock adapted for the climate, including more powerful air conditioning and filters that prevent the sand from penetrating the equipment, the development means that rail travel in Morocco has never been easier or more comfortable. Planet Rail's new tailor-made vacation takes guests to the souks and palaces in style, departing direct from London's St Pancras station.
MOROCCO'S IMPERIAL CITIES BY FIRST CLASS RAIL
While lying less than 10 miles from the Spanish coastline, the colours and crowds of Morocco's souks are a far cry from Europe and guests will experience this contrast on a two-week rail holiday, travelling from London, through Spain, before staying in four of Morocco's Imperial cities.
After nights spent in Barcelona and Cordoba, passengers board the short ferry from Tarifa to Tangier, a charming port city where guests have two nights to explore the medina, whitewashed colonial houses and Great Mosque while staying in a comfortable four-star hotel. Two nights are then spent in both Rabat and Casablanca, travelling along the Atlantic coast on the new high-speed line. Rabat, Morocco's capital, has influences of the city's Roman, Moorish and Spanish occupiers, while Casablanca boasts a superb art deco new town that sits alongside the bustling Mohammed V Square with its local traders and street performers – the beating heart of the city.
The holiday ends with five nights in Marrakech, Morocco's most enigmatic city with its tangled souks, views of the distant Atlas Mountains and famous Koutoubia Mosque. Located just two minutes from the main Djemma El Fna square, the four-star Riad Al Rimal hotel has touches of luxury from a rooftop hot tub and bar to a hamman and courtyard pool, and is the ideal oasis to return to after days spent enjoying the 'Ochre City'.