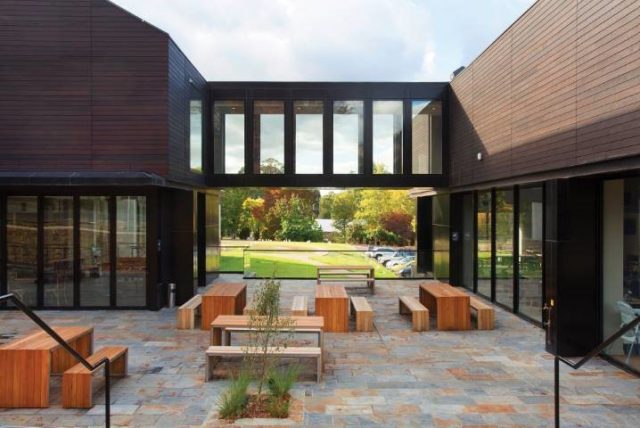 Accor, the largest hotel operator in Australia, has opened its first hotel in Victoria's picturesque Yarra Valley today with the opening of Peppers Marysville.
Opening in 2015 and developed in collaboration with the Victorian Government following the 2009 Black Saturday bushfires, the property features 101 modern guestrooms, including five suites, a conference centre with five meeting and conferencing spaces catering for up to 350 guests, a restaurant and bar, gymnasium, tennis court, heated outdoor swimming pool, sauna, wellness centre and day spa.
Accor Pacific CEO, Simon McGrath, said: "Peppers Marysville is a unique addition to our collection of hotels, resorts and apartments across Australia. It is fitting that one of Australia's finest examples of boutique accommodation is now associated with Peppers, a brand synonymous with providing bespoke hotel experiences to guests for over 35 years. We're seeing strong visitor numbers at our regional properties, especially those located within easy driving distance of major cities, and we're forecasting greater growth with travellers now able to travel freely across all Australian states and territories and the introduction of the trans-Tasman bubble."
The hotel has joined the Accor portfolio following the sale to new owners The Shakespeare Property Group.
The Shakespeare Property Group CEO and Managing Director, Yak Yong Quek, said: "We are delighted to partner with Accor on this premier regional tourism asset and we're confident it will operate with great success under Accor. Partnering Peppers with this property is a natural association. We believe the Peppers brand perfectly captures the essence of this boutique hotel, which is a welcome addition to the established reputation the hotel already enjoys. Regional tourism is vital to the Australian economy and key to the sustainability and vibrancy of communities and we are proud to invest in it."
Peppers Marysville is the fourth hotel that The Shakespeare Property Group has partnered with Accor on in Australia, following the success of Novotel Sunshine Coast Resort, Pullman Cairns International and Novotel Cairns Oasis Resort.
Located just 90 minutes from Melbourne and tucked away in the forested foothills of Victoria's Great Dividing Range, Marysville has long been a favourite getaway destination thanks to its tranquil riverside location, culinary delights, wonderful scenery and outdoor adventures.
Boasting some of the most scenic cycling routes on the doorstep of Peppers Marysville, the hotel has partnered with Australian cycling legend Simon Gerrans.
"I am honoured to be an ambassador for this hotel and I look forward to sharing the beauty of the region to road, mountain and gravel cyclists across the nation. Bike tourism has experienced significant growth in recent years and, with Peppers Marysville offering a holistic experience for cyclists, the hotel is perfectly placed to accommodate these travellers, greatly benefitting the tourism economy in Marysville and beyond," Mr Gerrans said.
Marysville is also minutes from Lake Mountain, a popular snow field, perfect for first timers and families alike.
Peppers Marysville joins a network of more than 20 Peppers retreats, resorts and CBD hotels across Australia and New Zealand. The Peppers brand has become synonymous with a sense of refined indulgence, an attention to detail and excellent personal service.
With flexible cancellations and enhanced ALLSAFE hygiene and cleanliness standards, guests can feel at ease when they choose to stay with Accor.