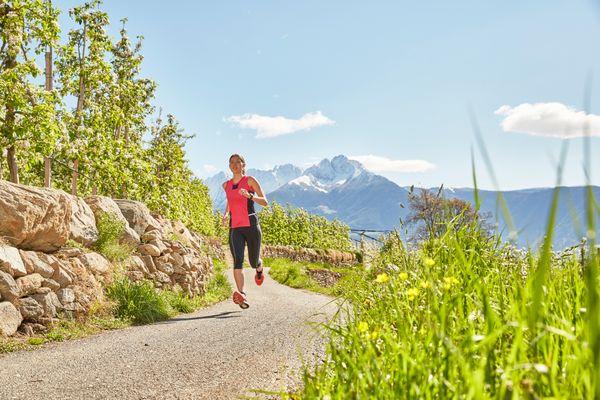 ADLER Spa Resort Balance (www.adler-balance.com) has developed an ADLER MED Sports Performance package, overseen by its in-house doctors, that will help alleviate a runner's small niggles – either to make their exercise easier at home or to prepare them for one of the long distance challenges that pepper the summer season in the Dolomites. Meanwhile, sister property ADLER Mountain Lodge (www.adler-lodge.com) is encouraging guests to take part in a training week with professional trainers, from 25 June to 1 July, which culminates in participation in the Alpe di Siusi Half Marathon.
All guests checking into the ADLER Spa Resort Balance for medical reasons must first undergo a preliminary consultation with the in-house medical team, which costs €180 (and also includes a final check up with the doctor prior to departure). They can then undertake ADLER MED's Sports Performance programme (€217), which includes:
– Basic blood tests (analysed on site in the hotel's own lab)
– An hour-long private coaching session, focusing on running technique
– A kinesiology consultation, involving a manual muscle test that investigates the functional relationship linking muscle activity, the body's meridians and reflex zones, so that the appropriate therapeutic approach, be it manual treatments, a personalised exercise programme or naturopathic therapy, can be recommended.
At the end of the Sports Performance programme, guests can expect to be running better than before, either at home or in one of the region's races: the Dolomites Saslong Half Marathon takes place on 9 June, while the Alpe di Siusi Half Marathon takes place on 1 July.
The Dolomites Saslong Half Marathon (www.saslong.run) is new for 2018 and is open to both amateur and professional runners at a cost of €35 (prior to 31 May). A challenging trail run that winds through the breathtaking scenery of the UNESCO World Heritage Site of the Dolomites, with wonderful views of the Sella massiv, the Sasso Lungo and Sasso Piatto mountains, it takes place on a combination of hiking trails and gravel/stone roads at altitudes of between 1624m and 2363m above sea level.
The 6th Alpe di Siusi Half Marathon (running.seiseralm.it) comes at the end of a week of high altitude training with fitness coach Egon Zuggal and Rudi Brunner, who is an orthopaedic technician specialising in performance diagnostics and endurance sports. Guests have the option to either participate in the full week, individual running activities or simply the race.
Those wishing to take part in the training week should check into the ADLER Mountain Lodge, which is located in the middle of the Alpe di Siusi, close to the training camp. The Alpe di Siusi Running Park boasts 20 running trails totalling 180km of varying lengths and difficulty; its altitude at between 1,800m and 2,300m above sea level provides the perfect conditions for endurance training, which is why some of the world's best marathon runners from Kenya regularly train here.
Guests can book the week-long training camp (at a cost of €170 including all activities and entry into the half marathon or €150 for all activities excluding the half-marathon) or they can choose to simply participate in certain elements. Activities include orthopaedic foot analysis and running shoe consultation (€10), a moonlit run with traditional dinner in a mountain hut (€30), function fitness (€10), training runs (€10) and trial runs combined with analysis (€10). Entry into the Alpe di Siusi Half Marathon costs €40 (prior to 17 June) and includes starter kit, cable car ticket and a free meal.
Room rates at ADLER Mountain Lodge during the training camp start from €1771 for a full week, per person sharing a Junior Suite, on a full-board basis; room rates at ADLER Spa Resort Balance in the first half of June start from €1160 for a full week, per person sharing a Junior Suite, on a half-board basis. All medical programmes and participation in training camps and races are charged separately (please visit the relevant websites to register).
To book accommodation & the sports performance programme at ADLER Spa Resort Balance, visit www.adler-balance.com; to book accommodation at ADLER Mountain Lodge, visit www.adler-lodge.com.