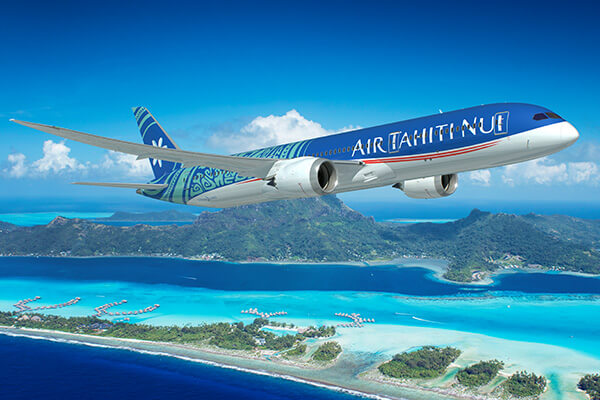 Air Tahiti Nui has been named a "Five Star Major Airline" for the third consecutive year in the industry's most sought after honor: APEX's Official Airline Ratings™, the first airline rating program based solely on certified passenger feedback. The leading carrier to French Polynesia and the South Pacific was also recognized as "Best Airline in the South Pacific" for the fourth consecutive year in Global Traveler's GT Tested Reader Survey Awards and "Design Airline of the Year, Oceania" in the DesignAir Awards.
Each year, APEX (the Airline Passenger Experience Association) draws up a ranking of the best rated airlines in the world based on passengers' own opinions of their travel experiences. Air Tahiti Nui stood out once again among the 600 airlines present in the ranking, by winning five stars in the "Major Airline 2022" category.
Air Tahiti Nui has maintained its place in the prestigious rankings for both APEX and Global Traveler and this year additionally was recognized in the DesignAir Awards. An esteemed jury panel and passengers recognized the airline for continuing to be a design ambassador for the region, with incredible award-winning livery, brand new uniforms and delightful soft touches that bring the rich cultural roots of the Pacific Islands onboard.
"We are excited to be recognized with multiple prestigious industry accolades this year and be awarded for our immersive customer experience, genuine staff and beautiful fleet design," said Nicholas Panza, Vice President – Americas. "Air Tahiti Nui's top honors could not be achieved without our dedicated team members who continuously extend the warm hospitality and service that we are known for to create a memorable passenger experience on every flight."
APEX, Passenger Rating Methodology
The APEX Official Airline Ratings™ stands as the only airline rating program based solely on independently verified passenger feedback. The industry's most anticipated honor receives airline customer feedback and insights gathered through APEX's partnership with TripIt® from Concur®, the world's highest-rated travel-organizing app. Using a five-star scale, airline customers rate approximately one million flights across over 600 airlines worldwide. APEX then verifies, validates, and independently certifies the customer data via a professional third-party auditing company. Only a single-digit percentage of over 600 rated airlines worldwide receive the prestigious APEX Four Star Airline award based upon customer votes that require the vast majority of all of their ratings to be four-and-five star.
Global Traveler's GT Tested Reader Survey Awards
For the 18th consecutive year, Global Traveler conducted its GT Tested Reader Survey, asking frequent luxury travelers to name the best in a variety of travel-related categories. More than 22,000 people responded. The survey honors airlines, hotels, loyalty programs and travel-related products in more than 80 categories. GT's distinguished readers vote for their favorites in the world of travel in an open-ended survey running in the magazine and online. The 2021 survey ran Dec. 14, 2020—Sept. 30, 2021. The results of the survey are featured in the December 2021 issue.