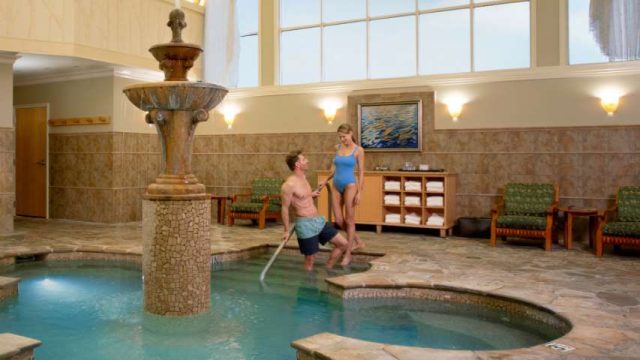 North American spa and wellness consumers stayed close to home in 2021, seeking out 'socially distanced' fresh-air wellness experiences, according to Spas of America's Top 100 Spas of 2021. The spa and wellness travel website cited outdoor wellness experiences such as country, mountain, desert, and soothing mineral spas as the most popular spa searches. City or urban spas only made up 10% of the spas on the list.
The most popular spa of the year is the Oneida Indian Nation's Skʌ:nʌ́:, The Spa at Turning Stone. Skʌ:nʌ́: offers a completely unique experience that has redefined the spa experience in Upstate New York. Skʌ:nʌ́: was the first Native American inspired spa in the Northeast and pays homage to Oneida and American Indian culture through décor, ambiance, treatments, and gracious hospitality. Many of the services incorporate ingredients essential in the Oneida culture, including strawberries, sage, and white pine. This award-winning spa is the ultimate destination for tranquility and relaxation, with a variety of treatments for men and women ranging from massages, facials, full-body services, to salon amenities and manicures and pedicures. An essential part of the award-winning experience at Skʌ:nʌ́:, the spa team has decades of expertise and continuously receives high praise and accolades from guests.
The Top 100 Spas of 2021 list includes 84 spas from the United States, 13 spas from Canada, and three from Mexico. The most popular spa experience was Country with 18 spas in the Top 100, followed by Mineral Hot Springs with 12, Mountain with 11, City with 10, Beach and Casino with nine, Ocean with eight, Desert with seven, Lake with six, Health and Wine with four and, lastly, Fitness with two spas. A total of 38 states and provinces are represented in this year's Top 100, and while New York held the No. 1 ranked spa, California had the most with 16 spas on the list.
"For the North American spa and wellness industry, 2021 was a good, but challenging year. Many resort and hotel spas reported strong revenue, despite having staffing challenges," says Spas of America president Craig Oliver. "Consumers have been affected by a partially opened economy and changing travel guidelines, which created uncertainty. In turn, they responded by supporting regional spa and wellness businesses, especially drive-to destinations. We expect a strong year for the industry, as pent-up demand will bring out consumers seeking spa and wellness experiences with a focus on health and fitness, leading to improved quality of life."
"These unprecedented times have elevated the importance of self-care, and Skʌ:nʌ́: has provided a safe and tranquil place for our guests when they needed it most," said Ray Halbritter, Oneida Indian Nation Representative, and Oneida Nation Enterprises CEO. "While navigating evolving health and safety protocols, our talented spa team continued to provide an exceptional guest experience, which makes this recognition all that more meaningful."
The annual Top 100 Spas award provides insight into consumers' favorite spas of the year, based on unique page views and consumer choices on www.spasofamerica.com.