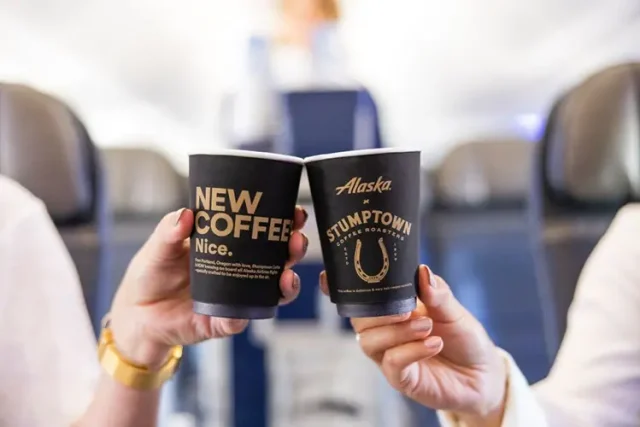 Alaska Airlines, the premier West Coast airline, and Stumptown Coffee Roasters, a third-wave coffee pioneer and certified B Corporation, are proud to introduce a custom coffee blend that's specially crafted to be enjoyed up in the air – brewing soon on all Alaska flights.
More than two decades ago, Portland, Oregon's beloved Stumptown led the third wave – a craft movement in coffee sourcing and roasting emphasizing quality and sustainability – in the Pacific Northwest and beyond through its uncompromising commitment to craft and unwavering dedication to its top-tier roasting methods, partners and the planet.
As the premier West Coast airline, Alaska shares an appreciation for craftsmanship and a commitment to innovation and sustainability. We were the first airline to implement an inflight recycling program; the first to eliminate plastic cups, straws and stir sticks on board; and the first to offer guests the ability to pre-order meals and snacks. We feature dozens of West Coast-based food and beverage brands on board and have a long history of collaborating with partners who share our commitment to the planet, our communities and to providing caring service.
"Having flown millions of miles fueled by countless cups of coffee, Stumptown stands out as first class," said Alaska Airlines CEO Ben Minicucci. "Like travel, coffee has a remarkable way of bringing people together. I can't wait for our guests and employees to enjoy a cup of Stumptown when they fly with us."
"We wanted a crowd pleaser – something that would delight folks who enjoy milder coffees and also speak to guests who enjoy medium-bodied roasts," said Stumptown President Laura Szeliga.
Our journey together began with a sip of Stumptown's Holler Mountain, its best-selling, certified organic coffee. From there, the coffee experts at Stumptown created an organic blend that's fit for the skies. For those who don't know, your taste buds react differently at high altitudes, which is why food and drinks can taste different in the air compared to on the ground. 
Alaska's medium-dark blend uses the same clean and sweet base as Holler Mountain, but with a primary focus on a roast that mellows acidity and introduces just enough toastiness to please a wide range of palates. It's exceptionally smooth and balanced, with aromatic notes of toasted marshmallows, browned butter and toffee with delicate hints of citrus and cherry. Additionally, Stumptown dialed in this roast to be delicious when served black or with the addition of creamer or oat milk (also now offered on Alaska flights).
Alaska's custom roast will be available exclusively on all Alaska flights starting this fall and will be on every flight by Dec. 1, 2023. Plus, guests can sip Stumptown in our Portland and JFK Lounges where we'll be proudly serving Stumptown's Holler Mountain for our brewed coffee and Hair Bender in our hand-crafted espresso beverages. Trapper Creek will also be available as a decaf option.
At Alaska, we believe in strengthening and supporting the communities our employees, neighbors and guests call home, and in Portland — Stumptown's hometown — we've been honored to support this community since 1979. Today, more than 2,400 of our employees are based in the Portland area, where we provide nonstop service to 50 destinations. Caring for the communities we serve extends far beyond making air travel accessible. It's about forging connections, fostering job opportunities, volunteering, donating miles to nonprofits and inspiring the next generation of aviation.
As a Certified B Corporation and global brand with cafes in Portland, Los Angeles, New York and Kyoto, Japan, Stumptown is committed to sustainability in its cafes, breweries, roasting and manufacturing facilities. The company is rolling out plans to reduce energy, water consumption and achieve zero landfill-bound waste in the manufacturing operations by 2025, which aligns with Alaska's goal to be carbon net zero by 2040. 
Putting it through the paces
After selecting our signature coffee, we conducted extensive brewing tests both on the ground and in the air. We did this to 1) understand how it tasted both in the air and on the ground; and 2) ensure our roast worked with all types of brewing machines on Alaska and Horizon aircraft.
Together, Alaska and Stumptown Coffee Roasters have taken steps to ensure each sip of our signature coffee is handcrafted and unlike anything else being served in the skies.
More than 200 pots of coffee were brewed for the development of this project.
We tested over 20 variables, including changes in grind, dose, filter paper and filter-pack dimensions to make sure the inflight experience will wow our guests.
Multiple flight tests and blind customer surveys were conducted to ensure the taste tests met what you'd expect from a cup of Stumptown coffee on the ground.
We even taste-tested the coffee with Alaska's inflight milk and Biscoff cookie to ensure both paired beautifully with the coffee we landed on.
As the #1 airline on the West Coast, Stumptown joins Alaska's portfolio of leading West Coast brands including Tillamook, Beecher's Cheese, Salt & Straw, Seattle Chocolates, Fremont Brewing, Evergreens and Straightaway Cocktails.