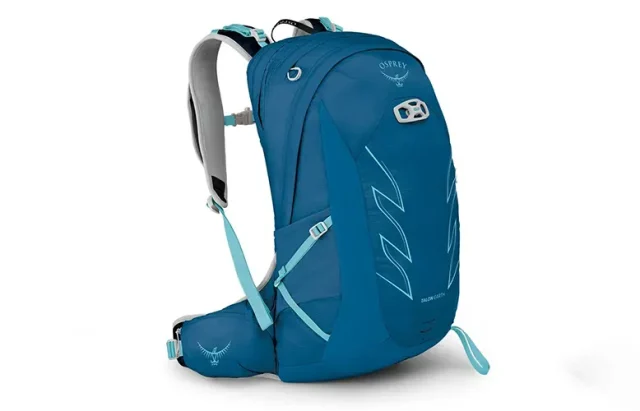 Osprey, a Helen of Troy Limited brand, began its journey towards sustainability 50 years ago with the creation of its first pack. Tandem with its pursuit for creating top-quality carry solutions, Osprey is advancing its holistic sustainability efforts with its 12 core technical product families carrying prestigious certified bluesign® Product designations by spring 2024. Osprey is also introducing its first packs featuring main body fabrics made from third party verified 100% ocean-based or ocean bound plastics – the new Daylite™ Earth and updated Talon Earth™.
"Since day one, sustainability has been part of our core values," said Mark Galbraith, VP of Product. "When you're at it as long as we've been, you either stand by and watch the industry change around you, or you become a leader in its progression. We've never been content as spectators. We strive to be not only innovators of high-quality products, but responsible citizens who tread lightly as we cherish the world we live, work and play in."
As a whole, Osprey's approach to sustainability draws on each element of the brand's guiding values: innovation, integrity, quality, respect, stewardship and community. They are the "why" behind Osprey's efforts. In 2018, to help answer the "how," Osprey introduced its three pillars of sustainability: materials, chemistry and social responsibility. Each continues to guide Osprey's mission to become a more conscientious and progressive outdoor hardgoods brand now and ever-forward.
By spring 2024, Osprey will have nearly reached all of its Phase 1 sustainability goals, having accomplished the following:
98% of textile products will have 100% recycled content in main body fabric.
96% of textile products will have bluesign® approved main body fabric.
100% of DWR coated textile products will have treatments made without PFAS.
98% of lined textile products will have 100% recycled content in the liner fabric.
99% of lined textile products will have bluesign® approved liner fabrics.
bluesign® Products
Consumer products carrying the certified bluesign® Product label meet strict safety and environmental requirements. The products are made of bluesign® approved materials and are produced in a resource-conserving way with a minimum impact on people and the environment. With the spring 2024 collection launch, 19 Osprey pack families, nine accessory categories and four special edition pack series, will carry the bluesign® Product designation, including best selling technical packs: Aether™ | Ariel, Talon™ | Tempest, Atmos | Aura AG, and Exos | Eja, among others.
Earth Program
Osprey's new Earth Program promotes more renewable materials and sustainable processes as the brand continues to innovate. Earth Program packs – Daylite™ Earth ($80) and updated Talon Earth™ ($170) – help support the market for more sustainable materials and – ultimately – decrease Osprey's impact on the environment. Both of the new packs have earned more rigorous bluesign® Product designation, exceeding the criteria for a minimum of 90% bluesign® approved fabrics/yarns, a minimum of 20% bluesign® approved accessories and all remaining fabrics, materials or components being sourced from qualified suppliers. Each pack also helps reduce ocean waste with their main body and bottom fabrics that are woven from ocean-based or ocean bound plastic — 100% recycled polyester made primarily from ocean-bound PET bottles, or 100% recycled nylon made primarily from discarded fishing nets, both are post-consumer fabrics that reduce ocean plastics reduce ocean plastics.
Daylite Earth™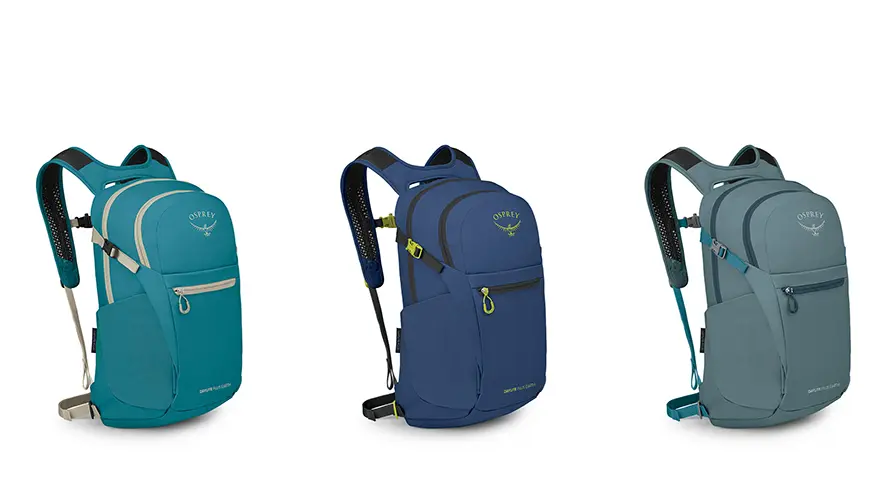 Embodying simplicity and versatility, the introduction of Daylite Earth™ applies thoughtful sustainability to everyday decisions as it's Osprey's most sustainable lifestyle pack to date. Daylite embodies the value of versatility: technical enough for the trail, casual enough for everyday use and familiar enough for travel. The crossover of technical, lifestyle and travel means it can be used every day, everywhere.
Talon Earth™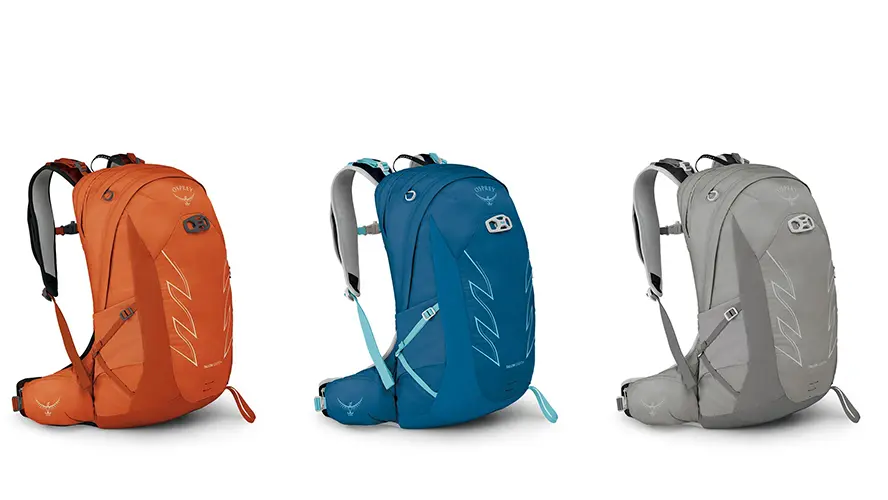 The special edition Talon Earth™ is Osprey's most sustainable technical and everyday daypack to date. A lightweight, ventilated and close-to-body fit moves with you on the most technical terrain due to a BioStretch harness, continuous-wrap hipbelt and AirScape™ backpanel, while urban touches, like its large padded laptop sleeve, help it blend in from trail to town.
The Osprey Packs spring 2024 collection will be available beginning in February at osprey.com and at specialty retailers in over 60 countries worldwide.