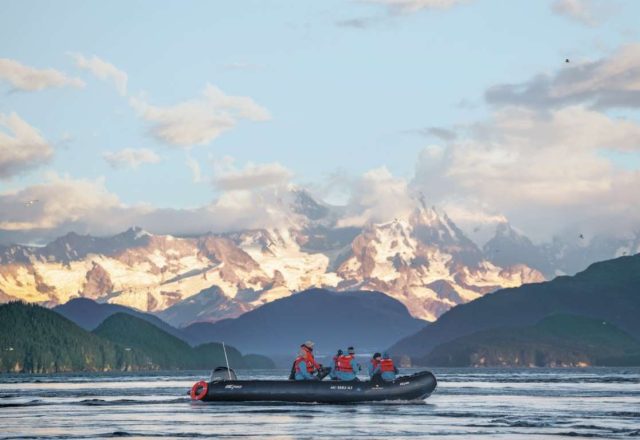 Seabourn, the leader in ultra-luxury voyages and expedition travel, kicks off its 2023 Alaska & British Columbia season today with Seabourn Odyssey sailing an eight-day voyage from Vancouver to Juneau. Seabourn has carefully curated an enriching and in-depth schedule for its 2023 season in Alaska with visits to some of the region's most popular destinations and rarely visited ports throughout the Inside Passage. The season will also offer a number of immersive experiences through Seabourn's popular and unique Ventures by Seabourn program, featuring optional, for-charge guided kayak and Zodiac tours led by the line's world-class expedition team.
Seabourn Odyssey's intimate size—which carries just 458 guests—allows for maneuverability and unmatched access to rare and unexpected ports, offering guests deeper and more meaningful connections with the destination. On board, its club-like atmosphere, award-winning service and spacious oceanfront suites make it seamless to explore these breathtaking natural wonders with uncompromising, sophisticated amenities and luxury.
"Only on Seabourn can our guests visit the Last Frontier with an ultra-luxury experience that seamlessly blends exhilarating, up-close adventures with luxurious amenities that will leave guests with memories to last a lifetime," said Natalya Leahy, president of Seabourn. "There is so much to experience in Alaska and British Columbia. From towering glaciers and untamed, dynamic landscapes to diverse wildlife and cultures, the land has everything to satisfy anyone's thirst for adventure."
Seabourn Odyssey will feature 19 sailings in Alaska from May through October 2023, including a total of 14 seven-day itineraries headed northbound or southbound between Vancouver and Juneau, with different sites, scenes, adventures, and ports to experience each way. Guests can also combine two seven-day voyages to create a longer, more immersive 14-day round-trip Vancouver voyages. Seabourn Odyssey will also offer two 10-day Alaska Fjord Odyssey itineraries, as well as two 11-day Inside Passage & Alaska Fjords voyages scheduled roundtrip from Vancouver in June and September. Each sailing will include spectacular glacier experiences in places like Hubbard Glacier, Tracy or Endicott Arm or Glacier Bay—a National Park home to more than 50 named glaciers.
Seabourn Odyssey's voyages will also offer a variety of "active luxury" adventures through Ventures by Seabourn, which provides expert-guided adventures such as hiking, kayaking, catamaran and Zodiac sailings to get up close to Alaska's wildlife and unique landscapes. Available on all Alaska sailings, Ventures by Seabourn will include explorations of various glaciers, the Inian Islands, Rudyerd Bay (Misty Fjords), Alert Bay in British Columbia, and more. These excursions will be led by Seabourn Odyssey's knowledgeable expedition team of naturalists, science, wildlife and historical experts, in cooperation with some of our local partners. They will also interact with guests throughout each sailing, including complimentary formal presentations as part of the Seabourn Conversations program, and on deck, pointing out, interpreting and enhancing desirable locations as well as in more casual conversations over meals or at leisure. Guests who can't get enough can get more through team chronicles and photos shared via Seabourn's Voyage Tracker.
In addition, each of the Alaska voyages will include complimentary Seabourn all-weather jackets; opportunities for frequent wildlife sightings from the ship and shore; and complimentary special events and experiences, including the signature "Caviar on the Ice" deck party.