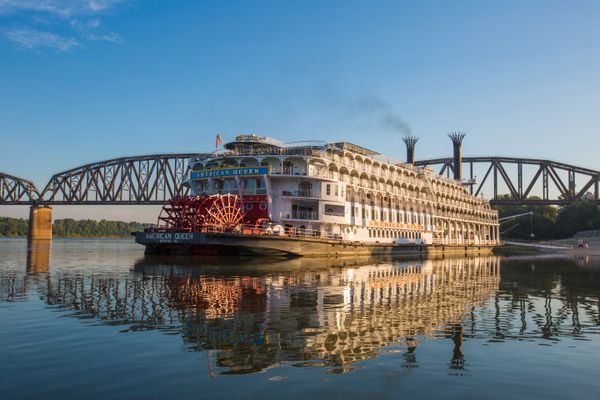 American Queen Voyages (AQV) is partnering with renowned sports and entertainment figures in the new "Treat Them Like Royalty" campaign, as a way to celebrate the individuals, charities and local community organizations who have supported them throughout their lives and careers. Each of the talent's selected recipients will receive a 9-day voyage from AQV, which offers a comprehensive portfolio of North American cruise vacations comprised of Rivers, Lakes & Oceans and Expedition experiences.
Star athletes and entertainers who have partnered with AQV to give back to their loved ones, charities and local community organizations in the promotion include Pittsburgh Steelers legend Jerome Bettis; Cleveland Brown alumni and NFL analyst, Joe Thomas; New York Mets pitcher Adam Ottavino; star forward Kelly Olynyk of the Utah Jazz; hip hop pioneer Darryl "DMC" McDaniels of Run DMC, media personality Peter Rosenberg for Hot 97 and ESPN's Michael Kay show and influencer and New York Times best-selling author, Anna Kloots.
"We are thrilled to have the support of these esteemed sports and entertainment figures as we continue to share what makes American Queen Voyages such a special experience with their extended guests," said Cindy D'Aoust, president, American Queen Voyages. "We have such a loyal following because our Crew truly does treat every guest like royalty. We are excited to partner together as a way for the talent to express their gratitude to those that have made a positive impact on their lives and careers and make their own lasting memories aboard our iconic vessels."
The enthusiasm from the sports and entertainment communities has opened AQV to new guests, inviting couples, friends, and families across the country to join in creating memories with loved ones aboard AQV's river, lake, and ocean cruises.
"There have been so many people that have shaped me into who I am today, especially my mom who has been the cornerstone of my success throughout my life and career," said Jerome Bettis, Pittsburgh Steelers alumni. "In celebration of Mother's Day, I couldn't think of a better way to treat my mom with the opportunity to cruise on American Queen Voyages and to receive a royal VIP treatment that she so well deserves."