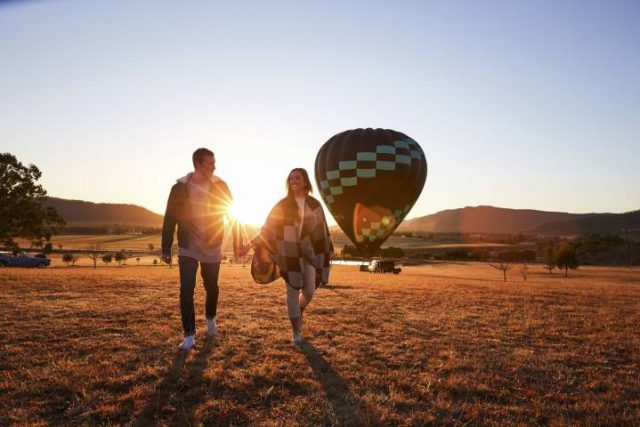 Dream about the many ways to feast and wander in the Hunter Valley, one of New South Wales' premier regions for lovers of food and wine. Here, you can have fascinating experiences touring its vineyards, from tastings at traditional stately estates to chats with an innovative new guard of winemakers. Just two hours' drive from Sydney, Pokolbin is the perfect base for exploring the region. While most people drive or take a guided tour, more adventurous souls choose quirky ways to enhance a view of the valley from all angles.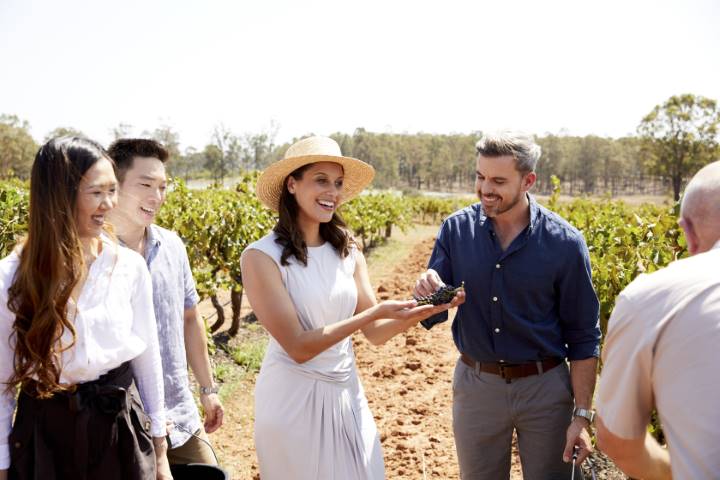 Ride a Segway
Head off on a kangaroo-spotting nature adventure on a Segway Tour from Hunter Valley Resort in Pokolbin. You'll tour the bushland property, riding along an old 1880s stock route – far from the road – and through McGuigan Wines vineyard. Kangaroo sightings are common and sometimes foxes, goannas and wombats make an appearance. There are views of the Broken Back Range and you'll ride through vineyards at your own pace. New to Segway? Never fear, you'll be given instructions from a qualified Segway guide before you begin.
Have a sky-high adventure
For a stunning start to your day, get a bird's-eye view of the sun rising over the picturesque wine regions of Broke, Lovedale and Rothbury. Balloon Aloft hosts hour-long balloon rides followed by a champagne breakfast at Restaurant Cuvee in Peterson House. Take off from one of over a dozen launch sites, depending on the wind direction. As your pilot expertly navigates over the valley, the balloon traverses the sky leaving virtually no sense of movement. The aerial view of the vineyards, olive groves and a countryside dotted with kangaroos is sublime.
Call a chauffeur
Tour wine country on a bespoke experience with Hunter Valley Private Tours: you'll be chauffeured in a luxury Mercedes-Benz by local drivers keen to show you the region's top wineries. There's a Sydney to Hunter transfer available for the full-day winery tour, which visits four cellar doors and a premier winery restaurant for lunch. And Two Fat Blokes offers a Connoisseur Experience in a luxury chauffeured Jaguar F-Pace. Choose your own activities or follow the expert local's suggestions.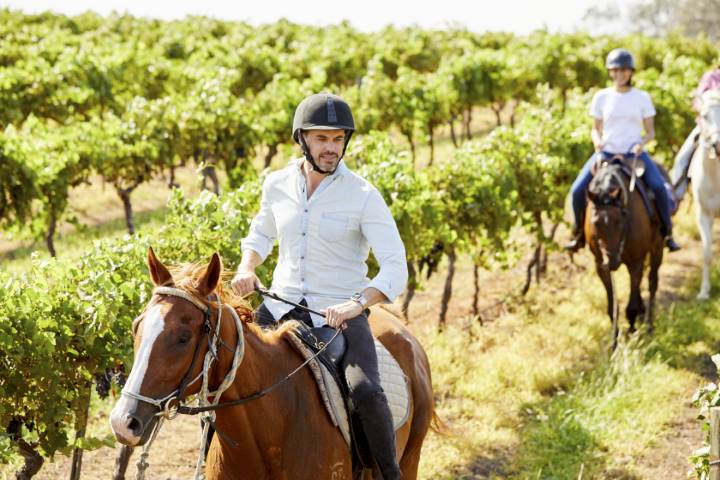 Get in the saddle
Kim Murdock of Murchessons Horseback Wine & Dine Tours enjoys sharing her love of horses and the Hunter Valley on guided rides through the vines. Many of the steeds are rescue horses which have been given a home at Hanging Tree Wines in Pokolbin — you can hear the stories of their transformation to riding horses. The horseback tours through the vineyards proceed at a steady walk or trot — perfect for first-timers and lively enough for more experienced riders. Choose from a morning ride, stopping for brunch at Voco Kirkton Park, or a day tour of wine tastings, gourmet lunch and a ride through the vines.
Immerse yourself in extensive gardens
Stroll through the picturesque Hunter Valley Gardens in Pokolbin. There are 8km of walking trails leading through themed gardens such as the Italian Grotto and the Oriental Garden. The large topiary creations of dragons and brumbies are a delight and the Lakes Walk has seasonal plantings to enjoy at any time of year. After exploring the surrounds, pop next door to Harrigan's Irish pub for its signature beef and Guinness pot pie.