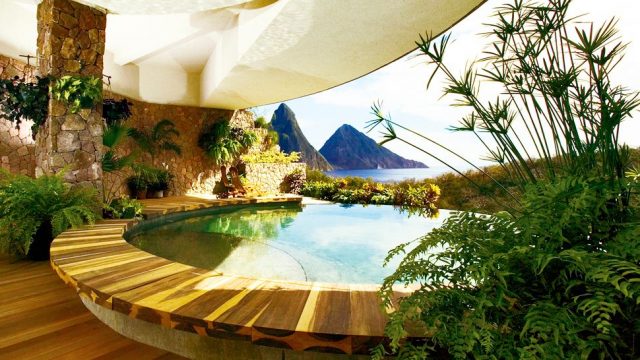 If you yearn to vacation in old St. Lucia style, consider booking your next holiday at Anse Chastanet Resort on the unspoiled and pristine southwest Caribbean coast on the island of St. Lucia. The Gros and Petit Pitons are St. Lucia's signature mountains and serve as a dramatic backdrop for the Anse Chastanet Resort.
Every guest room at Anse Chastanet is unique in its décor. 12 beach level rooms are just a stone's throw from the water; a little ways up the hill are the original white washed cottage rooms with wraparound porches and higher up on the hilltop are the deluxe suites which are massive in size and truly impressive in design. Comfy plush furnishings to wile away the hours (or days) are present in every room with soft furnishings draped in wonderful island madras fabrics. The premium rooms are famous for their shower with a view and missing 4th wall that makes the suite feel like part of the outdoors, without ever sacrificing privacy.
The ultimate in sumptuous isolation and guest pampering may keep you in close proximity to your room, but if you do venture away there is plenty to do from water activities to beach walking, shopping and night entertainment. Or partake in treatments offered at the onsite spa, experience a 3-hour lunch on the hillside terrace or partake in a gastronomic delight at the world class restaurant.
Many come to Anse Chastanet for the resort's rare and eclectic art collection alone, which is continually changing. Showcased in guest suites and public areas, original art by local and international artists is everywhere, including painted sky ceilings and massive sculptures. Others come for a total retreat to the way a vacation should be – quiet days, star filled nights, a luxurious room and lots of time to think about little other than what to have for dinner.