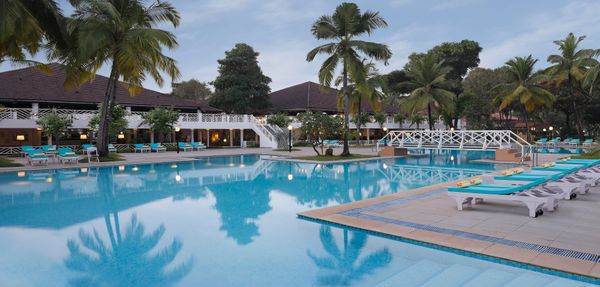 India's most visited destination and the recipient of around 50 percent of its domestic tourism, Goa welcomed a new resort property this morning. At the majestic lawns of the Novotel Goa Dona Sylvia Resort, AccorHotels launched its latest Novotel in partnership with the Alcon Victor Group and its fourth property in the mushrooming Goa market. Positioned as a product that reconnects people to their essentials, putting them in touch with fun, nature, activities and the eternal resort feel; for a jaded online world, whose thumbs maybe swollen with the constant touch of a screen and for whom the feeling of sand on their feet, is perhaps a forgotten experience.
Tempting travellers with powdery white sands, water sports, magnificent sunsets, plush rooms and local and international gastronomy, AccorHotels has rebranded the globally known Dona Sylvia Resort to Novotel Goa Dona Sylvia Resort, adding the Novotel brand essence with modern refurbishments and creating a fairytale essence on the sands of Cavelossim Beach. Situated in South Goa, the resort features 181 well-appointed and spacious rooms, villas & suites on the Arabian Sea coastline.
At the press launch, Mr. Varun Albuquerque, Director, Alcon Victor Group paid tribute to the acumen and craftsmanship of the late Charles Correa who had originally conceptualized and designed the resort. He said "Dona Sylvia Resort has always resonated with old-world charm and new-world luxury, creating an authentic Goan ambience along with its perfect location on Cavelossim Beach. Today through the rebranding of the property, as a Novotel Resort, we look forward to offering an international standard product to our guests".
Also present on the occasion was Mr. Jean-Michel Cassé, Chief Operating Officer, India & South Asia, AccorHotels. He shared, "The rebranding of Novotel Goa Dona Sylvia Resort strengthens AccorHotels' presence in the Indian market. With 17 Novotels in the country, we believe this brand is particularly well targeted for the modern Indian traveler and international guests. Novotel is the world's most recognized hotel brand that offers modern easy living hotels and resorts located in major international cities, business districts and tourist destinations. We are delighted to partner with the Alcon Victor Group and look forward to bringing our expertise in hospitality to this relationship." 
The property provides a glimpse into the rich traditional Portuguese culture through a mix of contemporary and local heritage architecture, built like a small luxury village in itself. The resort also offers an eclectic range of spectacular dining options. Seagull, the all-day dining restaurant, serves delectable buffet spreads, scrumptious a-l-a carte meals and offers an impressive dining experience with live cooking stations and plush interiors. Further, guests with an Indian palate can head towards Kebabs & Kurries, the fine dining Indian outlet that presents enticing signature dishes from the royal kitchens of India. At Mama Mia, the resort's seasonal poolside grill restaurant offers guests an appetizing selection of fiery grills prepared by the talented Chefs of the eatery. Guests can also pick an assortment of experiences from intimate bar settings to mesmerizing views of the pool at Amalia & Tia Maria, the poolside and lobby bars.
Appreciating the needs of today's travellers, Novotel Goa Dona Sylvia Resort features two dedicated conference rooms with a capacity to serve about 200 guests. The resort also offers two magnificent Seaside Lawns by the beautiful white sands of Cavelossim Beach, making it a perfect setting for glamorous events and black-tie affairs. With a team of skilled professionals, Sohum Spa at the property provides a variety of Indian Ayurvedic treatments, aromatherapy sessions and revitalizing western massages. The property also features an outdoor pool, a fitness centre, an activity area and shopping centre for its discerning guests. So, whether for shopaholics, gastronoms, fitness enthusiasts or nature lovers – the resort's location and features cover all they want.
Said Mr. Vishal Khosla, General Manager, Novotel Goa Dona Sylvia Resort, "We seek to offer solace to the #hashtag tired traveler, offering a place where the incessant mobile phone ring can be forgotten and activities indulged in that bring back fun and laughter, making it into a style of living. At Novotel Goa Dona Sylvia Resort we aim to host a complete getaway package, where guests can come and enjoy the simple but luxurious pleasures of a resort."
While the world of social media and the internet have created great benefits for society, an unintended consequence of the new #hashtag world, has been the disconnection of the individual from their surroundings, family, community and the people who matter. Keeping this in mind Novotel Dona Sylvia Resort has been designed to offer the perfect resort enclave, to reconnect with fun, deepen family ties, improve relationships and rekindle the spirit of living, through the pleasure of luxury, with surf, sun and sand on the beach.