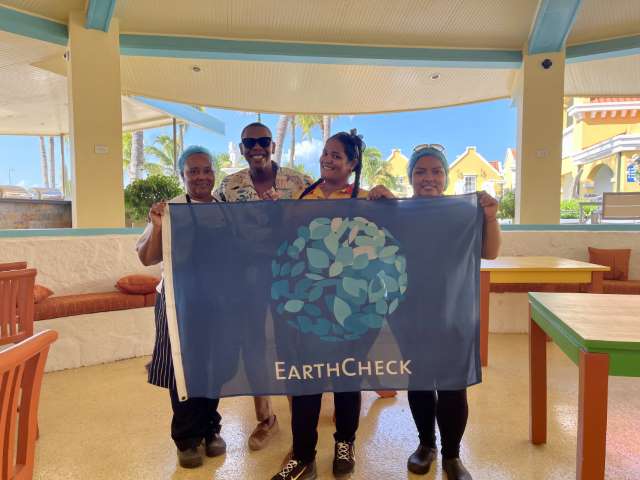 Amsterdam Manor Beach Resort and its sister property, MVC Eagle Beach Aruba have recently been honored by EarthCheck, the world's leading business advisory group specializing in sustainability and destination management for the travel and tourism industry, receiving a Master Certification status at Amsterdam Manor for 23 years of certification and a Platinum Certification status at MVC Eagle Beach for 11 years of certification.
"As one of Aruba's enduring accommodations providers, embracing our responsibility to support a more sustainable world is pivotal," said General Manager Alfred Kaufmann of Amsterdam Manor Beach Resort. "Achieving this milestone with EarthCheck supports our efforts in creating a sustainability culture and shows that we are committed to taking action on climate change and being a responsible business."
EarthCheck CEO and founder, Mr Stewart Moore, congratulated the Amsterdam Manor Beach Resort and MCV Eagle Beach teams on their long-term sustainability commitment. "Achieving EarthCheck Master Certification is not an easy task, and it takes the commitment of the whole team to deliver improved operational results across the business. There are no shortcuts, and there needs to be an ongoing commitment to both measurement and improved performance," Mr Moore said. "I would particularly like to congratulate the Amsterdam Manor Beach Resort Green Team, who have shown leadership and commitment throughout the program."
EarthCheck Certified is a program filled with innovative tools and resources that inform, inspire, and enable organisations in the tourism industry to deliver more sustainable services and products while ensuring they continue to meet the demands of the new visitor economy. Amsterdam Manor Beach Resort and MCV Eagle Beach Aruba have persistently worked towards optimising their energy performance, improving water usage, integrating responsible waste management systems and reducing their carbon footprints with science-based targets.
For more information on EarthCheck, visit www.earthcheck.org.