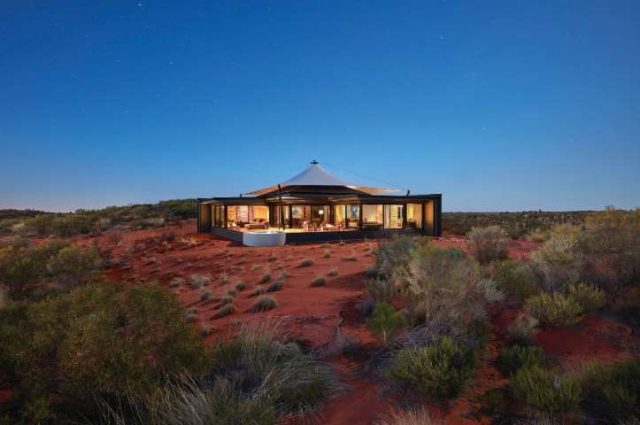 DARK SKY EXPERIENCES
At a time when space and solitude are travel's greatest luxuries, Australia shines bright, and there are myriad stargazing experiences available across the country all year round. Beyond the observatories found in many cities, the clear, dark skies of regional and outback Australia make for dazzling stargazing opportunities.
On 20 April at 11.27am, the Western Australia town of Exmouth will have a front-row seat for a Total Solar Eclipse. As the shadow of the moon passes over the Ningaloo, the area surrounding the UNESCO World Heritage-listed seascape will be the best land-based place on the planet to witness the resulting 62-second light show (the whole process of the moon moving across the sun will take three hours).
Aboriginal astronomy
Many visitors to Western Australia's Monkey Mia come to see its friendly dolphins, but you can also learn about the night sky through Indigenous eyes on an Aboriginal astronomy tour. Listen to Dreaming stories, cook damper over a fire, and meditate to the sound of a didgeridoo. Further north, in Broome, Ngurrangga Tours' guides reveal how constellations were formed according to Aboriginal lore.  The brilliance of the night sky is paired with Aboriginal storytelling by a Gangalidda guide with Yagurli Tours, in Burketown in outback Queensland, while at carbon-neutral Earth Sanctuary in Alice Springs in the Northern Territory, astronomy programs are crafted to coincide with cosmic events throughout the year. There's also an on-site observatory, and an annual Dark Skies Festival.  
Dark sky zones
Designated dark sky zones abound in Australia. The only thing glowing at night in Warrumbungle National Park, a 5.5-hour drive north-west of Sydney, is the Milky Way. Australia's first International Dark Sky Park is just outside the town of Coonabarabran, which is also home to Siding Spring Observatory, which you can visit on daytime tours, and Milroy Observatory, which offers night-sky tours. Off the east coast of Australia, the star-splashed skies above Norfolk Island have earned it the designation of Gold Level Dark Sky Town.
Remarkably, the River Murray International Dark Sky Reserve is just 90 minutes from South Australia's capital, Adelaide. Similarly negligible light pollution across regional Western Australia makes it another great place to admire the night sky; use stargazing trails to guide you.
Stargazing sleeps
Is there anything quite as magical as drifting off to sleep while gazing at a bedazzlement of stars overhead? The Milky Way is your only backdrop at Bubbletent Australia in the Blue Mountains, west of Sydney. Here, three transparent domed tents – each fitted with telescopes and stargazing apps – overlook the world's second-largest canyon.
Very little separates you and the galaxies overhead at the Northern Territory's Longitude 131°, where glamping is elevated with stylish tents. You can see the impressive mass of Uluṟu and the constellation of Orion from your bed, but don't miss the chance to curl up in a cosy swag on your balcony. And in Tasmania, you can indulge in an alfresco night soak in an outdoor tub carved from a single piece of granite at Luna Lodge. You might only be 30 minutes from Hobart, but you'd never know it: your eco-dome (replete with skylight to enjoy southern stars in bed) feels like its own planet.