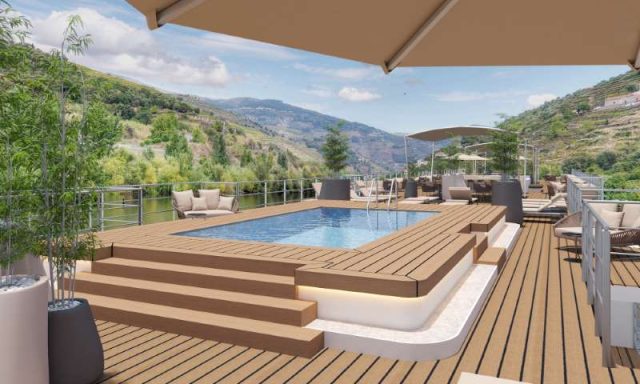 One year from this week (in 2024), Avalon Waterways will make its Portugal debut on the Douro River with a new itinerary and Suite Ship – the Avalon Alegria! Marking the company's 15th Suite Ship in Europe and first sailings on the picturesque Douro, Avalon is poised to give its guests the newest view of the Old World.
Until then, Bordeaux, Tuscany and Napa fans have a whole new destination to raise their glasses to. Winding through the terraced vineyards and charming villages of the Douro Valley, Portugal's Douro River promises some of Europe's most delectable views, vistas and vinho.
"We've been waiting for the perfect opportunity to add Portugal to our robust vacation portfolio and that day has finally arrived," said Pam Hoffee, president of Avalon Waterways. "Inviting our guests to sail the Douro for the first time, we're bringing the Suite Ships of Avalon, the grandest views in cruising and whim-powered itineraries to Southwestern Europe. And we couldn't be more excited."
AVALON'S LATEST, "GRAPEST" CRUISE
Hillside vineyards and historic villages await guests as they sail through Portugal's postcard-perfect views on Avalon's all-new, eight-day Vida Portugal: Vineyards & Villages Along the Douro which begins and ends in Porto and is filled with Avalon's signature, included "Classic," "Discovery" and "Active" excursion choices. Featuring everything from ancient Amarante – in the picturesque Minho region, known for its golden church that dates back to 1530 – to the sandstone architecture in Salamanca Spain; rock art to riding bikes from Porto to the sea, this NEW cruise promises countless ways to soak up splendor – from medieval castles to cinematic scenery and all the vinho, baked bread, olives and cheese your soul desires.