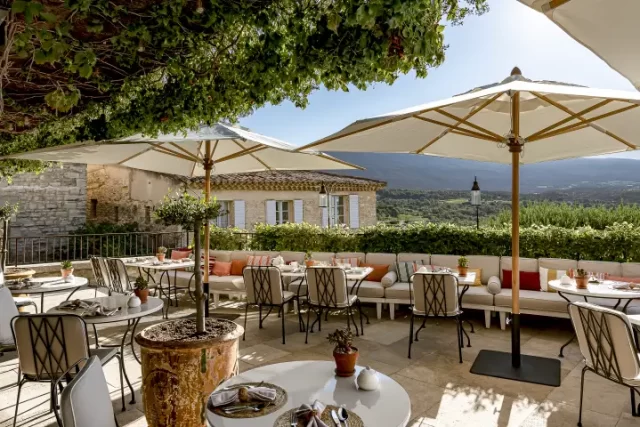 As the warm weather returns, a new season begins for Maisons Pariente' Provencal gem, Crillon le Brave. On 7th April the sought-after, 5-star hideaway will reopen with new culinary and gourmet experiences and unusual activities to discover. From new menus, a special wine and gastronomy package to a new Sunday Kid's Club, Crillon le Brave encourages guests to switch off and enjoy the art of taking things slow in the heart of a Provencal village-hotel. Guests will explore the village and its alleys, lounge by the pool and indulge in exquisitely flavoured food. For those looking to explore the regions rich culture and enjoy a quiet French escape, this five-star hotel is the perfect destination for a post pandemic home away from home holiday.
Chic Style of La Madeleine
Crillon Le Brave's gastronomic restaurant, La Madeleine, has an intimate setting seating 20 guests inside and on its terrace with a sensational mountain view. Adrien Brunet pushes the local associations and discoveries ever further, with technical mastery at the forefront of the product. The menu includes pigeon with a delicate lavender rub and cherries from the Ventoux region, oysters eaten hot or cold with an aniseed-flavoured potato or a lamb fillet with rosemary and smoked aubergine millefeuille. The gustatory prowess, is a journey of flavours which culminates in the work around the madeleine, named after the neighbouring mountain pass. The chef offers a dark chocolate version of this sweet treat, made in period moulds, as well as an appetizer.
Adrien Brunet, Executive Chef of the Hôtel Crillon le Brave summarises his approach to cooking: "The essence of a recipe is not to transform the product, but to accompany it, to sublimate it in its noblest form: its original taste."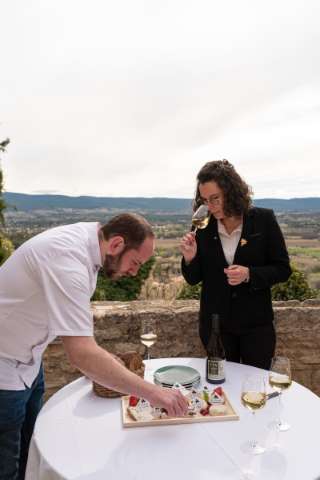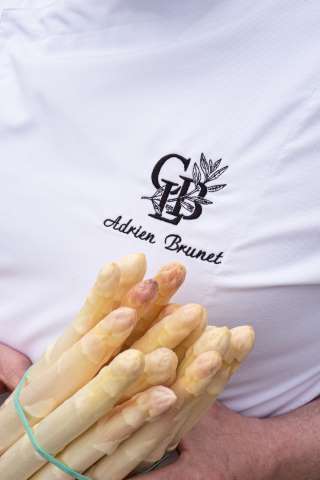 Charm of La Table du Ventoux
For the 2023 season, La Table du Ventoux and its stunning panoramic terrace has created a more convivial lunchtime offering. On the menu guests will discover small dishes designed for sharing with a Provençal accent. This is a way of encouraging families, tribes and friends to enjoy a long lunch, in a no-frills atmosphere, between a "Sunday lunch" and "holiday meal", where late risers are also welcome. The sharing menus are available from midday to 5pm. At dinner, back to a more classic bistronomic menu, where Chef Adrien Brunet draws from the best of the South of France – from the Vaucluse region to the Mediterranean basin – with melon from Cavaillon, green asparagus from Mazan, pissaladière, or other vegetable dishes. The pride of place would be the barbecues, from the lamb from the Alpilles and pork from the Ventoux region. Since March 2021, Adrien has been responsible for the kitchens of the hotel's two restaurants: La Madeleine and La Table du Ventoux, both of which are part of an eco-responsible approach, as confirmed by the Ecotable Label received in September 2022.
Kid's Club
New for this season, Crillon Le Brave has introduced a Kid's Club every Sunday Brunch, to allow parents to brunch in peace…While parents taste the homemade pâté croûte, the smoked trout from Isle sur la Sorgue or the almond soufflé from Provence, the little ones have an appointment in the hotel's children's club. There, the activity leaders offer them a range of activities to inspire creativity and have fun.
Serene Spa Des Ecuries by Tata Harper
Crillon le Brave's spa is set in the former vaulted stone stables from the 18th century. The atmosphere is subdued, silent and intimate: ideal for disconnecting, recharging and relaxing. With three treatment rooms, including one double, the spa combines gentle and effective approaches dedicated to enhancing overall wellbeing. Guests can take advantage of the holistic treatment techniques of Tata Harper which are completely tailored to each guests' needs. New for the season, Crillon Le Brave has partnered with AIME to create a menu of drinks made with rosemary, thyme, lavender, elderberry and fresh mint. Guests can also discover the Aime Beauty Drinks, made with hydrolysed marine collagen and plant milk. Tailor-made to take care of yourself.
Wine & Gastronomy Package
Provence is known for its wine, thanks to its rich, exceptional terroir. Guests of the hotel are spoilt for choice, surrounded by a plethora of renowned appellations: Côtes du Rhône AOP Ventoux, Châteauneuf-du-Pape, Beaumes-de-Venise, Gigondas, Vacqueyras… As such, Crillon Le Brave is delighted to introduce a package "Between wine and gastronomy", which includes 2 nights accommodation, buffet breakfast, 3-course dinner with food and wine pairings at La Table du Ventoux, discovery of the Domaine Château Pesquié, an AOC Ventoux vineyard, with a visit to the cellars, tasting, picnic and a walk along the winegrowers' path. Crillon Le Brave, which has the Vignobles & Découvertes label, will also organise workshops dedicated to local and regional wines.
Beautiful Escapes & Activities
Crillon Le Brave is perched on the foothills of Mont Ventoux on one side and facing the Dentelles de Montmirail on the other, the medieval village of Crillon-le-Brave is one of the highlights of this dreamy Provencal region. The unique setting allows guests to go for a walk or an excursion, in search of new experiences and discover different views of Provence. In addition to bicycles, the hotel now has TROTRX, all-terrain electric scooters, to visit the surrounding area without impacting on the environment. The hotel's concierge service also offers a wide range of activities, from discovering nearby markets and flea markets to picnics in the garrigue, a visit to a lavender distillery and a hot air balloon ride…