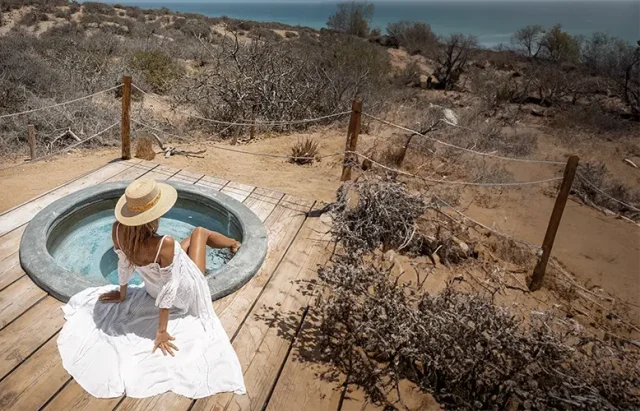 The newest eco-fabulous resort in Baja, The White Lodge, reaffirms its commitment to wellness with several influencer-led retreats slated for fall, plus two wellness packages available to book anytime throughout the year.
Influencer-Led Retreats
Join wellness gurus Ayesha Ophelia and Ali Tate Cutler for their Untethered Hearts retreat Sept. 28-Oct. 3, 2023. Through Ayesha's story crafting process and Ali's somatic movement rewiring, explore the secret to creating strong, deep, and fulfilling relationships. Guests will uncover how their old stories are holding them back and how they can reframe the past to create the future they desire.
Couples ready to revive the sizzle in their relationship will want to rush to book the Surrender to Bliss Retreat Oct. 15-19, 2023. Led by Dawn Cartwright, the founder of the Chandra Bindu Tantra Institute in Los Angeles, the retreat is designed to teach couples how to reach their full sexual potential through NeoTantra, communication and connection outside the bedroom.
If you're ready to take control and make your life what you want it to be, join holistic life coach Laina Florio for the Untamed Women Retreat Nov. 11-16, 2023. Using Glennon Doyle's Untamed Workbook as a roadmap, you'll get clear on what's been holding you back and have the support and tools to move forward to make your dreams reality.
Anytime Wellness Retreats
East-Meets-West in the Healing Retreat Package. Guests meet with White Lodge's Traditional Chinese Medicine Doctor to create a three-night retreat tailored to their specific needs. Highlights of the package include acupuncture and Chinese herbal treatments, 60-minute massage, three wellness breakfasts and two dinners, third night free.
Hang Ten with the Surf Bliss Retreat. Guests enjoy three mornings at the renowned surf school, Costa Azul and one afternoon relaxing at the resort's Zenica spa with a 60-minute spa service. The package includes three light breakfasts, two dinners and a complimentary third night.
Located on the remote east cape of Los Cabos, The White Lodge is a secluded gem offering an eco-wellness retreat that stands alone overlooking the Sea of Cortez. With just 10 luxury, Zen-chic cottages, many with private plunge pools or rooftop patios, White Lodge is the ultimate resort to get away from the daily grind and focus on personal wellness. Its enviable location is near the best surfing, whale-watching and UNESCO protected coral reef that the Baja peninsula offers.