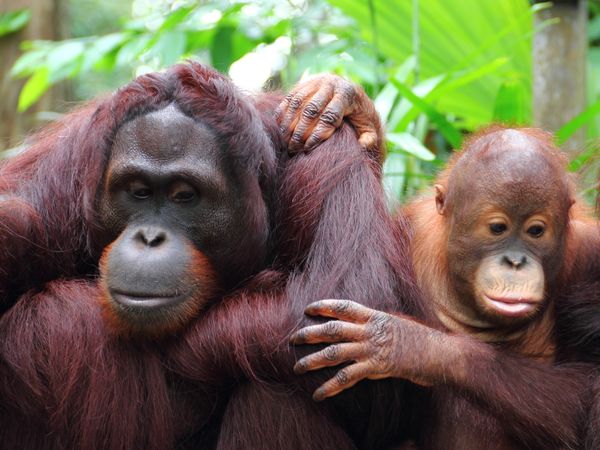 Iceland Supermarkets have done much to raise awareness of the plight facing orangutans in Indonesia, and their pledge to stop selling self-branded products containing Palm Oil is awesome and a positive step in the conservation effort.
Philanthropic travelers can also make a positive contribution on an Impact Destinations trip to Indonesia. Travellers will accompany a family of rescued orang-utans from an area facing loss of habitat due to Palm Oil production, and witness their release in a protected reserve where they can thrive.
This is a true adventure for generous travellers that combines the finest luxury that Indonesia has to offer with an immersive experience releasing the orangutans in a wild and remote location.
Impact Destinations specialises in sustainable luxury trips that blend sightseeing with a unique experience that is unlocked by a philanthropic donation.
Witnessing the release of an orangutan family is one example of the unique experiences we offer; others include:
A day trip on the water with a marine biologist working to save hammerhead sharks in Costa Rica;
Witnessing a rhino relocation from a heavily poached reserve in South Africa to a safe one in Botswana
Tracking arctic foxes in return to a donation to WWF in Iceland
All trips are 100% tailor-made, but for saving orangutans in Indonesia, a sample 21 day itinerary, priced from $55,000 (£43,000, €49,500, C$73,000) per person (including the $30,000 orangutan release costs) could be:
DAY 1 ARRIVE BALI
Arrive at the Island of the Gods, and after clearing customs, you are whisked away to your home in the hills of Ubud, Capella
DAY 2-3 EXPLORE BALI
Bali is the home of the UNESCO World Heritage-listed Subak Irrigation System, and is steeped in history dating back to the days of European settlers. Ubud itself is renowned for its rich arts, crafts and cultural heritage.
Captivating temples, rituals and ceremonies, exhilarating waterfalls, rice terraces and walking trails, extensive culinary charms, artisan crafts, farmer's markets and plantations are waiting to be discovered.
Feeling adventurous? You can hike up a volcano, mountain bike, whitewater raft, dive, snorkel, surf and more.
We can arrange cooking classes with top chefs, and of course the Balinese spa treatments are legendary.
DAY 4-8 ORANGUTAN ADVENTURE
A plane, jeep, boat and hiking adventure in very basic conditions to take previously rescued orang-utans (from 1-5) and release it into a remote, safe forest where it can thrive.
You need to be aware that this journey is on very bumpy off road tracks, with challenging hiking in extremely basic conditions.
The stories you will return with will earn the respect and admiration of your peers.
DAY 9-16 RAJA AMPAT DIVING & RELAXATION
We fly to eco-luxury Misool Eco-Resort in the incredible Raja Ampat islands.
This is your intimate tropical hideaway, built on a private island in an archipelago of uninhabited islands. It is 100 miles (165 km) away from the nearest port, blissfully secluded from the modern world.
No light pollution, no noise pollution, no mobile phone signal… in fact there is very little to distract you from the surrounding natural beauty.
The dive center is well fitted out and the restaurant is tucked under the palm trees on the lagoon's beach, offering a tasty combination of Asian and Western fare. There are four dedicated dive boats as well as a snorkeling boat and kayaks.
DAY 17-20 SUMBA STYLING
Sumba has an ancient culture, untouched by the modern world and a visit to the villages of megalithic tribes is fascinating.
Check-in to Nihi Resort and let the final stage of your adventure begin.
This is where you can surf, fish, explore the island, engage with the culture and you can even extend your philanthropic activities assisting the Sumba Foundation with their social upliftment activities.
The spa treatments are sublime here, and you can experience a unique spa safari.
DAY 21 FLY OUT
Today your Indonesian adventure comes to an end…or does it?
Perhaps you will extend your trip and do some sailing around the Komodo Islands?
From the Founder of Impact Destinations:
Christopher Hill, founder of Impact Destinations, says
"With orangutans in the spotlight, I am thrilled that we can offer intrepid philanthropic travellers the opportunity to travel to Indonesia and witness first-hand the release of an orang utan family into a protected location where they can live unthreatened.
Impact Destinations is all about transformational activities, providing engaged travellers with a truly extraordinary trip overlaid with a unique experience.  Just imagine the stories you can tell when you get home about helping to save the life of a rhino, a puma, a snow leopard or in this case, an orangutan family. These experiences change you and, more importantly, they make a difference."
About Impact Destinations
Impact Destinations is the latest company created by Christopher Hill, the founder of the award winning luxury family give-back specialist Hands Up Holidays.
While Hands Up Holidays focuses on family trips that include a volunteering, give-back component,  Impact Destinations is not aimed at a particular life-stage and trips focus on learning from experts through extraordinary experiences, unlocked by a philanthropic donation.
Impact Destinations enables travellers to make an impact in ten destinations:
Australia
Canada and Alaska
Central America and Mexico
Chile, Argentina, Galapagos and Antarctica
Himalayas
Iceland
Indonesia
Italy
New Zealand
Southern and Eastern Africa
All trips are completely bespoke, but as a guide, prices for the sample itineraries listed on the website start from $20,000 (£15,500, €18,000) per person through to $110,000 (£85,500, €98,000) per person.
Contact Details
Website: www.impactdestinations.com