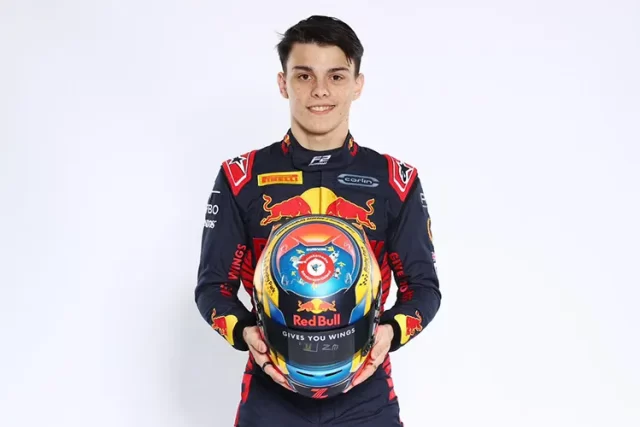 Rihanna isn't the only one waving the Barbados flag in a sporting event — Zane Maloney is making a name for himself in the sports industry as he joins as one of the two Red Bull drivers for Formula 2 this 2023 season!
Zane, the only Caribbean driver in the F1, F2, and F3 grid, proudly carries the Barbadian pride on his new racing gear, which he designed in partnership with the Barbados Tourism and Marketing Inc. (BTMI), showcasing Barbados visually in the motorsports world circuit. His racing helmet doesn't only reflect the Barbados flag, but also features the Bajan Bus Stop sign, the local Green Monkey and the yellow silhouettes of flying fish, all of which are quintessentially Bajan.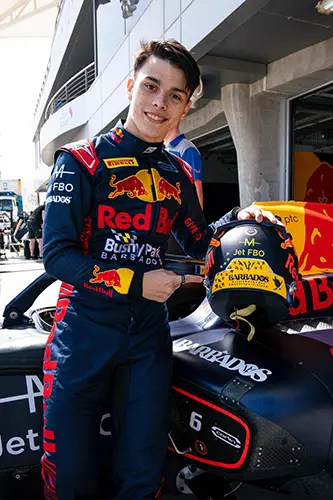 Last December, Zane was awarded Rookie of the Year at the Formula 3 Prize Giving Ceremony in Monaco, after his successful stint in Formula 3 throughout the 2022 season. Despite his recent achievements, Zane never fails to look back and celebrate his roots in Barbados, as he aims to put the country on the motorsport map and further showcase the destination to new niche markets. He owes his passion and success in the sport to his Barbadian upbringing and unwavering support of his family and home country —where his family in fact built Bushy Park, Barbados' racetrack, which is home to the country's leading karting experiences and a budding driving academy for Barbadian drivers. Along with BTMI, Zane hopes to position Barbados as the Motorsport Island and continue to see the potential of the destination as a hub for sporting events in the Caribbean.
With Netflix's "Formula 1 Drive to Survive" back for another season this month, and the 2023 season starting in just a few weeks, we couldn't be more excited to see this motorsport gain more following in Canada and around the world, and watch more young drivers like Zane make it to the sport — "The Boy from Barbados" is truly someone to watch out for!