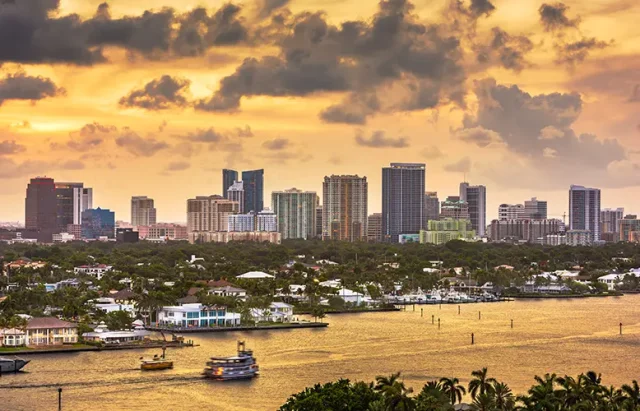 Are you contemplating living in Fort Lauderdale? Before diving into this exciting adventure, it's essential to be well-informed. From its sun-kissed beaches to a lively cultural scene, Fort Lauderdale offers a unique living experience. Whether you're moving to Fort Lauderdale for work, leisure, or a fresh start, here's an expanded guide to ensure you're all set for your journey.
Every year, thousands make the leap, moving to Fort Lauderdale to experience its blend of city life with a touch of tropical paradise. The appeal of life in Fort Lauderdale lies in its balance of urban sophistication and laid-back beach vibes. If you're considering making this city your home, it's not just about packing your bags and sun hats. Knowledge is power, and this guide aims to equip you with all you need to know.
Fort Lauderdale at a Glance
The Vibrant Culture
Living in Fort Lauderdale means immersing yourself in a rich tapestry of cultures. The city offers a blend of historic significance, with communities proudly celebrating their heritage and traditions. Events like the Fort Lauderdale International Film Festival reflect its diverse culture. This multicultural ambiance is one of the significant pros when considering living in Ft Lauderdale pros and cons.
Yet, Fort Lauderdale isn't solely about the past. The city is progressive, with various contemporary art exhibitions and music festivals dotting its annual calendar. These events provide residents with a taste of global culture while staying rooted in local traditions.
Living here also offers the chance to engage with communities from various parts of the world. Such diversity not only enriches one's social experiences but also provides opportunities for personal growth.
Beaches and Sun
The allure of sandy shores and a radiant sun is one of the primary reasons people are drawn to the idea of living in Fort Lauderdale. Beaches like Fort Lauderdale Beach and Lauderdale-By-The-Sea are not just tourist attractions; they're a way of life. From sunrise yoga sessions to sunset beach volleyball games, the coastal lifestyle is unbeatable.
But it's not just about leisure. The beaches are also hubs for numerous water sports and activities. Whether you fancy jet-skiing, diving, or paddleboarding, Fort Lauderdale's waters cater to all your adventurous whims.
However, as with all things, there are cons. The frequent influx of tourists can sometimes make popular spots crowded. While this is great for the city's economy, it might mean finding your quiet corner on weekends can be a challenge.
Cost of Living
Housing
When mulling over the living in Ft Lauderdale pros and cons, housing is a crucial factor. While the city offers a range of housing options, from luxurious waterfront properties to modest apartments, the cost can be a tad above the national average. This is the price you pay for a beachside life in a thriving city.
However, the housing market in Fort Lauderdale is dynamic. Different neighborhoods offer different price ranges, so it's about finding the right fit. Researching and understanding the housing market before making a move can significantly benefit newcomers.
Remember, while the initial cost might seem daunting, living in Fort Lauderdale offers a lifestyle that many argue is worth the price. Plus, with the right planning and budgeting, many find comfortable spaces that don't break the bank.
Everyday Expenses
Day-to-day life in any city comes with its set of expenses. In Fort Lauderdale, while you might find yourself spending a little extra on some fronts, there are ways to manage your finances efficiently. The cost of living in Ft Lauderdale FL can be influenced by factors like dining, entertainment, and transportation.
Shopping at local farmer's markets or making the most of discounts during off-peak hours are just a few ways residents save. While certain aspects, like dining at beachside restaurants, might be pricier, there are plenty of budget-friendly options available too.
It's also essential to factor in other costs, like utilities, healthcare, and transportation when calculating the overall cost of living in Ft Lauderdale FL. Being prepared can help in making a smooth transition.
The Job Market
When you're thinking about moving to Fort Lauderdale, understanding its job market is crucial. Historically, the city has been a hub for tourism, given its attractive beaches and numerous resorts. This means there's a plethora of opportunities in the hospitality sector.
However, in recent years, Fort Lauderdale has diversified its economic landscape. The city has seen growth in sectors such as technology, healthcare, and finance. Start-ups are finding a home in Fort Lauderdale, drawn by its supportive ecosystem and the allure of living in Fort Lauderdale for its employees.
Moreover, the city's strategic location facilitates trade and business, with the Fort Lauderdale-Hollywood International Airport and Port Everglades acting as critical connectivity points. This dynamic and ever-evolving job market provides ample opportunities for both fresh graduates and seasoned professionals.
The Education Scene
Living in Fort Lauderdale doesn't just cater to professionals and beach enthusiasts; it's also an education hub with numerous esteemed institutions.
Top Schools in Fort Lauderdale
The city prides itself on its range of top-tier schools. Whether you're looking for public, private, or charter schools, Fort Lauderdale has a diverse offering, ensuring that families have choices that fit their children's needs.
Moreover, the institutions here don't just focus on academic excellence. They emphasize holistic development, ensuring students are prepared for all facets of life. Whether it's sports, arts, or community service, schools in Fort Lauderdale foster an environment where students can pursue their passions.
For parents, knowing that their children have access to quality education is undoubtedly a significant pro when weighing the living in Ft Lauderdale pros and cons.
Further Education Opportunities
For those looking to further their education, Fort Lauderdale doesn't disappoint. Home to institutions like Nova Southeastern University and Broward College, students can pursue a range of degrees, from undergraduate programs to doctorates.
These institutions also attract international students, adding to Fort Lauderdale's multicultural ambiance. Furthermore, the city's growing industries often collaborate with these institutions, providing students with real-world experiences and better job opportunities post-graduation.
Transport and Connectivity
A city's connectivity can significantly influence the quality of life in Fort Lauderdale. Thankfully, the city boasts a robust transportation system.
Whether you're commuting within the city or traveling internationally, Fort Lauderdale has you covered. The local public transportation system, including buses and trolleys, is efficient, making daily commutes hassle-free. For those who prefer driving, the city's grid-like structure is relatively easy to navigate.
For international and out-of-state travel, the Fort Lauderdale-Hollywood International Airport is a major hub, with numerous domestic and international flights. Additionally, Port Everglades, one of the deepest ports in Florida, facilitates not just trade but also acts as a starting point for many cruises.
Food and Cuisine
An essential aspect of living in Fort Lauderdale is its culinary landscape. The city's position as a coastal and multicultural hub greatly influences its food scene, offering residents and visitors a diverse range of dining options.
Local Favorites
At the heart of Fort Lauderdale's cuisine is its abundant seafood. From stone crabs to Mahi-Mahi, the freshness and variety available are unparalleled. Local eateries often boast menus that change with the catch of the day, ensuring that patrons always get the freshest offerings. Have you ever tried conch fritters or a grouper sandwich by the beachside? If not, you're in for a treat!
However, seafood is just the tip of the culinary iceberg. With the Everglades to the west, there's a rich tradition of Southern Florida dishes that one must try. Whether it's key lime pie or alligator bites, there's a flavor profile to suit every palate.
International Delights
Given its cosmopolitan nature, life in Fort Lauderdale means you're never too far from global culinary delights. Whether it's Cuban sandwiches, Italian gelatos, Brazilian steakhouses, or Asian fusion dishes, the city caters to every international craving you might have.
This blend of local and international flavors means that every meal can be an adventure. Whether you're in the mood for fine dining, a casual eatery, or a quick bite from a food truck, Fort Lauderdale's vibrant food scene ensures you're always spoilt for choice.
Activities and Entertainment
Living in Fort Lauderdale isn't just about work and food; the city is bustling with activities and entertainment options that cater to a range of interests.
From its pristine beaches to its vibrant arts scene, there's always something happening. The city hosts numerous events throughout the year, from music festivals like Tortuga to art exhibitions at the NSU Art Museum. For those interested in the performing arts, the Broward Center for the Performing Arts offers a range of shows, from ballet to Broadway.
Nature enthusiasts aren't left out either. With the Everglades nearby, there are numerous trails, boat tours, and wildlife watching opportunities. The Hugh Taylor Birch State Park, in the heart of the city, offers residents a serene escape with its diverse range of flora and fauna.
What Is Like Moving To Fort Lauderdale
Moving to Fort Lauderdale is a transformative experience that promises a blend of coastal charm and urban sophistication. The city, renowned for its pristine beaches, cultural diversity, and year-round sunshine, holds an allure that few places can match. As many have discovered, moving to Fort Lauderdale is not just a change in geographical location but a shift towards a vibrant, fulfilling lifestyle surrounded by a tapestry of rich experiences.
One of the most compelling aspects of moving to Fort Lauderdale is the welcoming community, ever-ready to embrace newcomers into the fold. This warm reception, combined with the city's plethora of amenities and recreational activities, is perhaps why so many people love moving there. To make the transition smoother, several individuals and families have entrusted U-Move in Fort Lauderdale with their relocation, ensuring a seamless move to their new Floridian paradise.