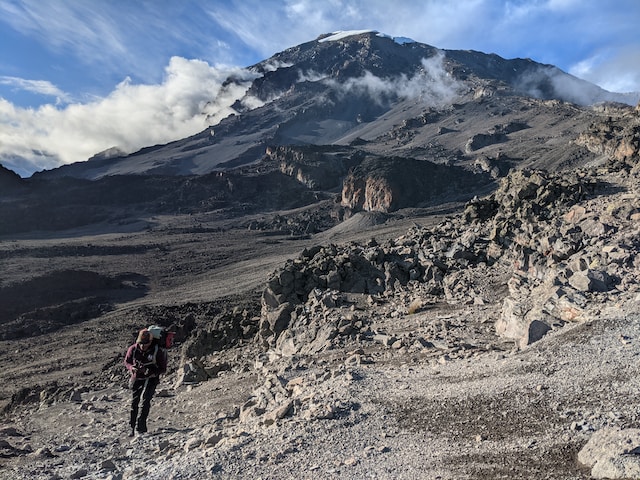 Climbing Africa's highest mountain is a major bucket-list goal for many adventure-seekers and travel enthusiasts and for good reason. Mount Kilimanjaro is both epic and achievable, making it one of the best mountain climbs for beginners.
Now, just because Mount Kilimanjaro is a good choice for beginners and doesn't require much in the way of technical gear, doesn't mean that you shouldn't prepare yourself in advance. Here are the 10 Best Tips for Climbing Kilimanjaro.
Follow these tips to be more comfortable, have a more enjoyable trek, and, ultimately, increase your chances of reaching the peak.
Prepare by Hiking
There is no better way to prepare for a long mountain trek than by hiking, especially with a weighted pack.
Sure, you can do some cardio exercises to build up your endurance, and strength training is good, too. But to really prepare your muscles for a multi-day hike the best preparation is to simply hike.
Remember, you'll be hiking anywhere from 6-11 hours a day, so slow and steady practice is the best way to build up your stamina. Sprints won't help on Kilimanjaro.

If you live near some mountains – get out there! Getting to a higher elevation and preparing your body for the increased altitude is really helpful, too.
Adding some weight to your back will get your back, shoulders, quads and calves ready for the real deal, too. If you don't have any proper weights, simply throw a bag of sugar or a full water bottle or two in your bag for the same effect.
Break in Your Boots Beforehand
The great thing about hiking to get fit for your Kilimanjaro climb is that it also offers you the opportunity to break in your hiking boots.
Some novice climbers think it's better to come to Tanzania with 'virgin boots' that are clean and have never been used before, but this is one of the worst things you can do!

New boots can easily give you blisters, especially if your first time walking in them is for a long 8-hour trek. You don't want to be nursing blisters for your entire 7 or 8-day Kili climb, do you?
When hiking to prepare for Kilimanjaro, wear your hiking boots as much as possible, to break them in.
Tip: wear hiking or wool socks, not cotton socks, to avoid blisters. Cotton socks will also be much warmer once you get to the arctic sections of Kilimanjaro.
Pack extra, comfortable socks to wear around the camp at the end of the day.
You'll want to remove those sweaty hiking socks, anyway.
Rent Gear On-Location
If the list of required gear for your Kilimanjaro climb is a bit intimidating, don't buy it. Really – many climbing operators offer you the option to rent quality, branded gear from them.
This means you don't have to make a big investment on gear you might not use again, and you don't have to divert to purchasing low-grade equipment just to save some cash.
Altezza Travel rents packs, trekking poles, sleeping bags, parkas and warm jackets (for the summit) and more! They have a stock of quality gear, purchased directly in Europe and the USA for rent to Kilimanjaro climbers. Altezza rents top brands like Red Fox, Mountain Hardware, Black Diamond and The North Face, so you know the gear is durable and will stand up to the harsh mountain conditions.
If you rent on-location you will also have a lot less items to pack on your international flight to Tanzania. Imagine how bulky a sleeping bag and parka (warm hiking jacket) are. Do you really want to stuff all that in your suitcase?
Renting quality gear from trusted tour operators is a way to save money and pack lighter!
Pack Camp Shoes/Camp Boots
Most Kilimanjaro packing lists only mention the necessity of hiking boots (and, you can not forget them!) but don't mention how convenient and comfortable it is to pack a pair of camp shoes or camp boots, too.
This footwear is for when you arrive at the camp for the night. Imagine, you've pulled off your boots, but still need something to wear as you walk to the dining or mess tent, and just wandering around the camp. Do you really want to re-lace your boots? Put back on your sweaty hiking socks?
Camp shoes are comfortable, loose-fitting shoes or boots you can easily slip your feet in and wander about the camp. They should allow your tired feet breathe a little.
Don't pack sandals or flip-flops, as they aren't practical in the rain or as you ascend to higher elevations.
Make sure your camp shoes are comfortable, especially if paired with some warm socks, and that they have some tread for the terrain of the campsites.
Keep Electronics Close for the Summit
Did you know that your camera or cellphone battery can freeze? It has to be pretty cold, but most major cellphone companies discourage using smartphones outdoors for long periods of time when the temperature dips below freezing (0C or 32F). Temperatures will be much colder than this for summit night up to Uhuru Peak, but you certainly want a photo from the top, right?
The best way to keep your electronics from freezing is to put them inside your clothing for the summit.
Trek with your MP3 player in the inner pockets of your jacket. Pop your cell phone in your breast pocket, and hang your camera around your neck, zipped inside of your parka.
This will help keep your electronics safe and avoid risking freezing the batteries in the arctic temperatures atop Mount Kilimanjaro.
Tip: A portable charger, especially a solar-powered portable charger is a great way to keep your electronics charged while on the mountain. There are no outlets in your tent, so think about how to keep your camera battery full for those pictures that are going to make your friends envious.
Pack a Late Night Snack
Your final ascent will start at night, enabling you to reach the roof of Africa in perfect time for sunrise. It's magical, but it means walking for hours in the dark.
You'll likely be sent off at midnight with a warm snack from Barafu Camp, but many climbers find they don't have much appetite at that hour. Therefore, it's a good idea to bring some easy-to-carry snacks with you.
Locally in Moshi, Tanzania, you can find nuts and some dried fruits, like dates or raisins. But if you want a protein bar or another favorite snack bar to give you a burst of energy during the long summit, you might want to bring something from home.
Altezza Travel has guides carry thermoses of hot tea and coffee for climbers, so teams can enjoy an invigorating drink to help warm and energize them to reach Uhuru Peak. A favorite snack would go perfectly with this 3 am mountain picnic to get you fueled up for the final push to the top.
Bring Extra Batteries or a Headlamp
Speaking of night climbs, you need to bring a flashlight, torch or headlamp – AND extra batteries.
You'll be using your source of light regularly, for early morning wake-ups and as soon as the sun sets on Kilimanjaro, so it's easy to burn through your batteries pretty quickly.
You can bring backup batteries or even a backup headlamp that you save for use until summit night. The good thing is that both batteries or an additional headlamp don't take up much space in your climbing gear, but they are essential for a successful night climb.
Don't discover you are without a light or that your batteries are running out just before the final ascent!
Give yourself some time
There are three ways you should "give yourself time" when climbing Kilimanjaro:
Pole-Pole
Overall Trek
Before the Climb
Pole-Pole
You're likely to hear the words "Pole-Pole" repeated time and again by your guides as you trek up Kilimanjaro. This is a Swahili saying meaning "slowly-slowly" and it carries the philosophy that slow and steady is better than being rash.
And, truly, going slowly up Kilimanjaro is a better approach than trying to race. This allows your body more time to adapt and you don't risk 'burning out' or over-stressing your muscles over the first few days.
It's a marathon, not a sprint. Allow the guide to set your pace; you should walk slower than your normal everyday pace when hiking Kilimanjaro.
Overall Trek
Another way to "give yourself time" is by choosing longer Kilimanjaro climbs.
While some routes advertise they can be completed in only 5 or 6 days, these are not highly recommended by the top-rated climbing operators.
Climbing Africa's highest mountain is a feat, not a race. Giving yourself sufficient time to adapt to the higher altitude is essential for avoiding altitude sickness.
The two ways to give yourself an advantage for your overall trek are to 1) choose a route with a good acclimatization profile, and 2) select a climbing itinerary with 7 or more days on the mountain.
Routes with a good acclimatization profile include Lemosho and Rongai (7 days),
and Northern Circut (8-9 days).
The Machame 7-day route is much better than the Machame 6-day option.
Avoid Routes that are 6 days or less, unless you have prior acclimatization.
The Northern Circut is the longest route,
but it also allows you to circle the mountain and see Kilimanjaro from every angle.
This will greatly increase your chances of a successful (and more enjoyable) Kilimanjaro climb.
Before the Climb
Finally, give yourself a day or two before the climb to adjust to your new surroundings.
Completing a long international flight is draining, you don't want to immediately start an arduous trek the very next morning.
Other reasons to give yourself a day to relax beore startin your climb:
If you're flying from a cold climate to Tanzania's tropical weather, your body may need some time to adjust.
If you've traveled from very far and Tanzania is in a different timezone, you really need a day or two for your internal clock to catch up.
Spending 1-2 days acclimatizing to your new surroundings, and exploring Moshi or Arusha towns is not a bad way to allow your body to get ready for the upcoming Kilimanjaro trek.
If you want to prepare even more, give yourself 3-4 days and trek the majestic, neighboring Mount Meru as a prior-acclimatization trek and knock out two major mountains during your visit!
You can learn more about Mount Meru climbs here.
Avoid Alcohol During the Trek
Save the celebratory drinks for after the climb.
Really, drinking alcohol is not advised during mountain climbs because it can increase the symptoms of altitude sickness, and reduce your body's physiological ability to adapt to the lower oxygen in the atmosphere, which is essential for your to appropriately acclimatize.
Alcohol is also a depressant and can make you feel weaker and less energetic after consumption. You want all your energy to climb Africa's highest peak, right? Save the beer, wine, and other booze for once you complete your descent.
Drink water and focus on staying well-hydrated, instead.
Consider Diamox
Before setting off on your Tanzanian adventure, ask your doctor about using Diamox to help reduce the symptoms of altitude sickness and help you have a more comfortable climb.
Diamox is a prescription medication that can reduce symptoms of:
Dizziness
Nausea
Fatigue
Headaches
Shortness of Breath
which are associated with climbing to altitudes over 10,000 feet/ 3,000 meters.
If you decide to take Diamox, you should begin taking several days before the inauguration of your climb, and take a single tablet several times a day.
Diamox should only be used for a short period of time, such as for the duration of your mount Kilimanjaro hiking, and not long-term.
Because it is a medication, it could have adverse effects, especially when taken in conjunction with other medications. Therefore, it is important to discuss with your doctor before starting Diamox.
Bonus! Go on a Safari After your Trek
Yes, yes, this post is about the Best 10 Tips for Climbing Kilimanjaro, but we couldn't help sharing one more bonus tip: go on a safari after your trek.
How many times will you get a chance to visit Tanzania anyway? You've seen the amazing country from its highest point, now is your chance to see it up close, too.
Do not book your flight straight home after your trek, instead spend a week or more enjoying the beauty of Tanzania's wildlife at national parks and beautiful lodges.
See the astounding Ngorongoro Crater (a UNESCO World Heritage Site), witness endangered animals like the Black Rhino with your own eyes, and experience some of Tanzania's beautiful lakes, the Great Rift Valley, and the expansive savannah for yourself.
You will never regret taking a true Tanzanian safari, but it is especially memorable after the epic mountain climb you just completed!
You can book a separate safari for after your climb, or you can arrange with one tour operator for both your Kilimanjaro Trek and your driving safari.
Altezza Travel, for instance, offers Kilimanjaro treks and game-drive safaris. It might be easier to communicate with one company and make only one payment for all your Tanzania adventures. This way, you can complete your Kili Climb, stay at Altezza's top-rated hotel in Moshi, then be picked for your next adventure; a Tanzanian safari of your dreams!
Tour the National Parks
The closest national parks to Mount Kilimanjaro are Arusha, Serengeti, Tarangire, and Manyara parks. Each is beautiful and offers a chance to see Africa's famous animals in the wild.
Kilimanjaro National Park is home to Mount Kilimanjaro, meaning you'll check off that national park during your trek.
Some national parks (like Arusha National Park) are great day trips,
allowing you to visit more parks in just a few days.
Zanzibar
If you really want to take in all that Tanzania has to offer, book a beach vacation in Zanzibar, too! This island paradise has amazing diving among coral reefs, beautiful beaches, and fun island resorts for the best all-around adventure you could imagine.
Summary
Mount Kilimanjaro is an epic climb, one that you should prepare for well in advance. Follow these practical tips to get in shape, avoid discomfort and really enjoy your trek to the Roof of Africa.
Don't just climb and leave; experience Tanzania! Spend a day or two exploring the local area and adjusting to the weather before you start your trek. Then, give yourself some time to go on a safari and appreciate all that Tanzania has to offer.