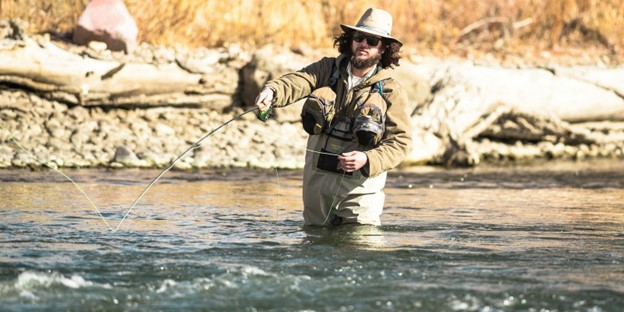 Load up the tackle box and head out to one of the following Colorado destinations. Each location provides phenomenal fishing opportunities. Yes, these destinations may very well be the best fishing spots in the state. Apart from fishing, venturing into Colorful Colorado provides many other sightseeing and nature-related opportunities. In other words, a trip to Colorado provides so much more than expected, but everything you'll appreciate.
Fort Collins
The first town on our list is Fort Collins. The last stop before crossing lines into Wyoming, Fort Collins also happens to be the fourth-largest city in Colorado. Home to 15 designated natural areas that allow fishing, visitors can always find a great place to explore.
Horsetooth Reservoir is among those areas. Located near downtown, Horsetooth reservoir has an impressive 1,900-acre lake offering exciting boating opportunities. Trout, crappies, White Bass, and Bluegill are among the fish found in the lake.
Cache La Poudre River is another fishing spot. Find Rainbow and Brown trout in this lake. Along with fishing, visitors can experience the incredible wildlife that inhabits the area.
Walden
The small town of Walden is known as the state's "moose capital." Dont be shocked if you encounter a moose or two in Walden. The small town offers visitors access to the North Platte River at the point where it enters north Gate Canyon.
Brown Trout bite all year long in the 18-mile stretch of river. It has earned Gold Medal status if that indicates how impressive fishing is here. Don't hesitate to rent a kayak to go out on the waters.
Colorado Springs
An hour south of Denver, Colorado Springs is the second-largest city in Colorado. Its proximity to some of the best rivers and lakes in the state makes Colorado Springs a pristine location for fishermen and outdoor enthusiasts alike.
Situated at the foot of the Rockies, the stunning peaks overlooking The Springs, as it's known to locals, provide the perfect backdrop for a relaxing day outdoors.
Green Mountain Falls has some of the best water for fishing in the entire city. Even beginners find fishing at the falls a pleasure. Expect to catch more than your fair share of trout from these waters.
Manitou Lakes is another incredible body of water. Well-stocked with fish and located a half-hour drive from downtown, Manitou lakes bring high-altitude fishing your way.
Glenwood Springs
An hour southwest of Colorado Springs is the town of Glenwood Springs. PBS named the wealthy town known for steamy caves and hot springs as one of the world's "most walkable communities."
The Roaring Fork and Colorado Rivers provide four different kinds of trout, along with Whitefish. For serious fishermen, these two bodies of water test their skills.
Aurora
About an hour from Glenwood Springs, Aurora is an upscale community with 113 parks and 98 miles of trails. The quaint city has excellent opportunities for fishing and sightseeing.
The best fishing spots in Aurora, according to experts, are the Cherry Creek and Aurora Reservoirs. Each body of water is filled with numerous species of fish, including Crappies, Perch, Catfish, Rainbow Trout, Smallmouth Bass, and Tiger Muskies.
As a popular fishing destination, expect crowds during the summer months. If you dont mind the crowd, Aurora is one of the best places to be for out-of-this-world fishing experiences.
Durango
Located in the southwest portion of the state is the town of Durango. Entering the city feels like a trip back in time to the Old West. It's not just a feeling. Durango is rich in history, which can be seen throughout. Nature is plentiful in Durango as well, one of the reasons why people flock to Durango for fishing excursions.
The Animas River is the best spot for fishing in Durango. Spanning 126 miles, this waterway stretches out of town. You cannot cast your line on the river in town but certainly can fish in the out-of-town areas. The Animas River is located in the southwestern part of the state, flowing through the town of Durango. The river was also named a Colorado Gold Metal Water fishing destination.
Vallecito Lake, located about 45 minutes from downtown Durango, is another fishing spot you'll want to explore. If you enjoy desolate fishing and beautiful nature, you're in luck here at this lake. Pike, Walleye, and Bass are the three main fish species found in the water.
Carbondale
With three access bridges to the Roaring Fork River -ideal for wading and trout fishing- Carbondale is a prime fishing spot during the fall.
Independence Pass, at an elevation of 12,095 feet, is where the Roaring Fork's headwaters first emerge. Depending on the season, these waters either roar or quietly trickle toward the Colorado River. The Roaring Fork River in Carbondale offers a wide diversity of water types and breathtaking vistas of fall colors due to its abrupt elevation drop.
Lake City
Fishing is permitted year-round in Lake City's waters using a variety of tactics. Flyfishers can catch the most trout in the spring by going to deep pools where the fish are still hibernating from the winter. Anglers can catch 10- to 30-pound mackinaw or lake trout near the beach as Lake San Cristobal thaws out by mid-May.
The streams and lakes in the area of Lake City enter their peak season when the summer sets in. For a fishing trip with kids, locations like Deer Lakes and Big Blue Creek contain plenty of small yet slender trout. When the fall foliage changes, the waters of Cebolla Creek and Henson Creek take on a golden glow and the streams are low and clear, making them ideal for larger fish like wild browns. Lake San Cristobal transforms into an excellent spot for ice fishing in the winter.
Explore the best Fishing Spots in Colorado
Colorado is home to more than 500 backcountry bodies of water well-stocked with fish. The cities and towns above are just a few places in the state offering world-class fishing and outdoor experiences.  Trust Reliable Fishing when it's time to discover firsthand how phenomenal fishing in Colorado can be in one of these locations.