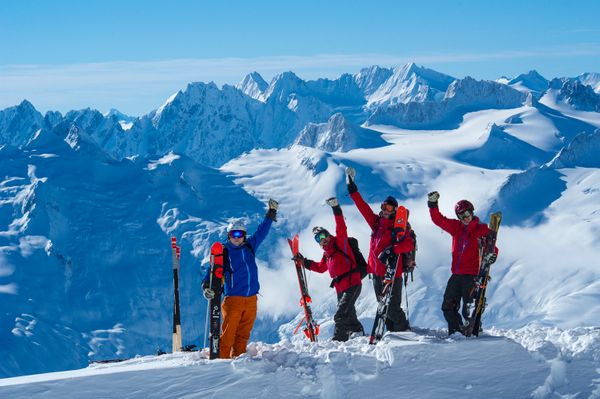 Bella Coola Heli Sports (BCHS) has planted its flag atop the peak at the World Ski Awards yet again, earning a fifth-consecutive nod as the World's Best Heli Ski Operation and the sole Canadian entry to be singled out for best-in-world status at the ninth annual awards ceremony last week.
BCHS, which began helping skiers and 'boarders suit up, strap in and boldly venture into the untamed and sprawling BC backcountry in 2003, was first crowned best in the world at the 2017 edition of the awards and hasn't lost a step since.
Nearly two decades after first starting operations, BCHS boasts the world's largest heli-sports tenure — 3.55 million acres of terrain stretching from the northern fjords and mountains of Bella Coola southeast to Mt. Waddington, the highest peak in the province — and ski out of a wide range of rustic-to-first-class lodging facilities in the heart of the Coast Chilcotin region.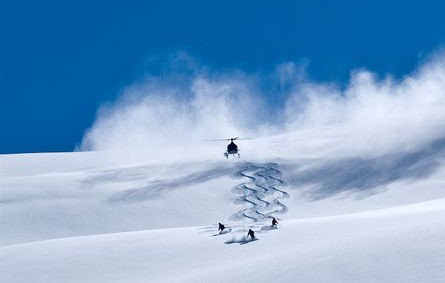 "We're honoured to be singled out for this prestigious award for a fifth-straight season and incredibly grateful to all of the industry professionals and skiers who keep on voting for us," says Beat Steiner, CEO of BCHS. "It's a testament to the amazing people we have working with us in our head office and the hosts, chefs, guides, pilots and engineers out in the field who are dedicated to showcasing some of the most majestic and pristine terrain in the world and creating truly unforgettable experiences for our guests."
It's not the only best-in-world honour BCHS has achieved. In 2020, the organization became the world's first, and to date, only, climate-positive heli-sports operation, meaning that BCHS offsets at least 10% more greenhouse gas emissions that it produces annually by purchasing carbon offsets from The Great Bear Forest Carbon Project.
While BCHS was the only Canadian company to ascend to world's-best status at the 2021 World Ski Awards, three BC-based organizations earned best-in-Canada honours at the event, including Rossland's The Josie Hotel (Canada's Best Ski Boutique Hotel); Pan Pacific Whistler Mountainside (Canada's Best Ski Hotel); and Revelstoke's Whiteworth Chalet (Canada's Best Ski Chalet).
The BCHS portfolio of properties ranges from its flagship, 60-acre private site nestled in the Nuxalk Nation's territory in Bella Coola Valley, Tweedsmuir Park Lodge — a winner of TripAdvisor's Certificate of Excellence and Traveller's Choice Award, and founding member of The Magnificent 7 Wilderness Lodges of Canada — to Maple Leaf Adventures' MV Cascadia: a luxurious, 138-foot catamaran with a heli-pad, eight spacious cabins, elegant lounges and a top-deck jacuzzi for soaking under the stars after each day's excursion.
Launched in 2013, the World Ski Awards are handed out based on online votes cast by ski industry professionals (senior executives, travel buyers, tour operators, media) and skiers themselves in a range of categories, including best resorts, hotels, chalets and tour operators.
"Our winners represent the very best of the global ski tourism sector," said World Ski Awards Managing Director Sion Rapson, in a press release. "The [Ninth] annual awards programme received a record number of votes from ski consumers across the world. This shows that the appetite for ski tourism has never been stronger and bodes well as the global recovery gathers momentum."