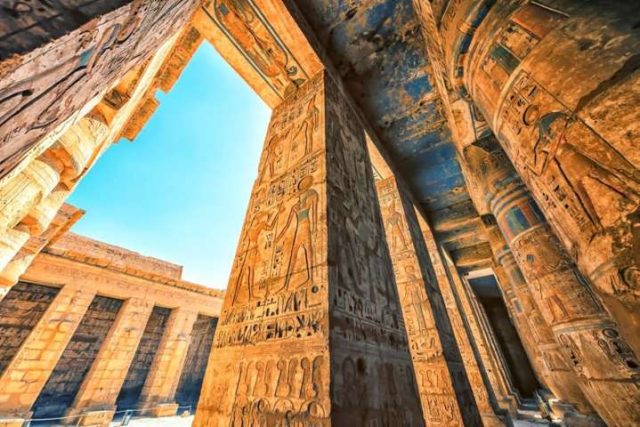 Hurghada City resembles a locker, at this point, a safe, with the handful of everlasting aesthetics and great essence it has had within from the very start, no matter how much renovation that city went, goes and will go through. Not to mention that, from Hurghada, you can go on numerous trips that time will have no value compared to the incredible secrets they'll offer to you. Secrets about the marine world on one hand, and about the origin of Egypt's ancient civilization on the other. And now, we recommend you the following Hurghada Private Tours to live and create your own version of everlasting memories during them:
Discover Scuba Diving in Hurghada.
An adventure wherein you go scuba diving until you go limp might be what you need in your vacation to get out of the stereotypical. Luckily for you, Hurghada owns on its ground a handful of fabulous spots in the Red Sea wherein you can swim into the very deep extension of the waters. There, you'll be greeted with the unique combinations of corals, reefs, and fish, not to mention that, at some stage on your adventures, you'll be invited to a mouthwatering re-boosting lunch with the air patting your skin!
Hurghada Snorkeling Excursion.
A marine roller coaster trip is what you'll be welcome with booking the excursion. You'll be in good hand between the apple of mother nature's eye; the Red Sea waters. During the trip, you'll feel like some earlier king as the sea will dress you with a sophisticated attire filled by so many descriptions of the charm, and dazzle that the marine world will weave for you underwater, all through a snorkeling trip! Furthermore, you'll have time to anticipate the sun's last goodbye for the day while having lunch serviced to you! A fistful of services will be another description of charm you'll find yourself trapped in its synonyms!
Hurghada Safari Trip by Quad.
This is a super safari trip that'll make you step into the furthest stations of wildness! Your excursion will be like a house designed with a distinctiveness that has no limit. Every room of the said house is colored with different hues of nature! You have marmalade mixed with honey colors for the Sahara sand, bright golden for the sun in the morning, and a delicious orangish color in the afternoon offering you a hypnotizing sunset view that you'll watch during your trip on a quad bike! A camel ride, a visit to the Bedouin Village, a B.B.Q dinner, some traditional tea, and more, are included on the trip with astonishing amenities!
Day Trip to Cairo from Hurghada by Plane.
The City of Cairo is known among travelers wherein the most terrific ratio of Ancient Egyptian History is depicted. Just a duration of one day will get you to feel the lingering power and greatness of the three great kings of the 4th Dynasty by roaming around the Three Great Pyramids of El Giza, the one-piece limestone creature; the Great Sphinx, and the Valley Temple that was once hosted King Khafre's Dynasty being mummified. All are intimidating milestones linked together in the square space of the Giza Pyramids Complex. The Egyptian Museum with its two floors will shower you with classes of ancient history presentations during the trip. This tour comes with flights whose amenities will unveil to you a whole department of luxury!
Amazing Luxor Day Trip from Hurghada.
The ancient city of Luxor is a superior destination that managed to fit into the world of dominance. It's a city whose power belongs back to thousands of years ago presented in the Valley of the Kings with its 63 tombs of the 18th, 19th, and 20th dynasties, that's included on this stunningly great tour. Also, Hatshepsut Temple, Karnak Temple, and the Colossi of Memnon, each has a peculiar kind of power that'll force you subconsciously to pay attention and dedicate every moment to trying and figuring them out from the inside. The amenities added to the trip have no limit of majesty, from the transportation, all the way to the meals offered, of course with other rich amenities in between!
Dendera And Abydos Day Tour from Hurghada.
Dendera and Abydos Temples are two tourist attractions with quite a great history behind their walls. Dendera Temple has, secured on the other side of its entrance, a number of colorfully-designed carvings with lots of successors of their like, on top of the fact it was built by Pepi, the great pharaoh. At the same time, Abydos Temple is another attraction that comes on the trip, an attraction that is no less remarkable in Ancient Egypt History. Abydos Temple basks in terrific inscriptions whose details tell royal names from the 1st to the 13th Dynasty. It should not come as a surprise knowing those two sites you'll come to explore their every side during the trip with heavenly facilities adorning your trip atmosphere!
2 Days Luxor & Abu Simbel Trip from Hurghada.
A unique recap about the rare history of Ancient Thebes is presented in a visit to, not only the Valley of the Kings with its Tutankhamun alongside other 65 royal tombs as a unique part of your trip. But also, Hatshepsut Temple with its design that was largely inspired by the temple of Mentuhotep II, and the Karnak temple with its three headquarters that were dedicated to three different deities, as well as the Colossi of Memnon and their double carvings of Pharaoh Amenhotep III. Even more, an incredible exploration inside Abu Simbel is an important part of your trip with its two temples that were built by Ramses the Great to honor his majesty and his wife! All services accompanying the trip will be the second layer of luxury and greatness that you'll live!
Overnight Trip to Cairo from Hurghada by Plane.
Cairo is one destination with a variety of charms and an amount of greatness that managed to trick time into sustainability and consistency if the variety of the ancient stunning monuments it hosts is any indication! The Giza Pyramids Complex, with all the stone phenomenal wonders it has, was more than successful in proving the rareness of the Ancient Egyptian Civilization to all. As for Salah El-Din Castle and its precious Mohammed Ali Mosque as well as the Khan El Khalili, they're the substances mixed together to give birth to Old Cairo, and all are included a visit to during the trip. And to seal the deal, a slow-downed tour inside the sophisticated details of the Egyptian Museum and its two stunning floors is another point the trip's axis will spin around!
2 Days Trip from Hurghada to Luxor.
Earlier-time kings and queens of Ancient Thebes were spent due to the amount of effort they planted into growing the city's value into one of raw rareness. They planted a value that, later, created the nowadays Luxor City with numerous scales of power that grew and reached the sky.! Each value claims each of Luxor's landmarks as its. You'll find a whole scale of significance accompanying Luxor and Hatshepsut Temples on one hand, and another, of greatness, is added to the Karnak Temple and Valley of the Kings, which all are offered a detailed planned and well-studied pattern to visit during the Trip! A good fairy trip won't, by any means, be void of all amenities that make it close to piecing the sky with its fineness!
Two Days Cairo and Luxor Trip from Hurghada
Cairo and Luxor are two cities that were given birth directly from the womb of the most magnificent civilization ever; that of ancient Egypt! Ancient Egyptian figures, no matter what their ranks were, managed to mold together many types of glamour and supremacy that shaped the Giza Pyramids Complex and other smashing monuments in Cairo. Further, they mold the glamour with other elements of sublimity and charm to fully portray Hatshepsut and Karnak Temples, as well as the Valley of the Kings and the Colossi of Memnon. Needless to say, a stroll between all landmarks above will take over most of your trip duration with facilities that are the light in a starless sky!
2 Days Luxor & Aswan Tour from Hurghada
Luxor and Aswan are two cities that take home in the embrace of Upper Egypt. Aswan has the Unfinished Obelisk whose origin belongs back to (1478-1458 B.C), and the High Dam with an irrigation rate of 55 cubic kilometers, as well as Philae Temple whose every detail was dedicated to the Osiris, Horus, Isis, are sites you'll explore on the trip. You'll also indulge in Luxor's Karnak Temple with its definition of art and classics that was put together over three periods of time, Hatshepsut Temple with her lifetime events depicted in their wake on the walls, as well as the Valley of the Kings and Colossi of Memon with ancient beauty built and polished over centuries ago to offer rare scenes and views! The two cities, together, will enrich and decorate your brain with their rare greatness. And of course, with a stream of ravishing facilities offered on top included in the trip!
Tours from Hurghada offer trips that are worth a whole section of magnitude and greatness dedicated to them. Trips that strike every meaning of rareness. A type of rareness that was brought to life from the different landmarks and destinations within Egypt's ancient History and the rare colors of the ecology system inhabitants of the Red Sea! On top, came the amenities the company offers that'll take you to another section of greatness and the reliable honest reviews of the travelers!